Posted in
Under the Sea
on January 15th, 2010 by MadDog
No, I have not taken up writing children's fantasy stories. A couple of days ago Anita, Wouter and I went diving at Wongat Island on The Green Dragon B-25 Mitchell bomber and the coastal freighter wreck, The Henry Leith. It was an amazing day of diving, as the water in that area was as clear as I have seen it in over twenty years. Both wrecks could be clearly seen from the surface. Anita's father, Jos, stayed on the boat most of the time, as he is pleased to do so. We all took some time while we waited for a safe period between dives to take a walk on the beautiful beach.
We started our day at The Green Dragon. Here is an amusing shot of Wouter peering through one of the waist gun ports. There is an identical port on the opposite side of the fuselage. I stuck my camera through it and snapped Wouter as he shined his dive light around examining the ammunition feed chutes and other equipment scattered inside: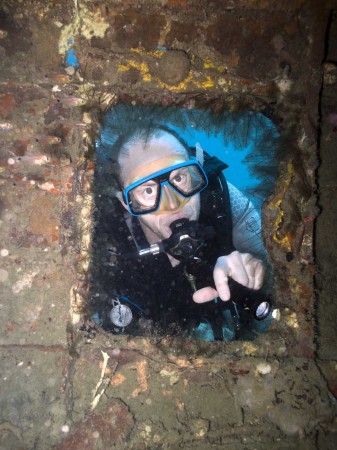 Under the port wing of the bomber there is always a mob of these fish. I should know the name of them, but it escapes me at the moment and my big fish book is at the office: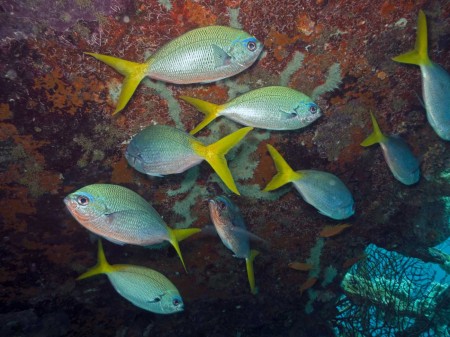 I'm luxuriating in the glory of a 31.2KBS connection at my house. It took me only two years to get my phone line repaired by TELIKOM. We learn patience here in Madang – or we leave. We're suffering another mass exodus of expatriates recently. Economic woes, lost contracts, fears of violence and a general dismay concerning the rapid deterioration of the cival infrastructure has caused many to abandon Paradise. It makes me sad to lose so many friends.
If you are a regular reader of Madang – Ples Bilong Mi you will be familiar with this scene. It is a Blue Spotted Stingray (Dasyatis kuhlii) fleeing in terror: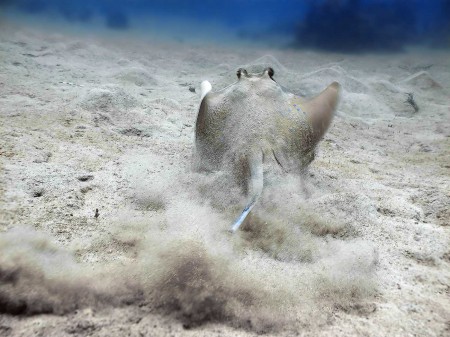 Or, maybe not. If there were any sense to this situation, it should be the other way around. These creatures are remarkably tolerant to a close approach, as long as you do it slowly and don't surprise it. If you put STINGRAY in the search box, you'll find many other posts with images of this fascinating critter. We nearly always see one or two at The Henry Leith.
On the deck we found this juvenile Papuan Scorpionfish (Scorpaenopsis papuensis):
They are very easy to photograph, as they seldom move unless you actually poke them, but they are difficult to find. They normally lay in wait for a meal on a coral rubble background where they are extremely difficult to see.
Also on the deck, at the stern, we found this lovely juvenile Common Lionfish (Pterois volitans):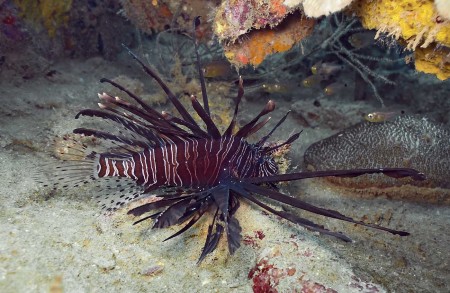 The common name refers to its numbers not its appearance. They are commonly seen, since there are plenty of them. There is, however, nothing common about their form. They are beautiful beyond description.
At the end of the dive, while hanging near the anchor line waiting for my blood nitrogen to bubble out like a fizzy drink, I took this image of my air bubbles racing to meet the sun: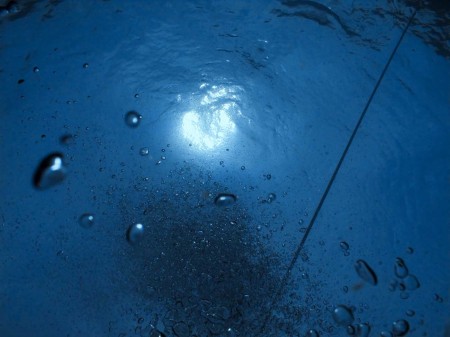 If life gets to be any more enjoyable, I'm going to have to hire someone to take part of the load. I'm pretty well maxed out on pleasure.
Maybe it's just a mood swing.
Tags:
anita
,
b-25
,
Blue-Spotted Stingray
,
Common Lionfish
,
Dasyatis kuhlii
,
lionfish
,
papuan scorpionfish
,
pterois volitans
,
scorpaenopsis papuensis
,
the green dragon
,
wongat island
,
wouter