Posted in
Under the Sea
on January 23rd, 2010 by MadDog
After yesterday's marathon post concerning the dumbing-down of science I seem to be at a temporary loss for words. Those who tire of my bombast but enjoy the pretty pictures will sigh in relief. I'm also running three days behind, so I'm using my Time Machine to fake it, as usual. My aparent sloth is not as it seems. I wanted to do a post on Saturday. Unfortunatley, TELIKOM's so-called "repairs" of my telephone line lasted less than a week, so I never made it online and did not have time to go to the office. Then, on Sunday, my intent was once again to catch up. Unfortunately, our car wouldn't start . . . yet another headache. Are you tired of my whining. Okay, I don't blame you. I'll proceed briefly.
As regular readers will know, I like showing you what I see as nearly as possible the way that I see it. Sometimes "BLUE" is the only way to describe it: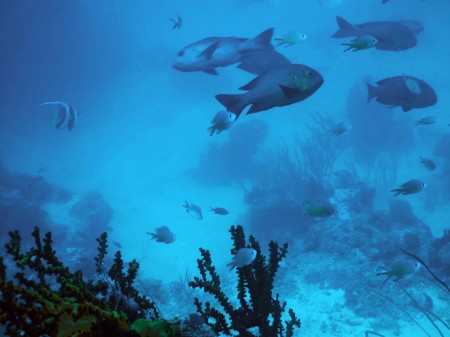 The above is a view of the bottom of Magic Passage from about half-way down the slope at about 15 metres on a good visibility day.
Down at the bottom, we were suddenly surrounded by a school of curious Bigeye Trevally (Caranx sexfasciatus):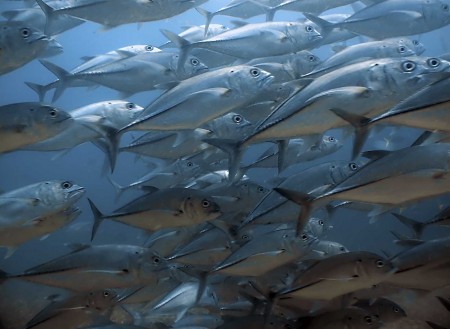 These characters actually seem to enjoy swimming around divers. I've seen it hundreds of times. They commonly swim within a metre of us, their big eyes rolling around like Al Jolson singing Mammy.
These are not particularly good pictures, but that's okay for today. Not every shot I get swells my head. Some are simply reflections of my experiences that recall moments of pleasure. Here Anita plays with a little mob of Clark's Anemonefish (Amphiprion clarkii):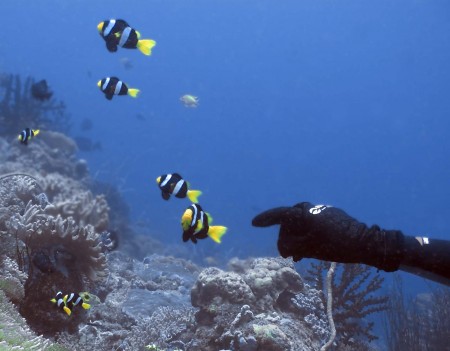 The cheeky little devils like to nip fingers. I prefer to get my nips bare-handed, but gloves are safer for the diver and for the fish. Who knows what nasty germs lurk on our skin which we may never notice, but would be deadly so some innocent creature just looking for a good time.
You've seen many Hawkfish here. However, we don't always see them in profile, posing as if for a presidential protrait. Here a little Dwarf Hawkfish (Cirrhitchthys falco) is caught from above: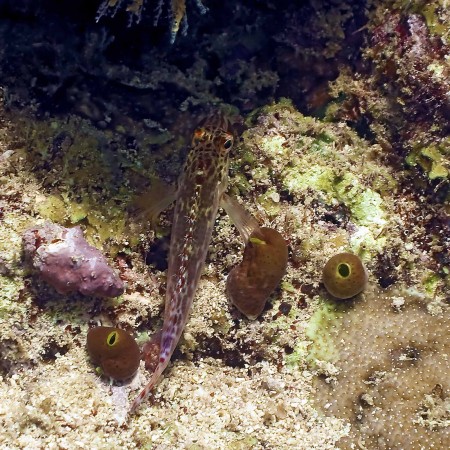 He is not unaware. You can clearly see that he has one eye cranked up to keep me in view.
You've also seen the Bluestreak Goby (Valenciennea strigata) here before.
I like this shot because it's realistic – warts and all. You can see sticks, leaves and other detrius strewn about. Reefs are not neat places, especially close to a river outlet.
This shot also has a nice, natural feel. I assure you , this is exactly what I saw: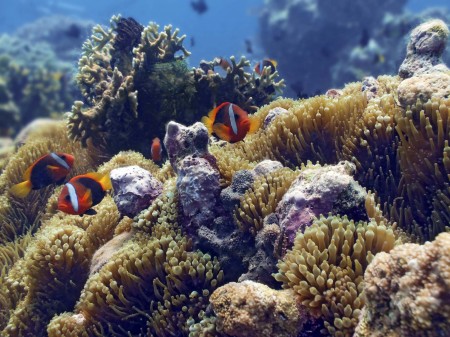 At The Eel Garden, near Pig Island, there is a huge anmemone patch full of these Red and Black Anemonefish (Amphiprion malanopus). The depth is only about four or five metres there, so snorkelers can see this scene with ease.
Back tomorrow with more fish while I catch up with myself. I hope my car is fixed today. Otherwise, I may swim to work tomorrow.
Tags:
Amphiprion clarkii
,
amphiprion malanopus
,
anita
,
Bluestreak Goby
,
cirrhitchthys falco
,
clark's anemonefish
,
dwarf hawkfish
,
magic passage
,
Red and Black Anemonefish
,
Valenciennea strigata