Posted in
Under the Sea
on January 24th, 2010 by MadDog
From Merriam-Webster's Online Dictionary (along with the astonishingly stupid "1 Tip of Flat Belly" ad which is one reason why I will try as long as possible to aviod Google Ads on Madang – Ples Bilong Mi.
her·mit \ˈhər-mət\
Function: noun
Etymology: Middle English heremite, eremite, from Anglo-French, from Late Latin eremita, from Late Greek erēmitēs, from Greek, adjective, living in the desert, from erēmia desert, from erēmos desolate
Date: 12th century
1 a : one that retires from society and lives in solitude especially for religious reasons : recluse b obsolete : beadsman
2 : a spiced molasses cookie
— her·mit·ism \ˈhər-mə-ˌti-zəm\ noun
There's nothing there that would lead one to believe that Hermit Crabs might be party animals. Nevertheless, have a look at this: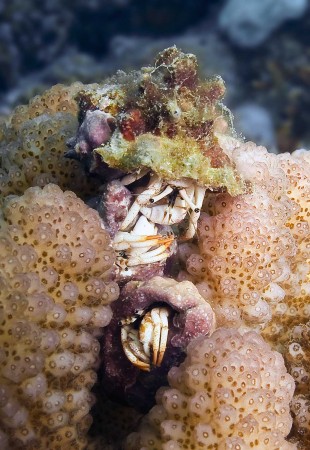 Now, I don't know what that looks like to you, but to me is seems that three Hermit Crabs
(Calcinus minutus)
are getting down to business. However, we mustn't overlook the possibility that they are "just friends".
I'm not even going to mention the molasses cookies. I try to keep this a family-friendly site.
This is another Hermit Crab (Dardanus sp.) who seems to be minding his own business, though he is clearly attempting to appear as ferocious as possible: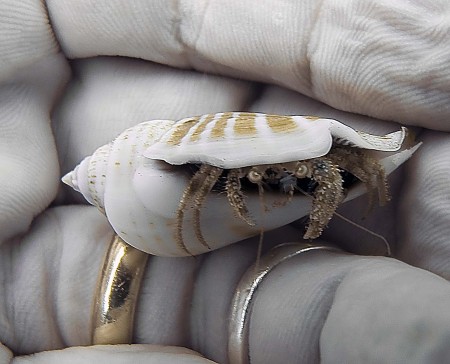 This little hermit has a pronounced sense of style. Its taste in architecture is impeccable. Its house looks as if it could have been inspired by Frank Loyd Wright. I would not be surprised to find it as the subject of an Ukiyo-e woodblock print. This ties in nicely to Wright, since he was, aside from being my favourite architect of all time, a dealer in Japanese art.
That's right, I'm lost in my own head again. Wait until I get my Zippo fired up so I can find my way out of here.
Okay, I'm back now. It's odd that I don't remember seeing these beautiful Orange Starfish (Echinaster luzonicus) before a few days ago: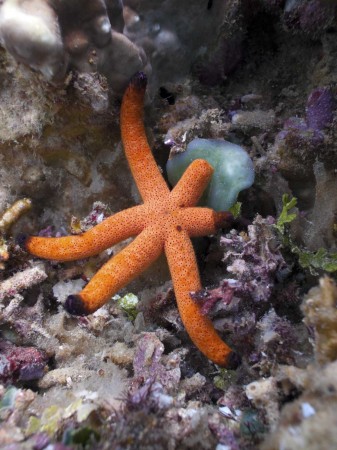 On Saturday, at the Eel Garden, I saw four of them, including this more rare six-legged individual who seems to have misplaced, or offered up for dinner, two of its legs.
This commoner five legged star person has managed to hold on to all but one leg: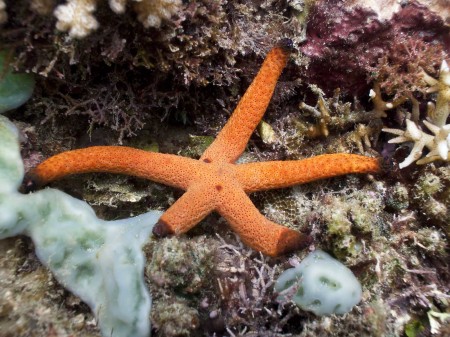 Never mind, They will grow back. In fact, if the leg is spat out by the hungry fish which decides it doesn't like the taste, a whole new starfish will grow from the severed leg.
Well, let us leave the invertebrates to their own devices.
Many anemonefish display the disconcerting habit of staring you right in the eyes. Isn't this supposed to me the universal sign of challenge or aggression. Here this Orange Finned Anemonefish (Amphiprion chrysopterus) seems to be asking the age-old questions, "Hey! Who you lookin' at? You lookin' at me? You want trouble, mate? I got yer trouble!" I like the little nondescript damselfish in the background who is hurrying to flee the scene of impending carnage: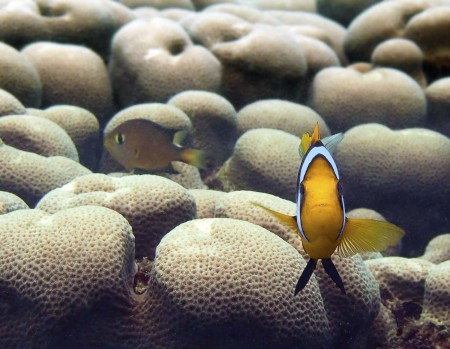 As some prefer to be outwardly agressive, other, wiser critters such as this Clown Anemonefish (Amphiprion percula) spurn the macho tactics and find cover from which to taunt: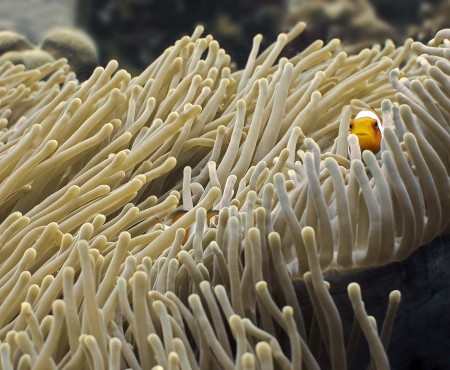 Above, Nemo, the fish every little kid wants to grow up to be, sasses me from the relative safety of his anemone. "Nyaa na na na na naaaa . . . this is deadly poison . . . you can't touch me." Little does Nemo know that this species of anemone will simply feel ilke silk on my fingers and I'll feel nothing but a slightly creepy chill up my spine.
Never mind. I wouldn't think of hurting Nemo.
I'd rather take on Chuck Norris with one hand tied behind my back. HUUURRRAAAAA!
Tags:
amphiprion chrysopterus
,
Amphiprion percula
,
Calcinus minutus
,
Clown Anemonefish
,
dardanus
,
echinaster luzonicus
,
eel garden
,
hermit crab
,
orange finned anemonefish
,
orange starfish
,
pig island