Posted in
Mixed Nuts
on February 3rd, 2010 by MadDog
Everybody is bored hearing how busy I am. Hey, I'm bored with it! We're working frantically this week to get the new network rolled out and all of the computers switched over to it. When it's done, I'll be able to get back to what passes for normal. I've been in a state for the last few months. The old system went back to Windows 2000 Server for Domain Controllers and had been upgraded, patched, hacked, glued together and thrown into a mix-o-matic with a bunch of Linux monstrosities that were supposed to be "enhancements". Never again!
The new system has dual Windows Server 3008 R2 Domain Controllers and all workstations will be running Windows 7. Most of it is working already and it is sweet, sweet, sweet. I just have three mission-critical machines to move over to the new network. Then we have to get the big network printers switched over, do a little prettying up of bits and pieces and we're done.
Then I have to get cracking writing some magazine articles and arrange for some bush walks to gather new material. I also plan to ride the Harley more. I've only been on it a couple of times in the last few months.
Today, to amuse ourselves, I have a few miscellaneous images that tickled my eyeballs over the last couple of weeks. I'll start with an unusual view of a nice red hibiscus blossom: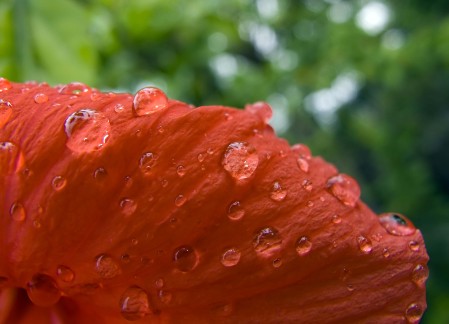 Those water drops caught my eye from twenty metres away. I never pass up a chance to shoot drops. I love the way that they reflect the light. You can see some interesting reflections if you click to enlarge.
Here's another of my ongoing series of "crazy foliage" shots: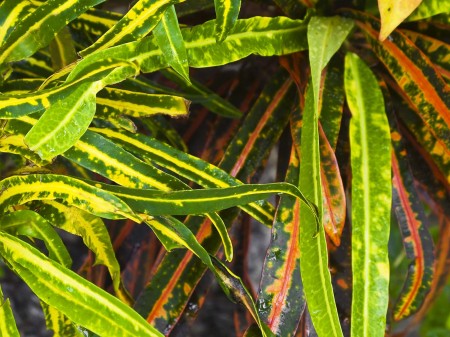 Sometime when I was a child I was brainwashed, probably by a gym teacher who was assigned to teach science – a common enough occurrence in the U S of A – that plants are green. Despite intense therapy, I've not gotten past this crippling mental defect. Plants here are all kinds of nutsy colours and it is deeply disturbing.
The shots above came from Blueblood as did this one of a man hurrying home during a brief rain shower: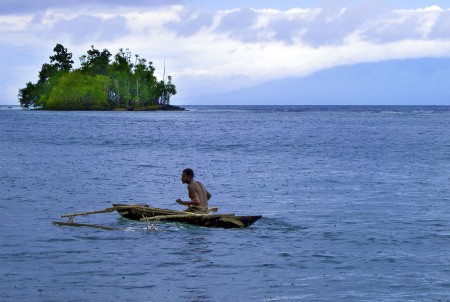 You can see the base of the huge Kar Kar Island volcano at the right side of the frame. Click to enlarge and you can see the rain drops hitting the water and even a few streaks of rain drops against the darkness of the canoe. I took all of these shots with my new Canon G11.
You've seen the flower of the Sensitive Plant or Tickle-Me Plant (Mimosa pudica) here before: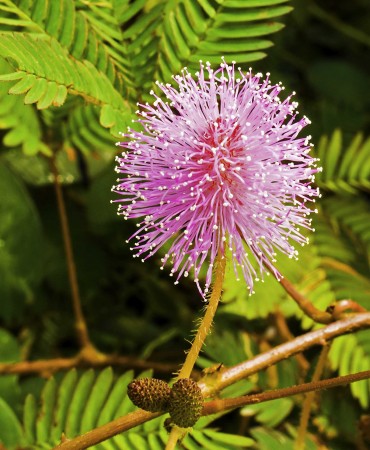 This is the nicest shot that I have of it. I attribute that to the increased dynamic range of the G11. It seems to capture many more tones of colour and brightness than the G10, as it should, given the massive changes to the sensor.
Here is another familiar to regular readers. It's my favourite spider: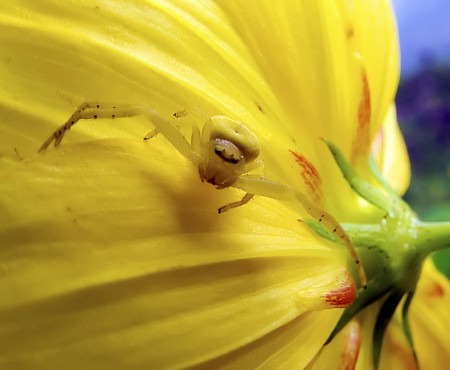 This fellow was distinctly grumpy on the dull day when I shot him. They usually try to hide by crawling around on the opposite side of the flower. This guy turned to face me and raised his front legs in a menacing display of aggression. I have to admit that I didn't feel greatly menaced, but I didn't mention it to him.
Oh, yeah, back to water drops: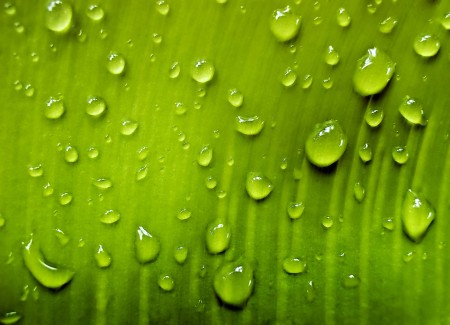 This is one of my favourite water drop shots. I have others that are sharper, flashier, more colourful, blah, blah, blah. This one, however, makes me feel very relaxed and mellow. I'm strongly affected emotionally by images, always have been. I think that is why I love photography so much. When I look at my favourite images, I feel good.
I love sharing those good vibes with you. I hope you dig it too.
Tags:
canoe
,
hibiscus
,
kar kar island
,
Mimosa pudica
,
sensitive plant
,
spider
,
tickle-me plant
,
water drops