A combination of TELIKOM's totally worthless copper wire phone network, a full day of diving on Saturday and a fairly grueling bush walk on Sunday has put me three days behind. I won't bother to mention that I've also got a bad cold. Yes, I'm feeling pretty sorry for myslef. I intended to do a post on Saturday morning but could not, of course, get any connection. We had a full day of diving, so I was too knackered to go into the office where resides my only connection to the world from here on Planet X. Early Sunday morning we headed for Nob Nob to visit the site of a downed P-28 Lightning aircraft. It's now Monday afternoon and I'm just getting started writing Saturday's post. I will catch up. I must catch up. It's becoming compulsive, but in a good way.
Anyway, here is Monty Armstrong leading part of the pack of rag-tag hikers up the trail to the crash site: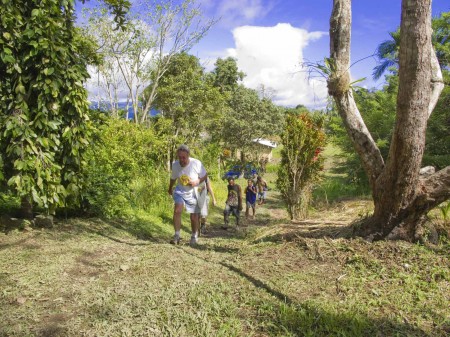 The highest elevation that we reached was about 400 metres. The crash site is in deep jungle on the side if a precipitous slope at 125 metres. That means that we walked mostly downhill from the highest point, near the spot in the photo above, to the wreckage. The footpath, if that's what you could call it, was ankle-deep in mud much of the way. I started out the walk barefoot, because I know that I would do better that way. The five hikers were myself, Monty, Greg, Jo, and Tag Tap. I fell a half-dozen times, Monty nearly went down a couple of times, Greg crashed one time spectacularly, but Jo never fell once.
Need I mention that the walk back was about 275 metres uphill, very uphill, on the same muddy path? I never really got badly winded, but I walk very slowly.
At the site the jungle is so dense that you can hardly see the sky: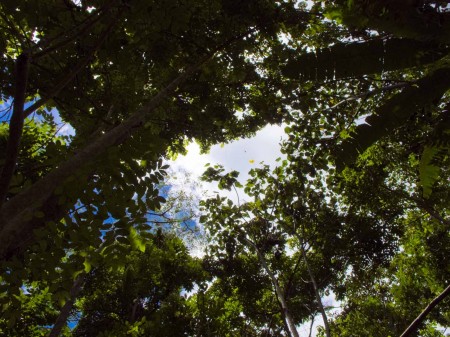 That was the biggest hole that I could find. It can be a spooky place. If you get lost, you could walk right across a trail and not even notice it. Local folk, of course, know every square metre.
So, what's the big fuss about? Well, it's about this beautiful but deadly machine: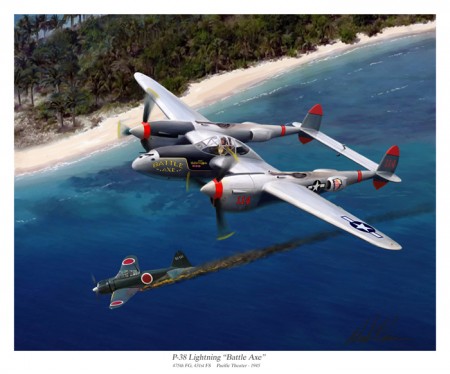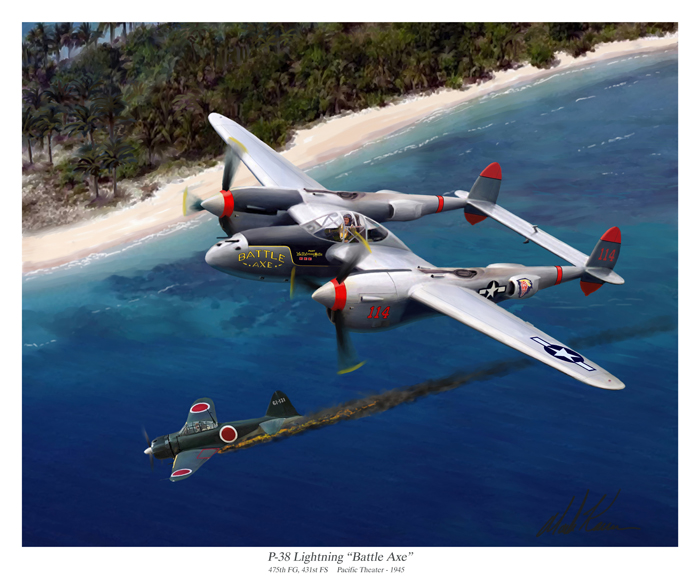 The image above is from
Mark Karvon's web site
where he offers a stunning array of fine art prints.
Here's Monty surveying the site with his expert Mark I Eyeballs. Monty has torn apart and reassembled more that a few old war birds, including P-38s: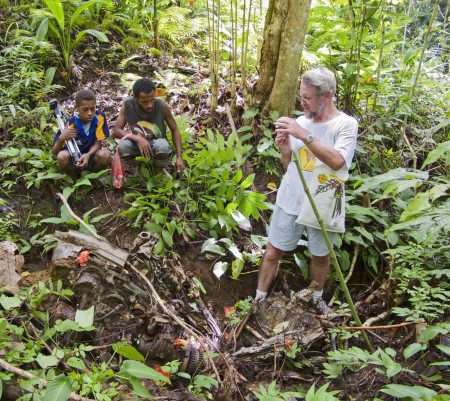 We had a cheap metal detector with us which allowed us to find many more bits and pieces that I have managed to uncover on previous visits to the site.
Here's Jo providing a bit of eye candy to an otherwise grungy shot of one of the Allison engines: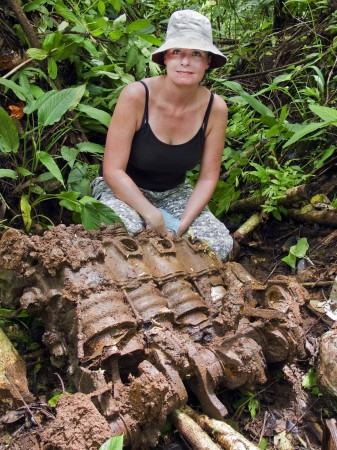 The far left side of the engine is missing, as is the whole crankcase. You can see the crankshaft, connecting rods, a few of the pistons and the intake flanges.
Here is a shot of the turbocharger: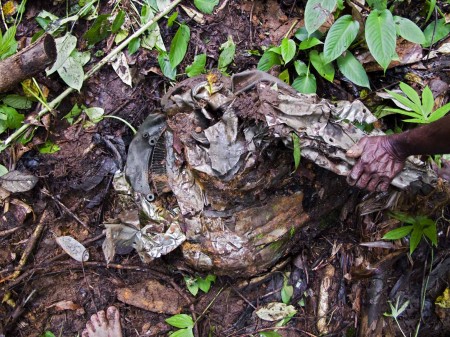 We searched in vain for anything that had a number on it. Our hope was to find the area where the cockpit smashed in. Without a more sophisticated metal detector and a digging crew, there is not much point in visiting the site again.
There are slightly varying stories of the fate of the pilot. All versions have him bailing out and landing safely, so we've never worried about disturbing human remains. Sadly, we can find no evidence that would indicate the serial number of the aircraft. This means that the people of the area will never know the name of the man who they tried to protect from the Japanese soldiers.
A crashed war plane is not the only unsettling thing we found. This millipede was at least 10cm long. They exude a highly toxic fluid which burns skin like acid: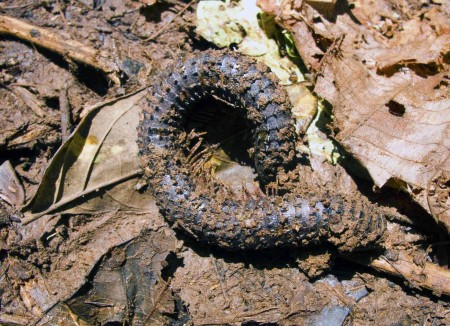 Jo saw a snake cross the path directly in front of her. She didn't even scream. Light on her feet, doesn't scream when startled, single – hey guys, are you listening? Oh, did I mention that she's a yachtie?
Here's a shot of my GPS resting on the engine: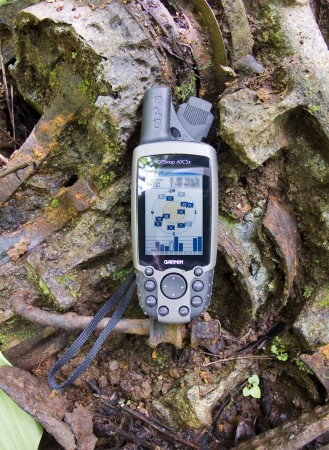 You'll probably note that I've blurred out the coordinates. Serious investigators are welcome to contact me for more information.
My old buddy, Tag Tap has been with me to this site several times on our bush walks. I doubt if we'll go back. We've shown it to probably every person who has an interest in working so hard to get to a place where all you can see is twisted metal: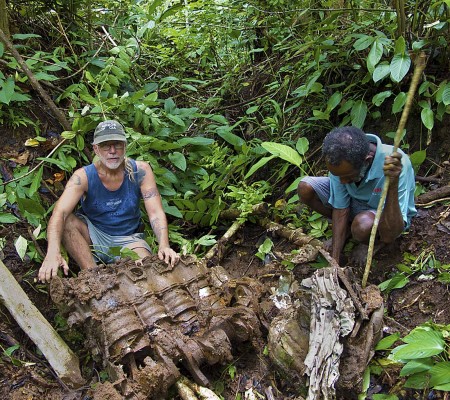 However, every time I go here, I think a little bit about my dad. He had nothing to do with airplanes, but he did fight the war here in the place where I now enjoy the fine life. I think about the man who flew this plane. How, with an engine on fire, he popped the canopy and jumped out, hoping that his chute would save him, not daring to think of what faced him if he survived the fall.
And then, he died at the hands of the enemy.
It is a sad place.
Tags:
lightning
,
mark karvon
,
monty armstrong
,
nob nog
,
p-38
,
p-38 lightning