Posted in
Under the Sea
on February 15th, 2010 by MadDog
Let's start out this morning with something that we don't see every day. If you're a regular reader, you know that our house faces east and looks out across Madang Harbour. If condition are just right, as the sun is lowering in the west and it is raining over Madang Town on the peninsula, we might get a bit of a rainbow. A few afternoons ago we got a spectacular double rainbow. I was too slow to get the camera going, so I missed it. Wouldn't you know, a few days later, we got another good one. Fortunately I was just getting out of the car and had my camera with me. I ran out to the back of Faded Glory and grabbed this five frame series which I stitched together in Photoshop to make a rainbow panorama:
I'm a bit surprised that I got no red in the rainbow. It is usually pretty strong. Maybe someone out there can explain it.
I have some more shots from our dives on Saturday at Pig Island where we hunted the Eel Garden and Barracuda Point. The Eel Garden is a favourite place to stalk the Papuan Scorpionfish (Scorpaenopsis papuensis):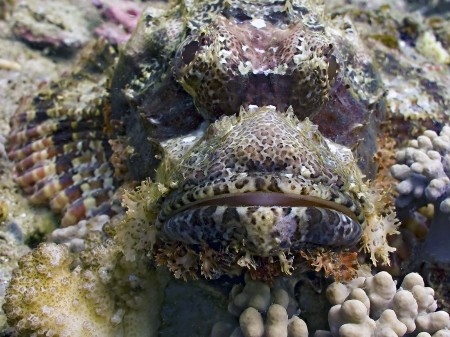 It's not fair to use terms like "ugly" for such a creature. They probably look fine to each other. In fact, this is probably the Steve McQueen of scorpionfishes.
If I'm making less sense than usual today, I'm blaming it on my horrible cold. I feel as if my head is stuffed full of cotton and I can't concentrate on anything. I should be at home in bed, but I've finally coerced the TELIKOM technicians to do a bit error rate test on my line to my house so that I may get back an Internet connection. Unfortunately, they have no vehicles on the road. The manager mentioned something about registration, so my guess is that someone either forgot to register them or the cheque bounced. Either is equally likely – or both.
Anyway, the Barracuda Point dive was equally productive. Here is a lovely mob of Pickhandle Barracuda (Sphyraena jello) cruising past me: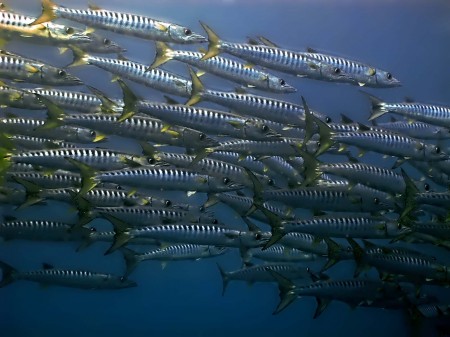 Something is terribly wrong with these barracuda. They are supposed to be ferocious predators. Many attacks on humans are reported. Our barracuda, however , seem to be uncannily tame. I regularly swim up to them an stick my camera withing inches of them. The don't seem to mind at all. If I get too close, they simply make a bump in the line to accommodate me. If I get closer still, they break the line and join up elsewhere. It's a breathtaking experience.
A week wouldn't be complete without some nudis. We've been finding many of them recently after a long period during which we hardly saw any at all. This Phyllidiella pustulosa is one of our most common varieties: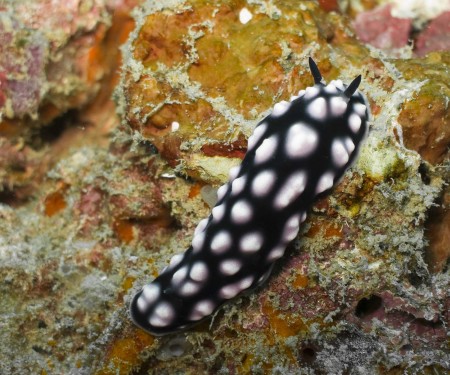 I realise that I'm showing you a lot of them. I hope you're not getting bored. We're all nudibranch geeks here. My speciality is not in identifying them, but rather taking the most perfect images that I possibly can. I want to eventually come up with an identification guide for all of the species in the area. As there are hundreds, I'm afraid that I'm in a race with the Grim Reaper to complete the project.
Another that I've been trying to get The Definitive Image of is the Notodoris minor: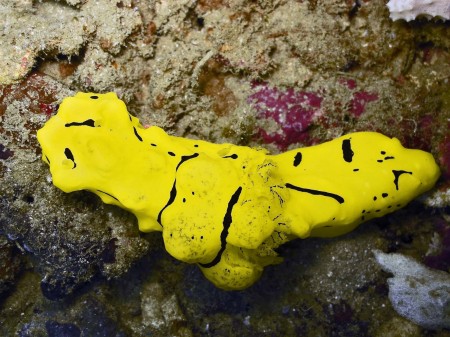 Put "notodoris" in the search box to see how I'm doing. I'm not sure these shots are better than the last batch.
I certainly have more anatomical detail in these images, but I'm not as happy with the molding of the body surfaces: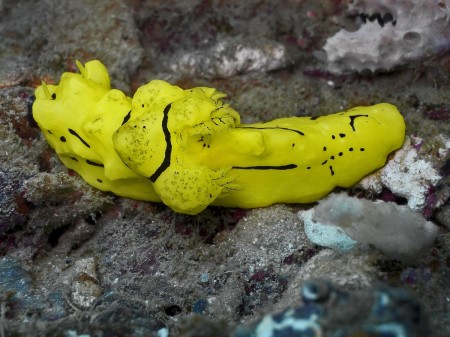 Since I'm still having to catch up on my posts and I have an impending battle with TELIKOM today, I'll sign off and wish you a good day.
Please don't get too close to your screen. I wouldn't want you to catch this cold.
Tags:
barracuda point
,
eel gardem
,
notodoris minor
,
nudibranch
,
papuan scorpionfish
,
phyllidiella pustulosa
,
pickhandle barracuda
,
pig island
,
rainbow
,
scorpaenopsis papuensis
,
Sphyraena jello