Posted in
Under the Sea
on February 18th, 2010 by MadDog
Well, now I'm only two days behind. No thanks to TELIKOM. For some reason known only to God and the local manager, I got a call this morning from a guy in the business department. He seemed to want to sell me a PABX system to fix my problem. I asked him if it had any copper lines going to the exchange. He didn't know. I asked him if he knew anything about the USB wireless adapters that were announced for sale in April and still don't work. He said he didn't know. I asked him if he knew anything at all. He said he wasn't sure. I think the local manager is trying to avoid me. Every time I call, he has "gone to pick up his kids at school" (funny thing for a manager to be doing in the middle of the day) or, "just stepped out", or "in a team meeting". Hah! Since his office is only a few steps from mine, that makes it a little easier for me. I can station one of my spies in the parking lot and he can inform me by walkie-talkie when the guy comes to his office. My means are many and nefarious.
I will not let this matter rest.
Never mind. I'm soon going to set up a wireless link between our big radio tower at our office and my house. I'll have a fast 24/7 connection for absolutely nothing! I'm going to take my two TELIKOM handsets and throw them into the ocean where they will do the fish more good that they have ever done me. I'll set up some Skype phones in the bedroom, lounge and our new J&E Enterprises Limited office and say "Goodbye and thanks for all the fish!" to TELIKOM forever. How glorious it will be to see the day when none of my communications have to pass through a single piece of TELIKOM's crummy gear. Digicell will do me nicely for a portable. TELIKOM's cell service doesn't work half the time anyway.
I should possibly apologise to my readers who do not live in PNG and therefore do not understand the agony of trying to get simple phone service. My good mate Trevor Hattersley's phone has not worked for five months. Most people simply give up and buy a cell phone. In fact, I believe that is exactly what TELIKOM wants. They want to abandon huge sections of copper cable that are so old that they can't support even voice service. This leaves outlying small businesses stranded with no phones. Imagine owning a hotel (Such as Jais Aben) if your phones do not work half of the time. Yet TELIKOM offers no business alternative.
Okay, okay, enough for today. The pictures aren't that great today either.
Today's music is Pink Floyd's Pigs on the Wing from the ethereal Animals album of 1977. It's strangely in tune with my mood today. I also like Dogs from the same album. Some of the lyrics bring tears to my crusty old eyes for their timeless poignancy. The guitar riffs are stunning.
Do you have to deal with people who think like this?
And after a while, you can work on points for style.
Like the club tie, and the firm handshake,
A certain look in the eye and an easy smile.
You have to be trusted by the people that you lie to,
So that when they turn their backs on you,
You'll get the chance to put the knife in.
Sure, we all do. Sadly, some aspire to that philosophy.
Never Mind. My task is only to show pretty pictures.
Here's a little mob of Striped Catfish (Plotosus lineatus) who, happily, never have to make a phone call: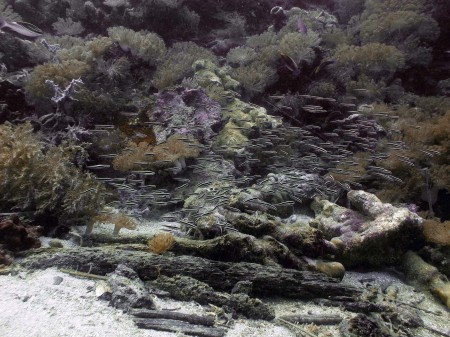 Lucky little critters, eh? You'll probably have to click to enlarge them.
This is one of the prettiest Feather Star images that I've managed: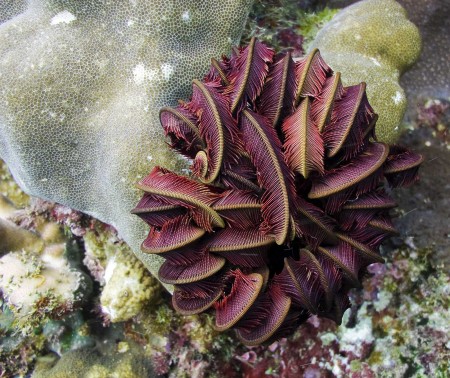 The lovely Lamprometra seems to be in a state of grace, all curly and calm.
This is a sort of throw it out and see who likes it shot. It makes me think of looking down into a particularly nice aquarium at some friend's house. He must be very good at his hobby: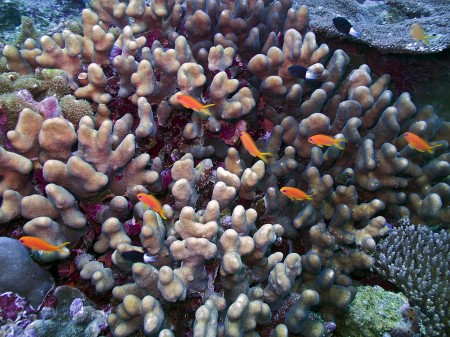 It's a bunch of small Anthea of some species that I can't identify.
Some of you will recognise these Bigeye Trevally (Caranx sexfasciatus) from many other posts here. I shoot them whenever I get the chance: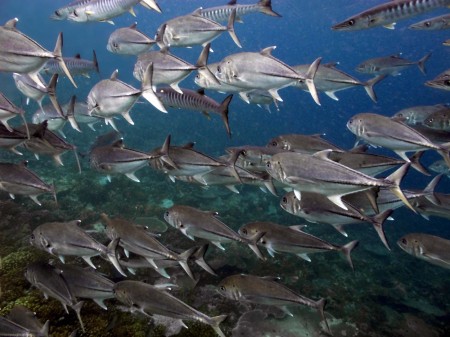 I think "conformists" when I look at this image. I don't like the feeling. If I stare at it long enough I can see them moving. Must be all the drugs I've been taking the last few days.
I usually strive for natural colour. Of course, that's not what you get from the camera. They usually look more like this: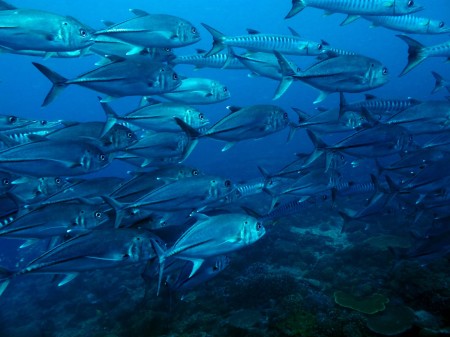 Sometimes blue is what you need.
From Animals, I leave you with Sheep:
Harmlessly passing your time in the grassland away;
Only dimly aware of a certain unease in the air.
You better watch out,
There may be dogs about
I've looked over Jordan, and I have seen
Things are not what they seem.
Peace.
Tags:
barracuda point
,
Bigeye Trevally
,
Caranx sexfasciatus
,
Feather Star
,
lamprometra sp
,
pig island
,
plotosus lineatus
,
striped catfish
,
telikom