Posted in
Under the Sea
on February 21st, 2010 by MadDog
Wooo Hooo, I just LOVE driving all the way to work on Sunday morning to do a post because swampsucking TELIKOM can't figure out how to twist two wires together so that somebody can get an actual dial tone for more than two hours. However, it does produce the occasional side-benefit. Witness this lovely, if somewhat sombre, morning scene at Coconut Point: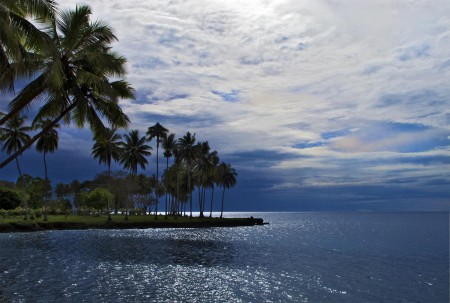 The water was all sparkly and the sky looked like it had just dropped some acid. Very trippy, indeed.
Speaking of trippy, I showed you some Blue Coral (Heliopora coerulea) in a mixed bag of things that I picked up on the beach. It took me a long time to figure out where it came from. There's nothing that looks like it underwater. Then I discovered that it is actually brown on the outside. I began looking around for the right stuff and finally found a little bit that had been broken off. On Saturday's dive, I found a big spot where something, probably a clumsy diver, had broken off a couple of knobs: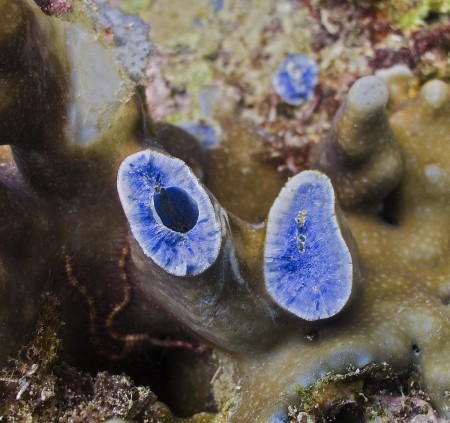 As you can see, it's improbably bright blue inside. I'd be interested to know what causes this blue colouration, but I'm far, far too lazy to research it. The beach at Wongat Island is covered with the stuff that has been broken up by natural means and washed up and tumbled. That's what you see in the image to which I've linked to in the paragraph above. The image here is the live stuff that has been broken off.
I simply love these chubby, cuddly looking Starfish (Choriaster granulatus). They are the puppies of the Starfishes: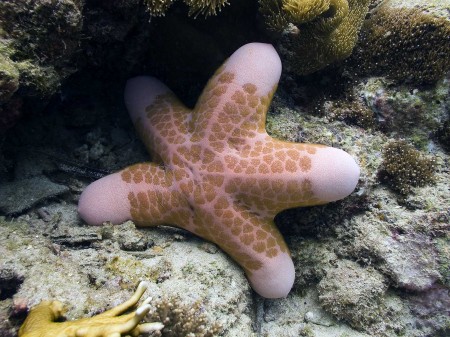 I noticed that this one was particularly pink, especially in the centre. The do vary somewhat in tint. The posture here is suggestive that it's leaping over the boulder with its arms outstretched, probably hollering "Whoopee!" Don't believe it. Their top speed is about a half-metre an hour.
Here's some very gaudy female Purple Antheas (Pseudanthias tuka) flitting around at the local mall: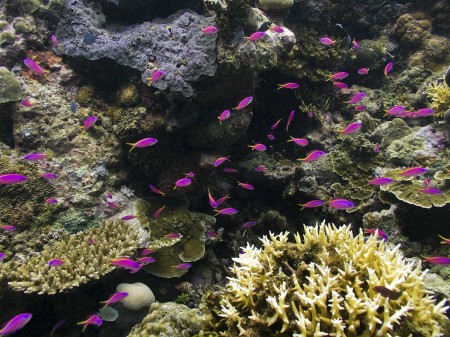 The male is around somewhere, probably near the edge of his harem, keeping an eye out for poachers.
I showed you one of these nightmarish Sea Cucumbers (Bohadschia graeffei) a few days ago: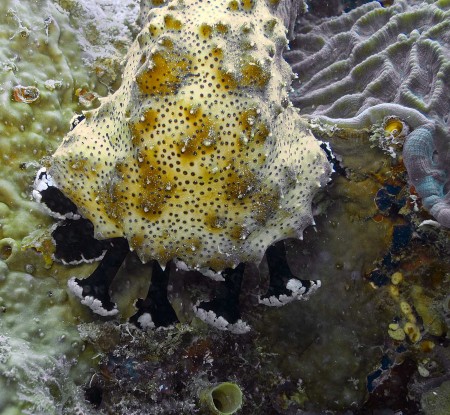 This is a much better shot. It clearly shows the sucker-like food-gathering thingies that reach out continuously and grab onto anything remotely edible.  As soon as one of these appendages has sucked something up, it bends around in a particularly creepy fashion and shoves itself down into the gob of the squishy, prickly, disgusting critter.
You've gathered by now, I'm sure, that this is not among my favourite creatures of the sea.
Tags:
blue coral
,
bohadschia graeffei
,
Choriaster granulatus
,
coconut point
,
heliopora coerulea
,
pseudanthias tuka
,
purple anthea
,
sea cucumber
,
starfish