Posted in
Under the Sea
on March 2nd, 2010 by MadDog
Well, it's official now. I'm as sick as a dog. I went over to see our beloved Dr. John Mackerel (A . K. A. Tinpis ). He shoved around and pounded on my face, causing considerable pain. Then he put his stethoscope, fresh from the freezer, against my back while I pumped as much air as I could manage in and out of my chest. "Well, that's horrible." he pronounced. Tinpis has a charming bedside manner, but he cares about us. We know it and it counts. I don't remember the mumbo-jumbo syndrome name, but it basically means that my entire airway system from behind my eyes to the bottom of my lungs has been Pearl Harboured by some very nasty bugs. I actually don't feel as bad today as I did yesterday, but I'm toppling over more often, since my balance mechanism is basically shot.
Never mind. I have a week of something reasurringly named Augmentin Duo which I shall dutifully down twice a day until I'm back to fighting strength.
We've had a sunrise draught lately. This is the best one that I can come up with for the last week: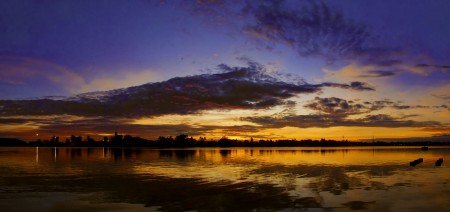 Still, not bad for this season.
This is the thoroughly exasperating little Black-Spotted Puffer (Arothron nigropunctatus). I say exasperating because it is the Carlos the Jackal of fish – it never wants to have its picture taken: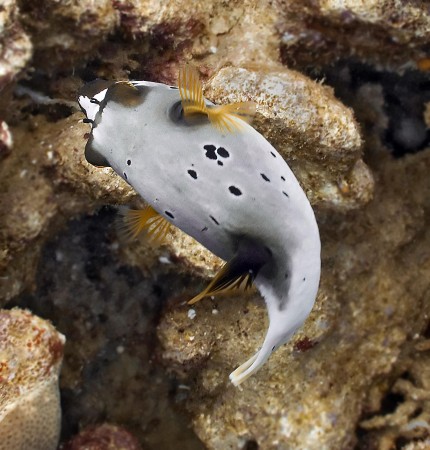 I caught this one just as it was diving for cover.
I don't know why more underwater photographers don't grab more images of coral. This Galaxea astreata is a stunning little beauty: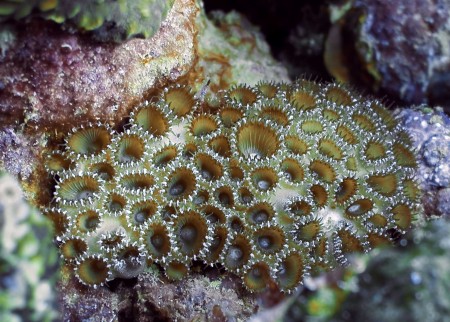 Measuring only about 50cm wide it packs a staggering array of colours and detail into a very small package. I put this image up at 2,000 pixels wide, so you might want to try it as a screen saver or background. It has plenty of detail.
I've been seeing some very nice Feather Stars lately. Usually, they're not all that interesting and they are also difficult to photograph, because something is lost in the translation – I can't really explain it. However this Comanthina schlegeli turned out very pretty with the plate coral as a background: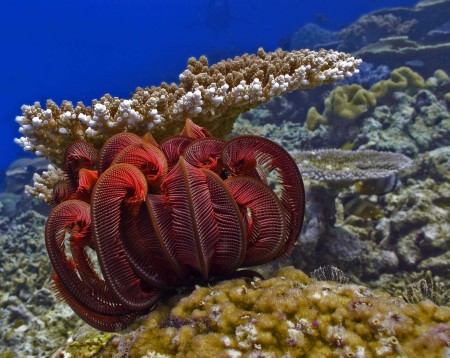 I find it amusing that they are sometimes waving their arms around madly and other times seem to be napping.
The Magnificent Anemone (Heteractis magnifica) is always a beautiful subject for photography. They come in many different colours and the anemonefish which inhabit them prefer a colour which matches their own, to some degree. You can't see any anemonefish in this shot, just some female Purple Anthea and a couple of different Damselfishes: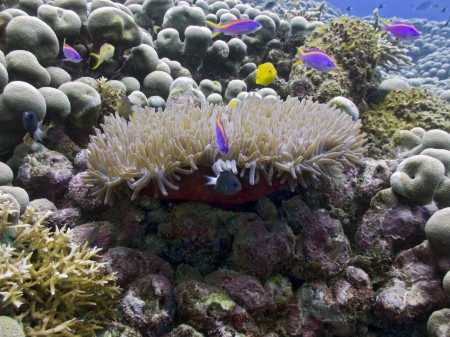 The shot above was exposed with the natural light from the surface. I prefer this lighting, because it more accurately reflects what I saw.
Here is the same specimen shot with the flash turned on. There are some advantages: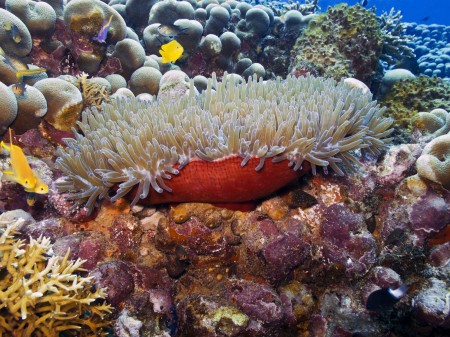 You can see the brilliant colour of the underside of the anemone and the way the anemone is attached to the underlying coral.
I'm going to have to see how long it takes me to recover from this illness. It's very dangerous to dive with severely blocked sinus cavities, not to mention painful. Some divers have suffered severe hearing loss from diving with even a simple cold. I'm known as the "old lady" of diving in Madang, since I insist on following the rules (at least as long as it doesn't affect my diving). I'll be careful.
I want to be doing this when I'm 90.
Tags:
anemone
,
arothron nigropunctatus
,
black-spotted puffer
,
comanthin schlegeli
,
coral
,
eel garden
,
Feather Star
,
galaxea_ streata
,
heteractis magnifica
,
magnificent anemone
,
pig island
,
richard jones
,
sunrise