Posted in
Under the Sea
on March 3rd, 2010 by MadDog
I'll keep the babble at a minimum today, as my brain is running on empty and I'm moving at molecular speed though I have my mental pedal to the metal. In case you're interested in the gory details, my sinuses are expanding exponentially and will soon be causing grey matter to ooze out my ears. It makes it even harder than usual to think. Oh, I can still think about a lot of things, – no worries there. The problem is that none of them are useful.
This does not bode well, as I have a very important appointment tomorrow, the outcome of which will have a huge effect on the next few years of  our lives. I'm sincerely hoping for a clear brain in the morning, if not clear sinus cavities.
I see that I've already exceeded my babble limit, so I'll get right to this cute little Clark's Anemonefish (Amphiprion clarkii) guarding his host with due diligence: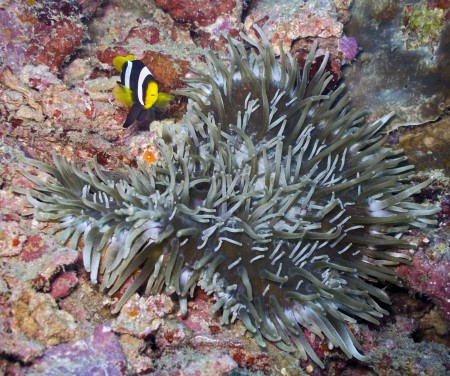 We used to see a lot of this species, but lately they seem to be getting more scarce. This always worries me when I note changes in species distribution. I don't have enough technical knowledge to know if it's important or not and I've had no luck, so far, in interesting any marine researchers to return to Madang, which used to be one of the main playgrounds for such eggheads.
Yesterday, if my memory is working correctly (no guarantees) I showed you another of these corals of the Galaxea genus: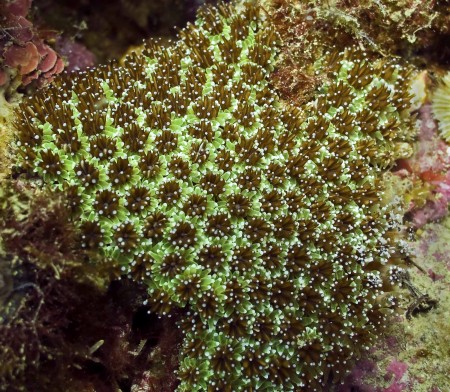 They are particularly beautiful and incredibly detailed. This one is the Galaxea fascicularis. It's worth clicking on to see the detail of the polyps.
This shot is a bit of a double treat. The kicker is that I found it right under the bow of Faded Glory. We anchored in the sand, but the boat drifted a little over the top of the reef. I caught this just as I was returning to the boat. It's a pair of seldom-seen Skunk Anemonefish (Amphiprion akallopisos) lurking in a similarly rare and beautiful Merten's Anemone (Stichodactyla mertensii):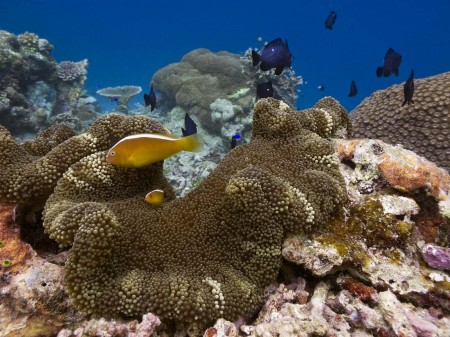 Quite a nice surprise at the end of a painful dive.
Going back a couple of days, I showed you this same Nudibranch (Phyllidia varicosa) shot with natural light. As I was going through the images from that day I noticed that I had also taken flash exposures of it. For the first time in a long while, for a macro shot, I think that I prefer this flash shot to the natural light exposure: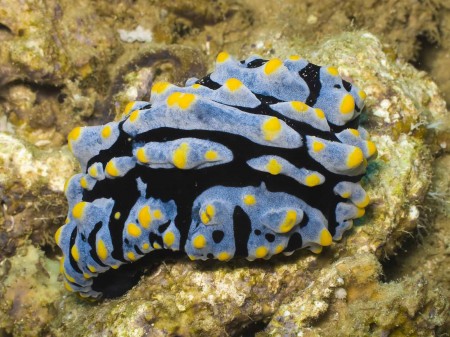 I think that the explanation is that the light was poor and I had to do a lot of fiddling with noise and a bit of motion blur to get the shot by natural light. This one has much more realistic detail. I didn't even bother to give it a bath to remove all of the little bits of ocean gook that usually cover everything.
Here's another fish that you saw recently as a part of a pair. I found this side-on shot of a Split-Banded Cardinalfish (Apogon compressus) which I had previously rejected because I thought that it was over exposed: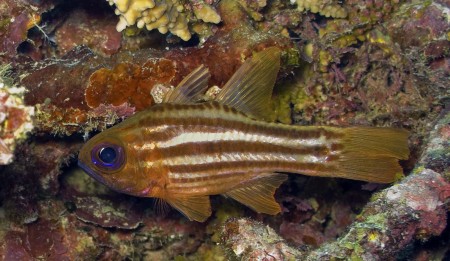 As it finally turned out, it is not a bad specimen shot, except that the intense blue of the eye is lost. Someday I'll get the perfect shot of this fish.
Okay, I'm falling out of my chair now. I think I'll go home and go to bed. I have computers to work on, but my brain is rebooting every time I think of that. It's taking much longer to come back on line.
Tags:
amphiprion akallopisos
,
Amphiprion clarkii
,
apogon compressus
,
clark's anemonefish
,
coral
,
eel garden
,
galaxea fascicularis
,
merton's anemone
,
nudibranch
,
phyllidia varicosa
,
pig island
,
six-banded cardinalfish
,
skunk anemonefish
,
stichodactyla mertensii