Posted in
Humor
,
Mixed Nuts
,
Under the Sea
on March 4th, 2010 by MadDog
Still toppling over occasionally because my inner ears have been stuffed with fast-setting concrete, and wheezing like a steam-powered thresher, I went today with my partner, Eunie, for my first job interview since the '60s. I'd say that my new boss was already predisposed to give me a go, so it was all very cordial and agreeable. I'm now, probationally at least, the (some kind of) Editor of Niugini Blue and Our Way magazines. Those outside PNG won't recognise these titles, but here "in country" they are top-drawer reading material.
I've got until the end of the year to prove myself a wunderkind who will be indispensable and therefore worthy of further consideration. It's a great opportunity and it helps to replace some of the money that we've lost from churches who, for one reason or another, have decided that we're no longer suitable candidates for financial support. My new employer understands that I will keep my position (mostly hiding in the IT dungeon) at PBT as well as taking on the editorship of the two magazines. I'm going to be a very busy boy, indeed. Stay tuned.
When I got home, I collapsed in a deep stupor for a few hours. I then awoke at about 15:30 and was horrified that I'd not yet written anything to satisfy my compulsion to glorify myself on your computer screen daily. Having no other ideas, I fell back on my favourite disguise – MadDog the Artist.
My three great (okay, only ) ambitions in life were to be (1) an actor, (2) a musician and/or (3) an artist. I've failed miserably at all of them, not that it bothers me much. As for the acting, I simply never got a break. I know I could be a movie star, if I could just manage to get discovered. As for two and three, I'm simply too bone lazy to practice enough to gain the skills. I peck at the guitar and keyboard and I sketch stuff which is immediately fed to the office shredder. In short, I'm a dilettante.
So, I ran through my Big Pile of Images looking for pixels to massage. Being temporarily more brain damaged than usual, I hope your expectations of me will not be too high.
This one I call Falling Angels: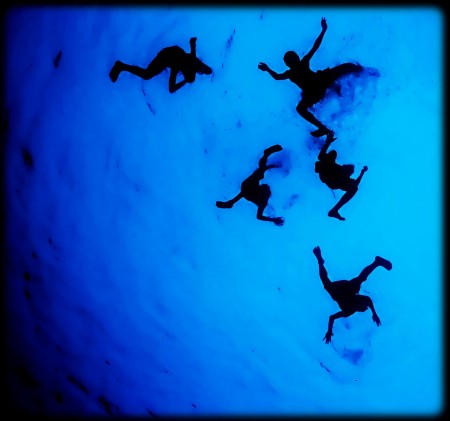 You've seen it here before is a less jazzy form.
Here's a couple of different treatments of everybody's favourite fish, Nemo the Clown Anemonefish, or as he is known to his intimate friends, Amphiprion percula: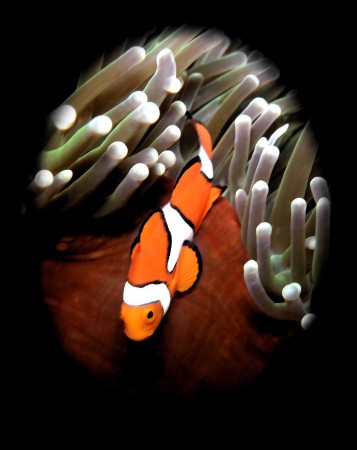 The one above has simply been brutally massaged by Noise Ninja Pro, which if nudged in the right direction, can produce some nice artsy effects.
Here I gave the same image a severe beating with the Photoshop Watercolour filter. The effects probably won't be too noticeable at the thumbnail resolution, so indulge me by clicking to enlarge: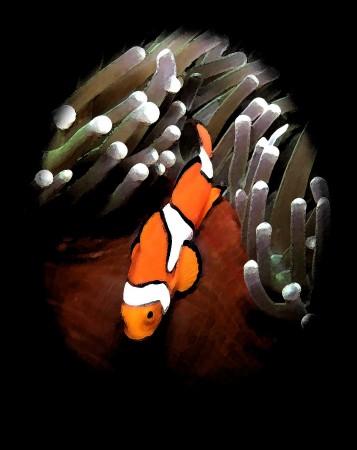 This has always been one of my favourite images. I snapped it many years ago with my first underwater camera, a giant film rig which nearly drowned me on several occasions.
Warming to my work at hand, I found another of my favourites, a very pretty Spincheek Anemonefish known as Premnas biaculeatus to fellow fish freaks:
I gave it a thorough thrashing with the Photoshop Poster Edges filter.
Here's another Spinecheek which I smoothed and polished with Noise Ninja Pro: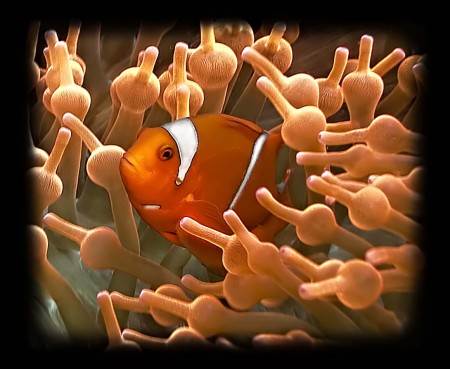 And here is the same image treated with the Poster Edges filter: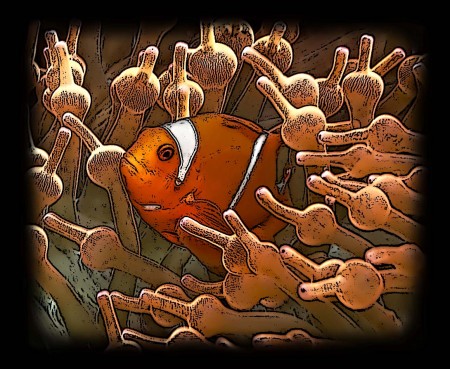 I like the "cartoon" effect of the Poster Edges filter.
Here's another one Poster Edged – three pretty yellow Anthea of some kind. I think that this was my best effort of the couple of hours I spent waiting to fall unconscious once again: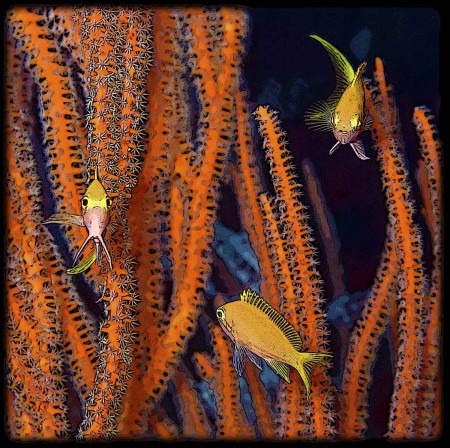 The more I look at that one, the better I like it. I remember being affected the same way by Elke Sommer.
Well, I think I have a couple of minutes to go before I fall out of my chair. Incidentally, I'm posting this from my house, so my war on TELIKOM must be going well while I convalesce. It's another happy little Clown Anemonefish, Nemo's brother-in-law, Fredrick: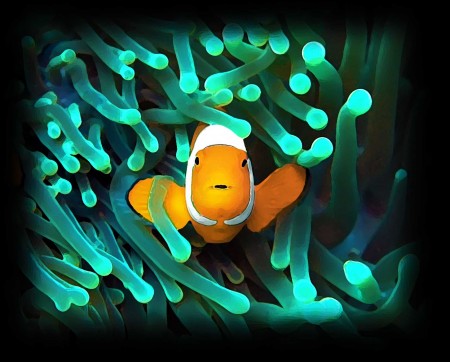 Freddy also got the Photoshop Watercolour treatment. It seems to agree with him.
And now, forgive me while I pass out.
Tags:
Amphiprion percula
,
anthea
,
Clown Anemonefish
,
Premnas biaculeatus
,
spinecheek anemonefish