Posted in
Under the Sea
on March 6th, 2010 by MadDog
Feeling much better after a week of taking a gut wrenching (you know what I mean) antibiotic, I found that I could pop my ears on Saturday morning. So, I took a 12-hour Sudafed at about 09:00, reckoning that I would be flopping on my back in the water at about 11:00. Jo Noble and I motored out in Faded Glory along with Richard Jones and Jenn Miller riding in their boat Sanguma.
We arrived to find a metre of Gol Gol River water clouding our vision of the top of the reef, along with a medium current and a long, rolling swell – not good omens. Only Richard and I were diving, so we quickly sized up the conditions and decided to go for it. I still wasn't feeling as strong as I might, but we decided before going in that we would come back up immediately if it wasn't any fun.
We've been diving lately with Rich as my "spotter" and me manning the Canon G11 camera. Today we once again proved to be a successful hunting team, gathering several trophies. I'll have more over the next few days.
The question that came up several times on this dive is, "When is close enough for a really good shot a little bit too close for comfort?" First, I should mention that I'm a natural-born coward. Bravado is not my forte, I'm adverse to pain and my inclinations are less toward masochism and more toward narcissism. Therefore, I tend to be careful. I want to be doing this when I'm 90.
Still, one wants to get the shots that make people say, "Wow!" Sometimes you have to discomfort yourself a mite to do that. This shot of a Giant Moray Eel (Gymnothorax javanicus) was like snapping a cute little pussycat: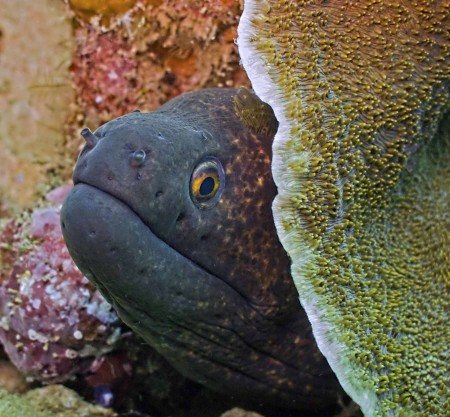 My lens was a good 15cm from his jaws and he wasn't looking perturbed at all. If I tried to move closer, he just slithered back into his hidey-hole. A self-regulating safety situation for the both of us.
This younger individual was in no mood for fooling around: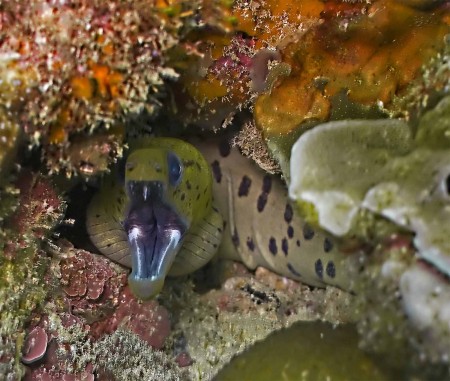 A soon as I crept up on it I got the, "Are you ready to deal with this?" attitude. I backed off a bit to let it get used to my intrusion and then came in for a second visit.
This time I got the, "You better get outta my face, man!" posture: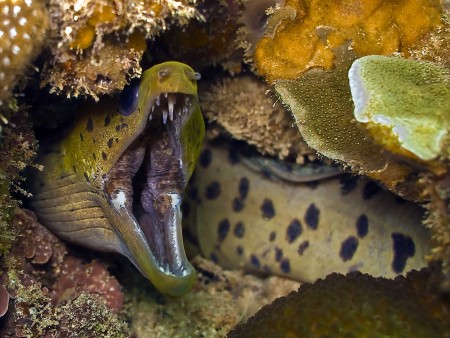 Truthfully, though I never wear gloves, the most serious injury I might sustain from a Moray of this size is some very nasty lacerations and a scratched up camera. Nevertheless, I decided that this was close enough. I didn't want to turn the poor critter into a man-eater. We don't encourage our Morays to develop a taste for people.
We do have many dangerous critters in these waters. However, hardly any of them are aggressive, unless you physically molest them, which I take great pains not to do.
An example is the whole family of Sorpionfishes. You've seen many of the varieties here. This one is the Papuan Scorpionfish (Scorpaenopsis papuensis):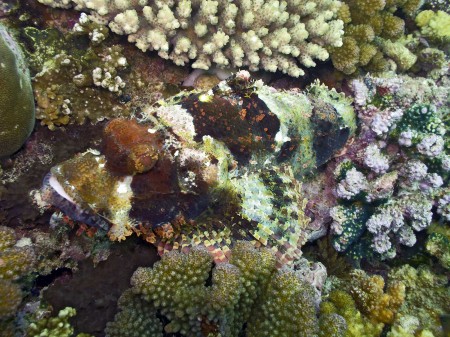 You may have to look hard to find the fish. They are masters of camouflage. Therein lies the rub. Though they would never actually attack, they intensely dislike being molested. There are a series of highly venomous spines along the dorsal fine and other places on different species. Any one of these spines can envenome you in a way that you are guaranteed to find not only extremely painful, but possibly fatal, though that is a rarity.
The main danger is, of course, is that you may inadvertently come into contact with one before you even see it. A couple of weeks ago I was about to lay my hand on a rock to steady myself for a shot when the "rock" moved. I felt pretty stupid to realise the unpleasantness which I had just escaped.
Here's a closer shot. This is about as close as you want to get: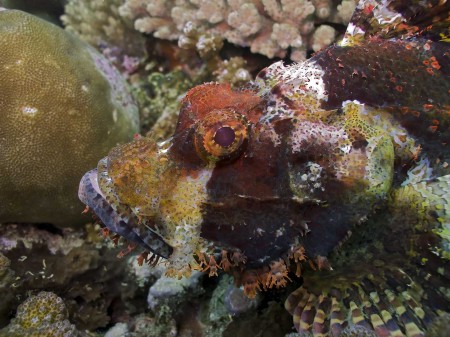 Of course, it's not going to "attack", but in its haste to get away, I could get punctured.
You'll probably have to examine this shot closely to find the Octopus: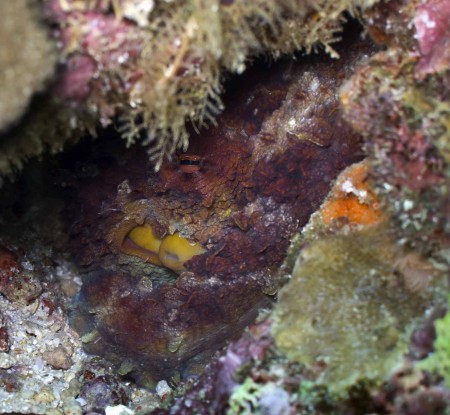 You can easily pick out the breathing tubes. One of its  eyes is the reddish object just below the branchy stuff hanging down to the left of centre.
Of course, an octopus has absolutely no interest in attacking a human, at least not one of this size. It was simply hiding from us. Richard saw it moving across the bottom. As soon as it spotted him, the critter holed-up.
I was on a dive in Hawaii once when our dive leader stuck his hand in a hole, wrestled around a bit, and pulled out an octopus with a arm spread of about a metre.
I assure you that I would never do that.
I can't be a very nice experience for the octopus.
Tags:
gymnothorax javanicus
,
jenn miller
,
jo noble
,
moray eel
,
octopus
,
papuan scorpionfish
,
richard jones
,
scorpaenopsis papuensis