Mmmm . . . stepped out of the front door last night to let Sheba out for a little swim – she likes to skinny dip in the dark – and the lights on the ships across the harbour simply stunned me. Had to trot back inside to get my G11.
I set everything to manual and cranked the ISO up to 800 and got this telephoto shot by bracing the camera against a coconut tree: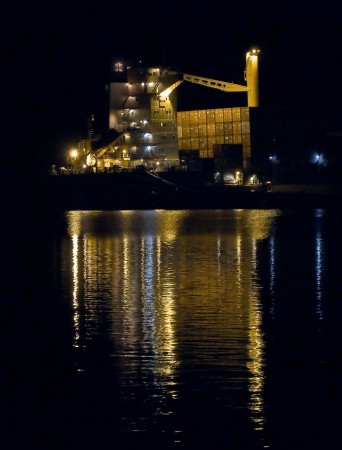 What an amazing gadget it is. If I were the Oprah Winfrey of photographers, I'd just give them away to everybody and say, "Go forth and photograph!" We would be so busy having fun that there would be no time for wars. Of course, the world economy would grind to a halt. Hey, wait! That happened already. Never mind.
I backed off the telephoto a little and got this nice little panorama: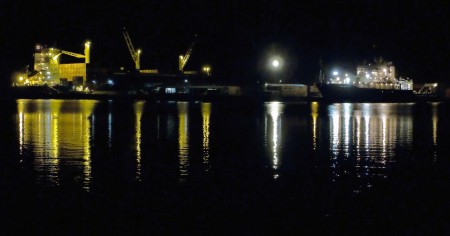 I'm not feeling too wordy today. I think I may have blown a fuse or something yesterday. Maybe it's the Aliens influencing me to cool it.
Going back to the images from my dive with Monty Armstrong on The Lady Anne I found one that I'd forgotten to massage. It's a kind of Sea Squirt that grows profusely in the rich (read full of sewerage) waters of the inner harbour: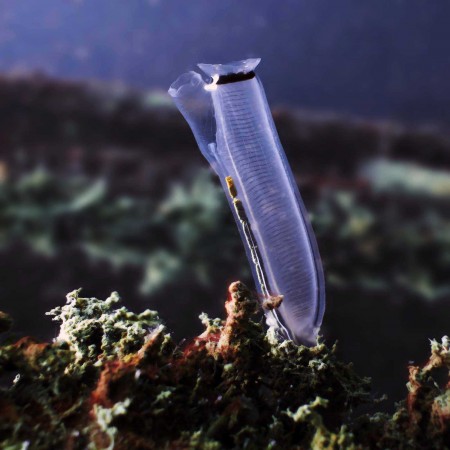 Its formal name is Rhopalaea circulata. I'm actually quite happy with the image, considering that the water was filthy. It marks the first time that I've posted an image of a species that is clearly better than anything that I could find on the web (not that a better one doesn't exist somewhere). Yeah, I'm feeling a bit smug about that. Hey, I work hard at this. Even geeks should get to win once in a while.
This little Freckled Hawkfish (Paracirrhites fosteri) also makes me smile: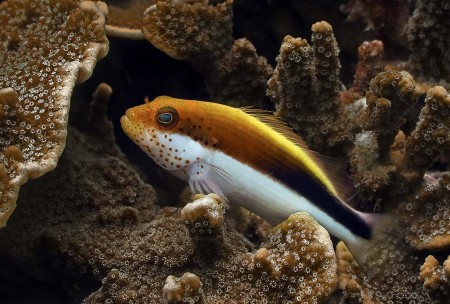 It gave me every opportunity to capture a good image. If there is any fault for imperfection, it's the photographer's. I wish every fish posed so nicely.
Well, I'm running out of words. Some days I feel like I could write all day. Sometimes I do, for magazine articles. Other days, it just doesn't flow. However, I can't leave without showing you one more shot of the amazing Broadclub Cuttlefish (Sepia latimanus) that inspired my bizarre "Aliens" post of yesterday.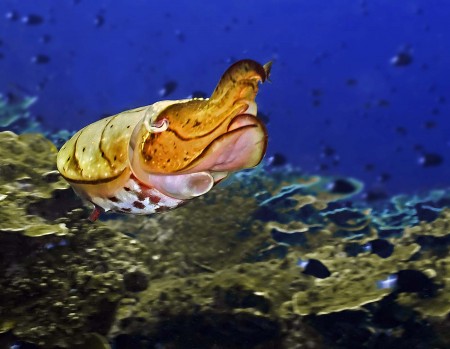 I had a dream this morning about these critters. Very amusing.
Ursula Andress was in it too.
Tags:
Broadclub Cuttlefish
,
freckled hawkfish
,
Paracirrhites fosteri
,
rhopalaea circulata
,
sea squirt
,
sepia latimanus
,
ship