Posted in
Mixed Nuts
on March 10th, 2010 by MadDog
Yesterday afternoon, when we left work we went over to the docks to pick up our friend, Jo Noble. She is the Steward on a giant super-yacht which is temporarily stuck in Madang awaiting repairs. We had her over for dinner and a "movie night". Such is what passes for entertainment in Madang. We like it. Although I miss the big city attractions of restaurants, movie theaters, museums, clubs and the like, the simple pleasures of visiting with friends in our homes keeps us more in tune with each other. Relationships are closer, stronger, less concerning events and venues and more about the real things in life.
Anyway, on the way around coronation drive we all simultaneously noticed that there was a remarkable scene before us. I had to stop the car to record the moment. In nearly thirty years of driving past this spot, I've never seen such an odd juxtaposition of hues. Honestly, I did not fiddle with this. Other than balancing the tones so that is shows up on the black background it's pretty much the way it appeared to us: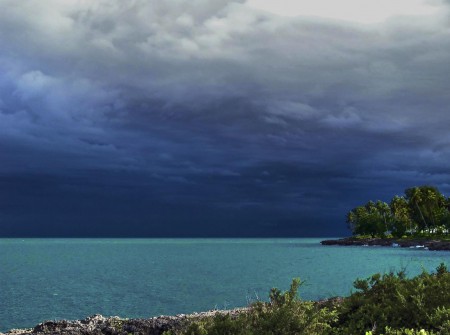 First, the sun was over my right shoulder low in the sky, taking on the winelight colour of the tropical afternoon. The rest of the sky behind me was intense blue, making the storm clouds over the Finisterre Mountains reflect that blueness back at us. There was also a large amount of fresh, cloudy water from the Gol Gol River over Astrolabe Bay. The sunlight was shining intensely there, but not directly on the storm clouds. This gave the water an aqua tint that contrasted strongly with the clouds and turned upside down the normal bright-sky, dark-water combination which we expect.
All of that fiddle-faddle of explaining it sounds stupid to me now. It dropped our jaws. No need to explain it.
This morning's sunrise was extravagant: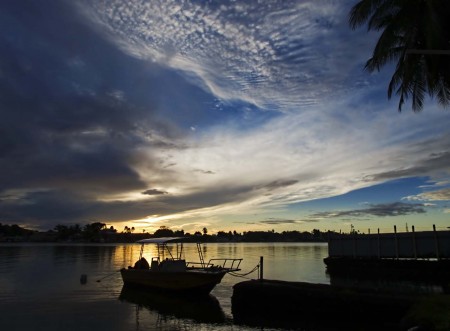 As I was moping around the garden for lens fodder, I was amused by the tiny sheep moving around in a little mob in the sky. I took a picture of them.
A few minutes later I heard the wimpy whine of one of Air Niugini's Fokker F-100 jet-powered gooney-birds coming in over the  main wharf on final approach: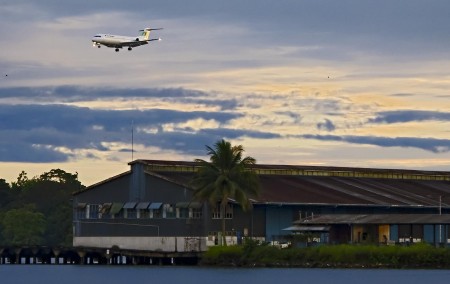 I was a pilot for a long time, but I never got used to that term. It always gave me a vague sensation that I was nudging too close to a prediction.
PILOT: Uhhhh Tower, Gold Three-Four on final approach to One-Two.

TOWER: Confirm that, Gold Three-Four on final approach to One-Two.

PILOT: Uhhhh roger tower, this is my final approach . . . ever.

TOWER: Uhhhh Gold Three-Four, say again last.

PILOT: Tower, you got wax in your ears? I said this is my final approach. I don't plan on doing any others after this one.

TOWER: Uhhhh . . . mmmmm . .  Gold Three-Four, is it your intention to land?

PILOT: Uhhhh . . . Tower, Gold Three-Four . . . I haven't decided yet, I'm just approaching for now. But this is the last time.
Well, you get the drift.
As I panned madly, blurring the trees below to keep the sharp eye of the lens on the aircraft, I was still wondering: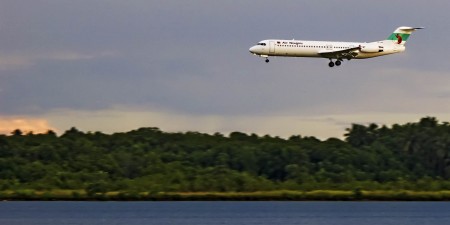 As it turned out, it did land. This time. Every time I get on an airplane, I think to myself, "What? Are you meshuga?"
On to simpler, less transcendental things . . . like grasshoppers: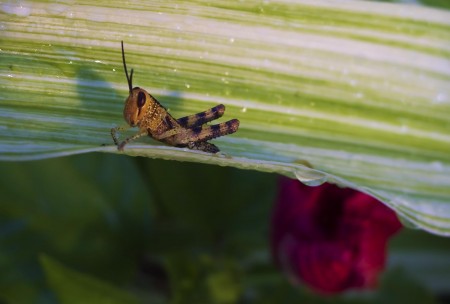 This was my morning grasshopper. I sometimes don't even bother to photograph them; it so often leads to a pointless chase around the garden. This one, however seemed to want, need to be imaged. It may have low self-esteem issues.
This is my poor, poor willow tree which simply won't grow. I've been feeding it, mulching it, trimming back dead whips, talking to it in gentle tones of encouragement and tenderly stroking its leaves for three years now. It's the only willow tree that I've ever seen in Papua New Guinea and I have no idea where Juli, our haus meri got it: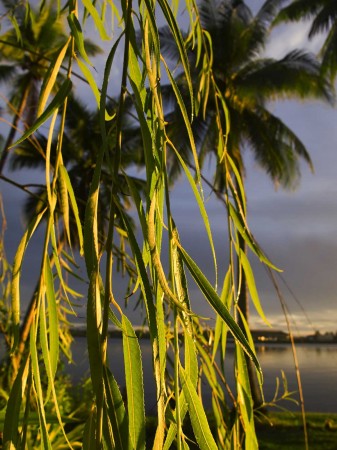 I love willow trees. I had one in my back yard as a child. It was my place of escape. I escaped a lot. I built a house in it. I would have preferred to live there, if I were allowed. I would also like to have had a bicycle, if it were allowed.
Too dangerous!
No wonder I'm now a mad man. Poor me.
Jesus wept. So do willows.
Tags:
air niugini
,
astrolabe bay
,
grasshopper
,
jo noble