Posted in
Under the Sea
on March 16th, 2010 by MadDog
Sometimes I get tired of chasing fish around. As a rule, I don't do that, but we all know that rules are made to be broken. It happens most often at the end of a dive, when I should be moving in an orderly fashion toward the surface and I see that fish, of which I have no image. Oh, yeah. It's decision time. Check my air – okay; I always have plenty left at the end of a dive. I breathe mostly with my gills. That fish is inevitably going down. You are not supposed to end up your dive deeper than your last few minutes. That's called a reverse-profile dive. It can build up too much nitrogen in your body and make your blood fizz like a freshly pulled Guinness.
So, what I usually do is say adios to that fish and slide up to five metres for my safety stop. Coral, however, requires no chasing at all, since it does not move. It may wave around, if it's limber, but it stays firmly fixed to the reef and poses very nicely.
Therefore, today I'll show you a pretty selection of corals that I corralled on our dive at Magic Passage last Saturday. I believe that you've seen all of these species here before, but these are much prettier pictures. The Canon G11 is making it so easy to get great shots that I'll soon have to find new challenges. Hmmm. . . underwater fashion photography . . .
This young Divericate Tree Coral (Dendronephthya roxasia) stands out nicely against the dark background: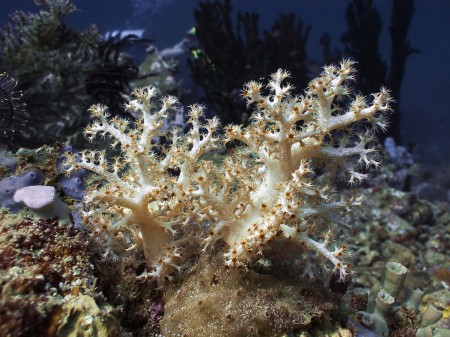 If you look carefully, you can see a diver in the distance.
I really like photographing D. roxasia because there are so many beautiful colours available and they look completely different when the lighting changes. Sometimes they seem to glow as if lit from inside: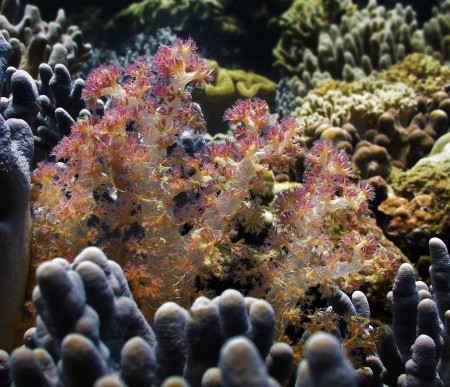 The shot above accentuates the crispness of the coral image because the foreground and background are out of focus. It is a nice technique for "framing" your subject.
I am heavily into patterns. Something about them calms me. Corals make great subjects. This Diploastrea heliopora is a good example: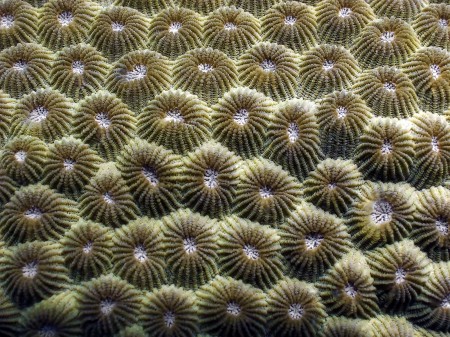 The individual polyps are about 1 cm in diameter.
Here is a shot of another specimen differing in colour and with a little more acute angle of the light: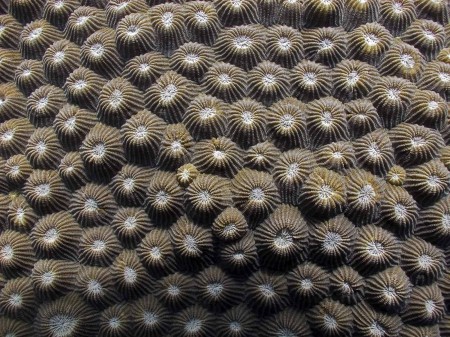 All of these images are more interesting if you click to enlarge. These regular patterns make mesmerising desktop backgrounds. Maybe a little too much so.
Here is one of the many wildly differing Leather Corals. This one is a species of Lobophytum: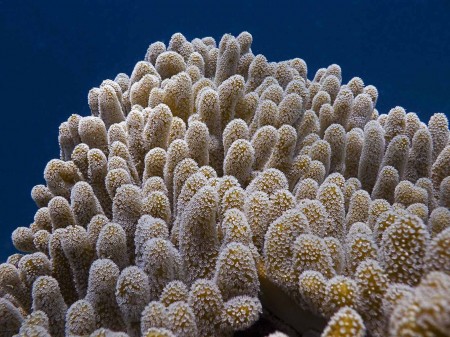 There are so many different leather corals that it's difficult to identify a specimen from a single reference. I have only one book. It takes far too much time to dig into the web for a species name. That's why many shots here give only the genus. I could not identify the species.
Here's another one that is a mystery. It's a coral of the Sea Whip mob, some species of the genus Ctenocella: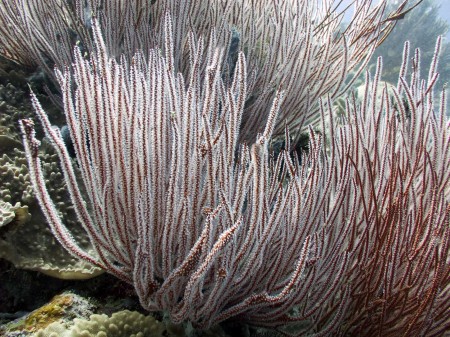 They are very pretty and add a little action to the scene, waving around like wheat in a summer breeze. These are about as tall as full-grown wheat.
This outlandishly red coral is of the genus Lobophyllia: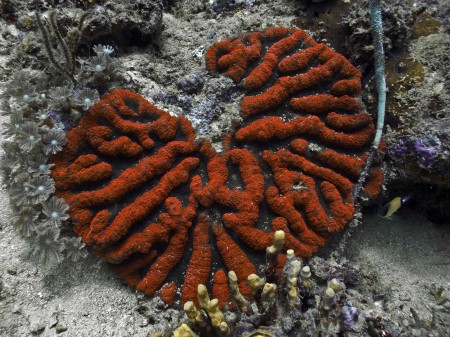 They are easy to spot, since they are about the reddest items on the reef.
Here is an interesting shot of the coral Goniopora djiboutiensis: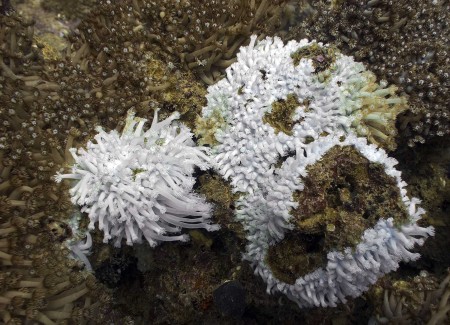 I'm not sure what's going on here. The white polyps appear to be the same species as the brownish ones in the background – the normal colour. I do not understand why this particular bunch of polyps on these old reef knobs are snow white. Maybe someone can explain. UPDATE: My Facebook friend Roshan Abeywickrama suggests that this may be G. lobata, which I agree is a good possibility. I'm certainly no expert.
Finally, I give you one that I have been trying to photograph properly for years. It is very difficult to get the green to look natural. If you use flash, you have no chance. The colour is a combination of the pigments in the slimy coating of the very hard, brittle tree and the spectrum of light at that depth. The Tubastraea micrantha has caused me much aggravation: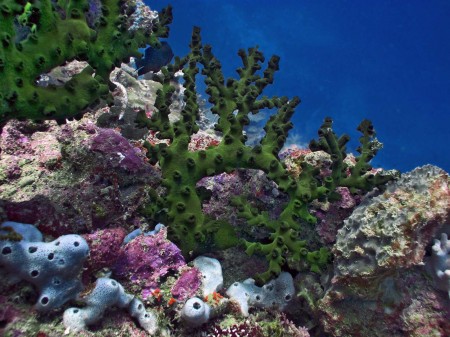 I think that I've just about got it figured out. This is as close as I've come to reproducing the exquisite deep green colour that I see in this coral with my eyes at about twenty-five metres.
I'm almost there.
Tags:
coral
,
Ctenocella
,
dendronephthya roxasia
,
diploastrea heliopora
,
divericate tree coral
,
Goniopora djiboutiensis
,
leather coral
,
lobophyllia
,
Lobophytum
,
magic passage
,
sea whip
,
tubastraea micrantha