Posted in
Mixed Nuts
,
Photography Tricks
on March 29th, 2010 by MadDog
For a Monday morning, things went remarkably well. I took the battery and fuel tank out to Faded Glory so the the guys from the marina could come to tow her in. Reversing the battery cables on Saturday morning was a very bad idea. I was worried all weekend that I'd blown the voltage regulator on the engine. That would probably set me back a thousand Kina or so. As it turned out, I had only fried a couple of fuses on the engine. Thank heaven for fuses! I'll be considerably more observant in the future when hooking up my battery. If we didn't have so many thieves around, I wouldn't have to lug it out of the house to the boat and then back to the house every time I go to sea.
Wandering around in my garden the other day, I gave my coconut trees a thorough inspection. It's amazing the things you find on really ancient coconut trees. I don't know how old these are. My guess is about fifty years. They are still producing coconuts despite being old and only a metre from the ocean. Look at the circus of colour here: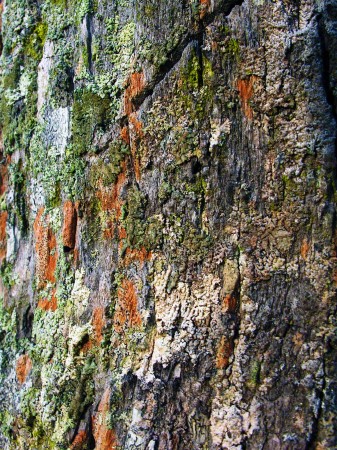 Not being an expert, I can only guess that the colourful organisms here are
lichens
. As I remember, lichens are a symbiotic conglomeration of fungi and either an algae or a cyanobacteria. So, a
lichen
is neither beast nor foul, so to speak, but some crazy combination of radically different organisms that somehow help each other, indeed, can't live without each other. Funny, that. I think that I just described my marriage.
Where someone took a big chunk out of the side of the tree there is now a beautiful little cave: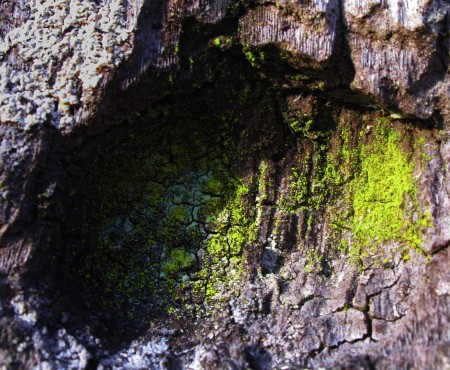 At the base of the tree, just above the roots, lives another type of lichen. This one looks as if it would be tasty to reindeer. It's sort of snowy: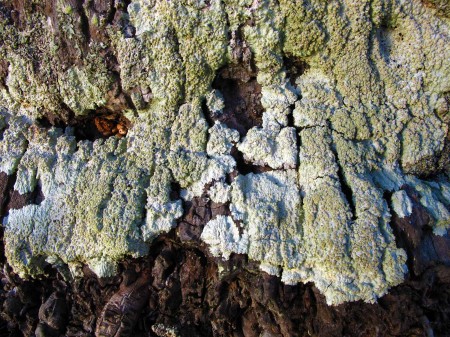 You can't find a tree near where people walk here in PNG that is not scarred. Everybody carries a bush knife and nobody can resist giving a passing tree a whack. Don't ask me why. It's probably inexplicable. My coconuts are scarred from generations of whacking by passers-by: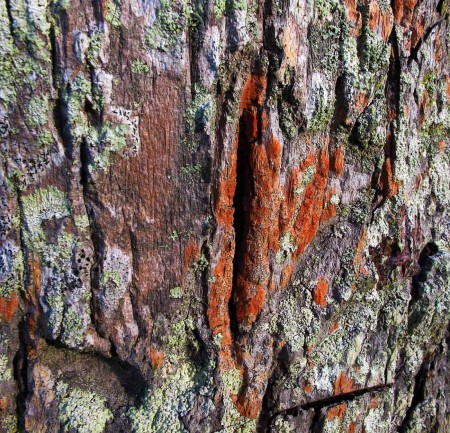 The poor tree seems to be bleeding orange blood.
Sometime in the distant past, someone had need for a nail in the tree. It may have been me. Any such memory has long past: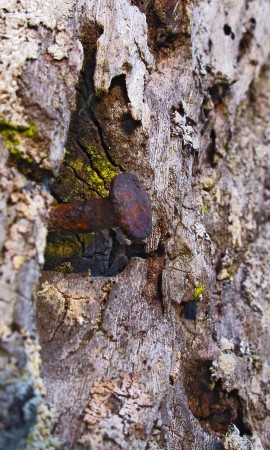 The nail is as rusty as my memories and the ever growing hole around it is not so different from the empty space in my skull left as my brain slowly shrinks to the size of a peach. Call me peach brain. I like that. It's not at all offensive.
A few metres away is the drain that carries water under our driveway from our crab hole infested front lawn to the sea. Down at the bottom of the cement catchment basin that I poured many years ago there is a little jungle growing: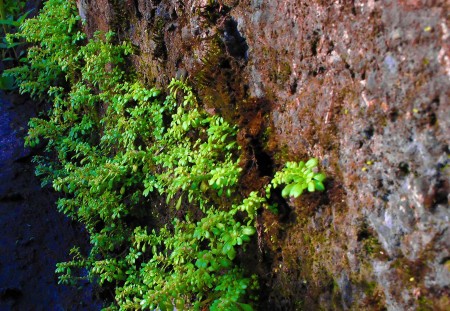 It is furiously producing oxygen. Good little jungle; keep it up. We need all the help we can get.
And that, as they say, is that.
Or, as we say here, em tasol.
Tags:
coconut
,
coconut tree
,
lichen
,
lichens