Posted in
Guest Shots
on April 1st, 2010 by MadDog
Under the heading of Best Laid Plans several have gone astray in the last couple of days. For the last few days I've been unable to connect to the Internet by my new wireless hop from the office because I failed to realise that the power at the coconut oil refinery was going to be horribly unreliable. Then, this morning, my brand-new Windows 7 installation on my desktop computer at home stayed stuck on the "Please wait . . . " screen for two hours. How long do I have to wait, for pity's sake?
The wireless problem has been partially solved by moving the hop from the coconut oil refinery to the top of the big supermarket across the harbour from our house. I know that the power there will be reliable, because there is a tonne of refrigeration equipment there and it must be kept running. The generators there kick in withing 10 seconds day and night 356 days a year.
I spent about four hours up on the roof of the supermarket this morning in the blazing hot sun. I'm still taking an antibiotic that could make me "sun sensitive" whatever that means, but I didn't remember that until we were just about finished. I'd had no breakfast and no water. I didn't realise that I'd overdone it until my vision started to tunnel and my knees got so wobbly that I hardly made it down the ladder. When I got back to the office, I took my dripping wet shirt off and laid down on the couch in the reception area and begged for food and water. As I lay there recuperating, I reminded myself that several seemingly minor errors in succession can put one in a world of hurt when their effects accumulate.
I think that the Windows 7 installation failure after only one day of use was because I hooked up my old Vista hard disk to get the data off of it. The first time that I booted after that, I believe That Mr. Gates' software got terminally confused and did a Vulcan Mind Meld between Vista and Windows 7. You can guess what the solution to this problem is. I'm working on my laptop now with a slow dial-up connection while I reinstall Windows 7. I have to be honest and say that this is the first real complaint that I've had against W7. Otherwise it has been a dream, a good dream.
Enough about all that. We're here to see some more of Val Jerram's lovely images of India. I'm happy to have influenced Val to develop her photographic talents. She has a Flickr Pro account with thousands of images from her travels around the world. There is some very nice stuff there on Darby Dog at Flickr.
I wish that I had paid more attention to Val's comments on these images. I was so addled that I just took the time to prepare them for WordPress and uploaded them. I can't comment much on them, but that's okay. Good images should speak for themselves. This one certainly has a vioce: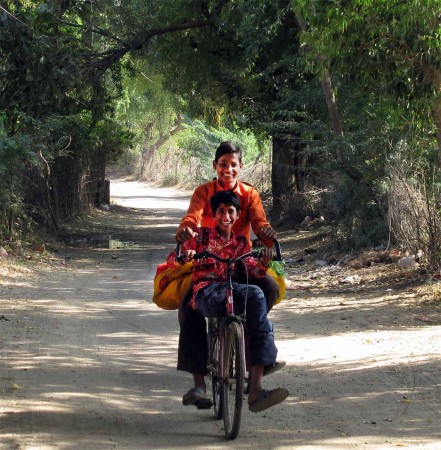 Happy faces, eh?
This one I love. It's a very well composed image. I did only a bit of cropping and reduced the saturation of the background to make the machines pop: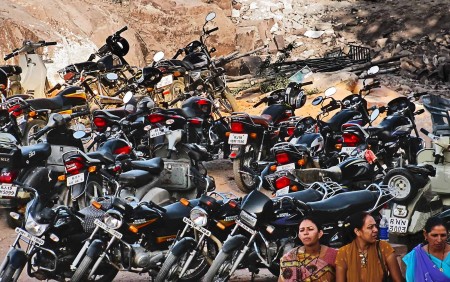 The presence of the three women in the corner make background look like a giant poster.
Nice, juicy colours make this ordinary scene come alive: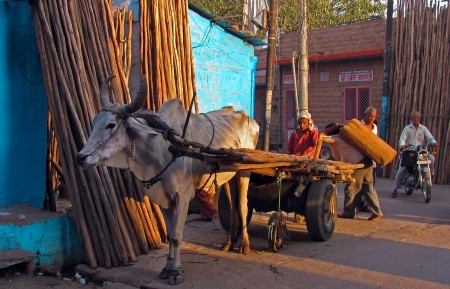 I find it amusing that most of the carts in the world today seem to have begun their lives as automobiles or trucks.
This fantasy of colour is the inside of a dome: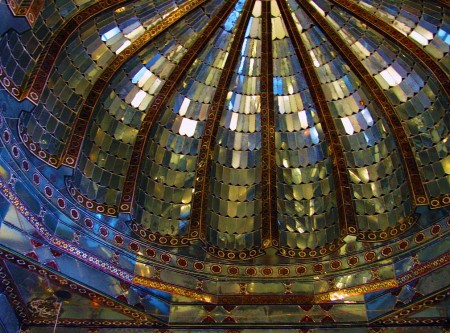 And this mosaic must have taken thousands of hours to complete: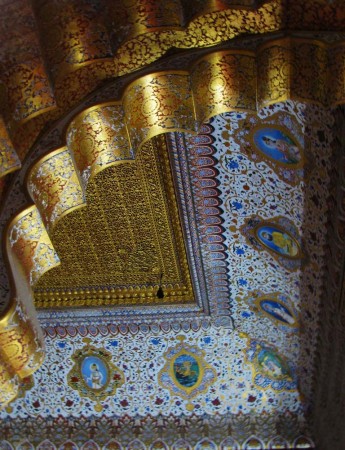 We are just beginning the four day Easter weekend here. I'll be up early to try to get the wireless connection finished. At noon I'm taking Jo and Ush out on
Faded Glory
for a swim. I'll probably do a solo dive to get some images to keep the pages filled.
I hope it's not too sunny.
I can't believe that I'm saying that.
Tags:
india
,
val jerram