Posted in
Photography Tricks
on April 2nd, 2010 by MadDog
I get stubborn sometimes. Today is one of those times. My general attitude is that, if I can't work reasonably efficiently or too many things are going wrong for mysterious reasons or my stupid mistakes, then I'm not going to work at all. I'll play instead.
I'm at the office writing this. I hadn't planned that. I nearly killed myself yesterday up on the roof of the supermarket (see below) trying to get the wireless hop to my house fixed. Here's a shot of our brave workman Andrew up the pole at the coconut oil refinery removing the wireless units so that we could put them at the supermarket: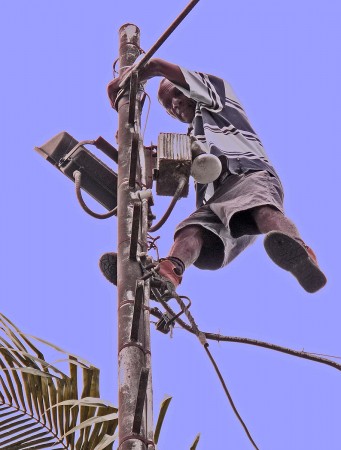 Yes, it's a horrible photograph. The back lighting was so bad that I gave up. It's the story that counts. Anyway, despite our best efforts, the stinking link still doesn't work and I don't know why. We'll have to find out next Tuesday when Madang comes back to life.
I like spiders because spiders like to pose. This one was posing on our front door: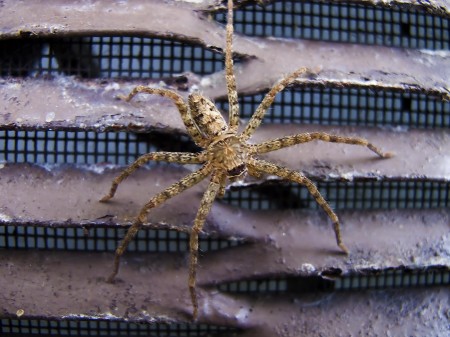 I think that I need to start thinking about giving that front door a little paint. I'll think about it some more.
As the title implies, it's raining today, probably all day, from the looks of it. That squashes my hope for going out on Faded Glory this afternoon, so I took a couple of hours off to play with some images that I got on the way into the office a couple of days ago.
I'm doing fantasies today. This is my fantasy at Coconut Point: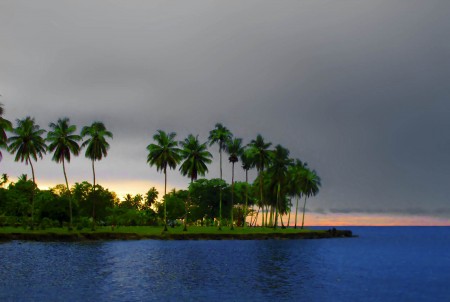 I like playing with colours, as you can plainly see. I don't care if it looks possible. In fact, I like it better if it looks impossible.
Here are some more impossible colours at Machinegun Point: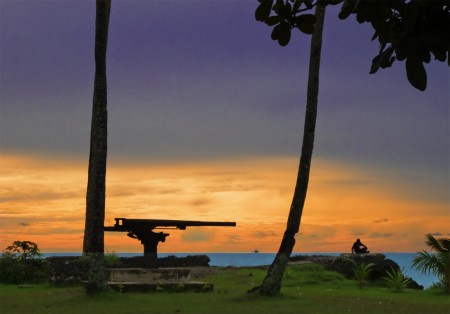 I wonder if the guy sitting there on the rock was seeing the same thing that I see. If he did, he was probably drunk.
If we're driving around Coronation Drive with a camera, we can't leave out the Coastwatchers Monument. It too is having a strange day:
I'm working on the "cartoon look". This one doesn't quite make it.
But this one, oh yeah, I'm getting there. It looks like a cartoon to me: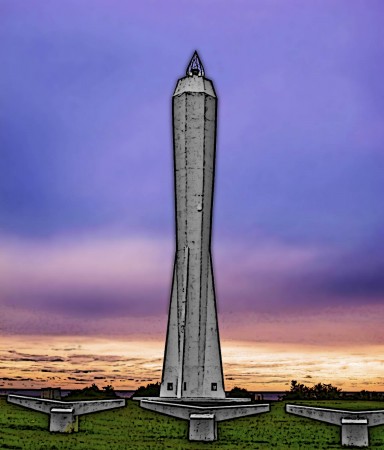 I used the Photoshop Poster Edges filter on that one.
I took some shots from the top of the supermarket roof yesterday and stitched them together. I was about ready to faint from the heat, so I didn't get in everything that I wanted. Then I Zoomified it for your viewing pleasure:
The big black ship on the right is loading up with wood chips to go somewhere in Korea or Japan to make the box that your next fridge will come in. If you zoom in completely to the stern of the ship, you can read its name. At the fare left, you can just barely make out the name Maneba on the back of a LUSHIP boat at their engineering yard.
Oh, well, maybe your kids can make a clubhouse out of the cardboard box.
Tags:
andrew
,
cartoon
,
coastwatcher's monument
,
coconut point
,
machinegun point
,
zoomify