Regular readers of Madang – Ples Bilong Mi probably think that Saturdays are all about the edgy sport of diving, photography and taxonomic names. One might be forgiven for thinking that it's all so unbearably geeky. If you're not a diver, but you've been around them, you know that they can be a snobbish lot, making whooshing noises with their gear and strutting around arrogantly in their wetsuits. Well, the truth is, everybody looks better in a well-fitting wetsuit, even me. It's like an all-body girdle. You're trimmer when you need trimming and you bulge in the appropriate places. So, one might be forgiven for wanting to be a diver. It's semi-cool. Sort of like driving a Datsun Z car.
Hah! Saturday is not all about diving. It's also fun for a very pleasant gang of people half my age who enjoy the pleasure of getting out on the water and away from the office. Here we are on Faded Glory with Sanguma in the distance heading for Pig Island for some tropical water pleasure: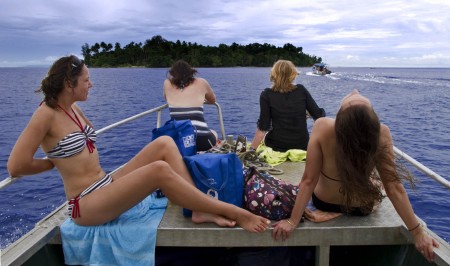 It was a strange sort of day – half sunny, half  gloomy.
When we tied up with Sanguma, the inevitable Scrabble game began: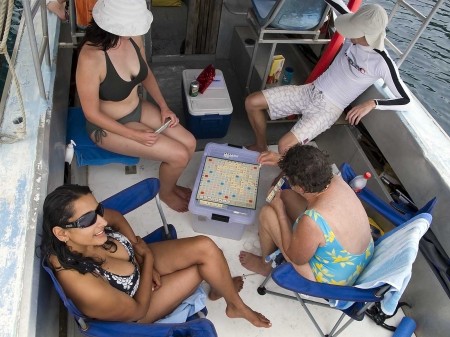 If you click to enlarge, you can see that Ush has a fairly good selection of letters to play with. Maybe that explains the expression on her face.
When the sun came out, everyone got into the water: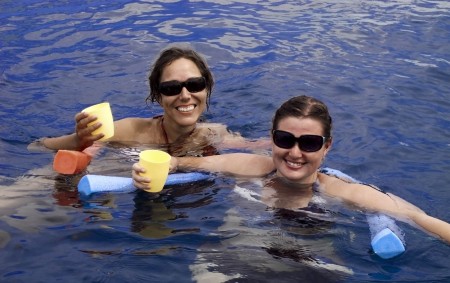 Each boat has a generous selection of "noodles" to assist in the floating pleasure.
Monty Armstrong and I both did two dives, so it was not all fun and games. Monty just bought a new Canon G11 with the factory underwater housing, the same rig that I use. I feel a contest coming on: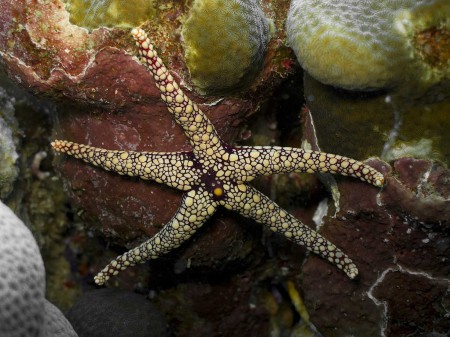 Richard also has the same camera and housing. We have yet to coax him to bring it into the water. Above is a nice little starfish that I snapped. I'll have many more underwater shots later in the week.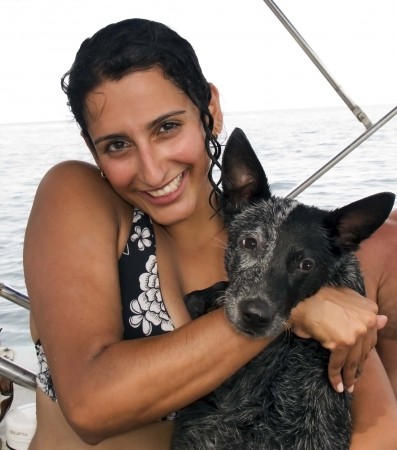 Jade and Andrew Marshall were out on their boat with some friends and their very cute three month old Blue Heeler. After a dunking in the ocean, which he did not appear to enjoy, he was warmed up by Ush. Not surprisingly, he did seem to enjoy that.
Everybody seemed keen to get out again for the evening to enjoy the wonderful phosphorescence in the water. I was skeptical about the weather, but agreed to have the boat ready to leave at 17:30.
On our way out, my fears for the weather proved well founded when the western sky got very angry: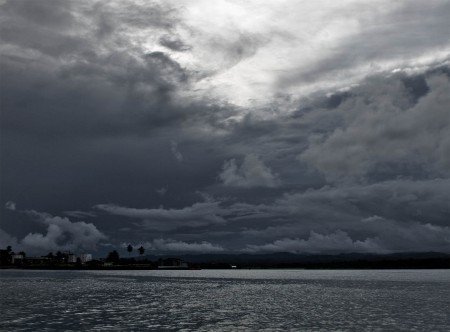 It turned out to be a fairly miserable evening. We suffered rain, mosquitoes, a pesky chop which kept the boats bouncing against their fenders and finally a cold wind which drove us all back to Madang by 20:00.
Nevertheless, all was not wasted. We encountered a small group of mermaids frolicking in the warm sea: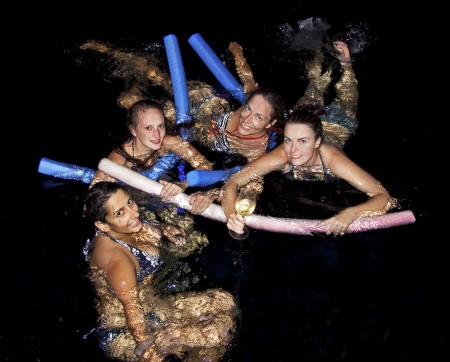 There is seldom anything such as a bad Saturday in the Land of Surprises.
Tags:
blue heeler
,
faded glory
,
pig island
,
sanguma
,
starfish
,
ush