Posted in
Mixed Nuts
,
Photography Tricks
,
Under the Sea
on April 5th, 2010 by MadDog
It's Easter Sunday morning. In Papua New Guinea it's an official holiday, so I have no excuse for going into the office. Miraculously, my TELIKOM copper line has dried out sufficiently so that I can get on the web, albeit at glacial speed. I sincerely hope to get my wireless connection to the office going tomorrow. It's disappointing that we've put so much money and effort on it and it doesn't work. I'm certain that the fix is simple. It just involved getting up on the supermarket roof again.
I have a small collection of miscellanea for you today. I am simply too lazy on this last day of a long weekend to go through the 160 exposures that I took on my two dives on Saturday. There are only two here. You will simply have to wait a bit longer for your fish. I hope that you're not too hungry.
This morning I went outside to check out the photographic possibilities. Beside the front door, where I installed my last link in the wireless hop to my office, there was a katydid perched on the Cat 5e cable. I can only assume that it was trying to heal the link: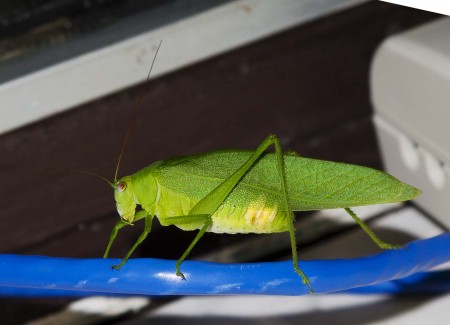 Unfortunately, it's efforts were unsuccessful.
Since this is an entirely random accumulation of images, I'll jump to this one of Swami Monty wielding his new Canon G11 at some unsuspecting underwater critter. This was Monty's first outing with the new rig, which is identical to mine: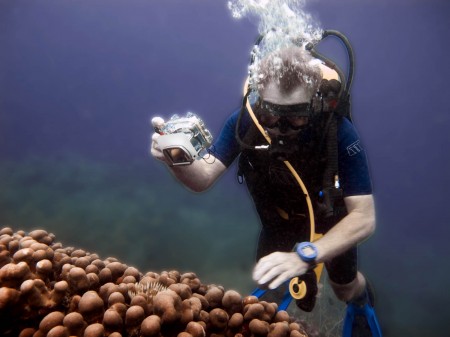 Richard Jones also has the same gear. I think that we're going to have to start a G11 club here in Madang.
Today's spider is a spindly looking critter. I'm not sure what the purpose of all the webbing is. Maybe it simply provides a firm scaffolding on which to hang: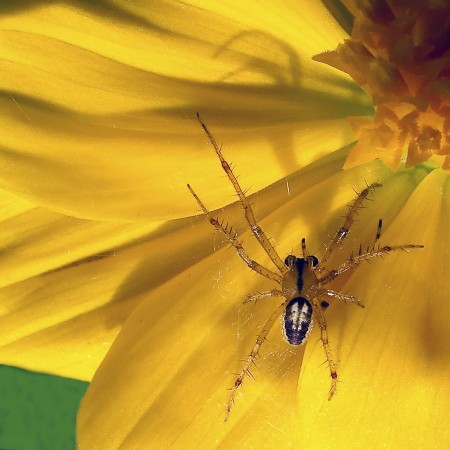 There is a fair amount of detail in this shot. It's worth clicking to enlarge.
On one of the dives on Saturday I found this poor starfish which has had a leg chomped off by some predator: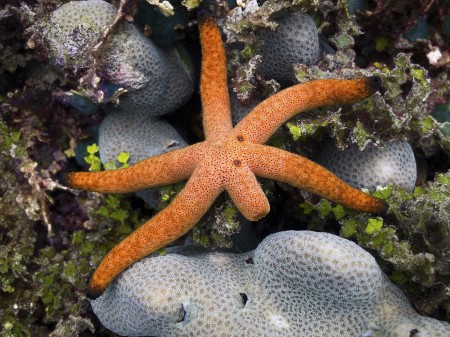 I can't imagine that a starfish leg would taste very good, but then I'm not a fish. The most likely predators of starfish are sharks, rays and larger bony fish (as opposed to sharks and rays, the skeletons of which are cartilage and not true bones).
Back to the garden, I found one of my favourite subjects – water drops: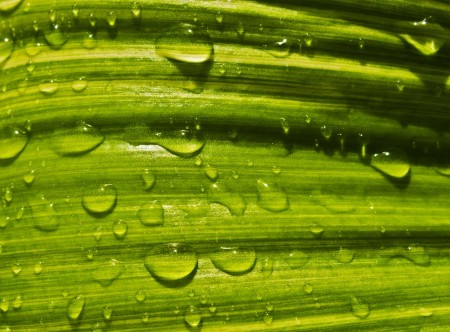 As they say, simple things for simple minds.
I'm still slaving away to learn cartooning techniques. I'm not at all happy with the commercial software for creating cartoons from photographs. Most of the results look horrible and require a huge amount of reworking. If I'm going to go to that effort, I may as well develop my own workflow to get the results that I want. It's really one of the most interesting and enjoyable Photoshop tricks that I've tried: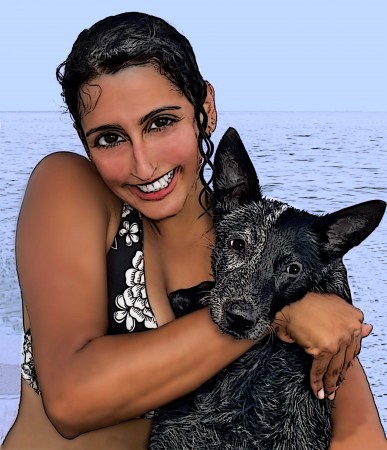 You saw the image above with Ush and Andrew and Jade Marshall's Blue Heeler pup
yesterday
. I cleaned up the clutter in the background and cartoonised it.
I have in mind to someday write some cartoon strips based on photographs for Madang – Ples Bilong Mi.
I need to broaden the horizon. It's getting smelly in here.
Tags:
blue heeler
,
katydid
,
monty armstrong
,
spider
,
starfish
,
swami monty
,
ush
,
water drops