Posted in
Under the Sea
on April 6th, 2010 by MadDog
Divers have an amusing expression to describe the scene when there are far too many fish to count. Indeed, you can't even count the number of species. We call it fish soup.
I had some warm fish soup in the tepid water of The Eel Garden near Pig Island on Saturday. Most of the fish that you see here are some species of Anthea: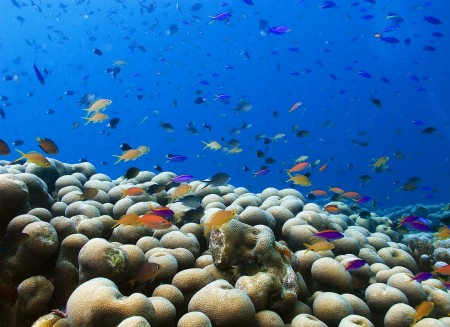 There are many varieties of Anthea. Most are very colourful. They gather in small schools around a fixed location.
I snapped this shot as I was passing over these two Soldierfish. The one on the left is a Scarlet Soldierfish (Myripistis pralinia) and the one on the right is a Brick Soldierfish (Myripistis amaena):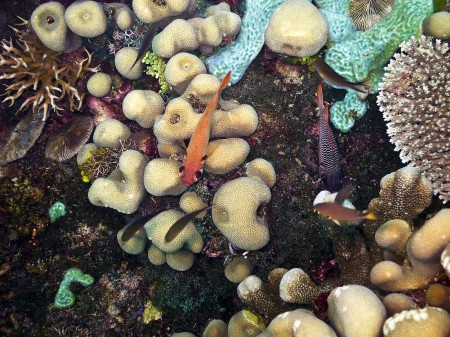 A you can tell, if you click to enlarge, they were both looking up at me as I passed overhead.
I nearly missed this Slender Grouper (Anyperodon leucogrammicus) as it tried to sneak past me: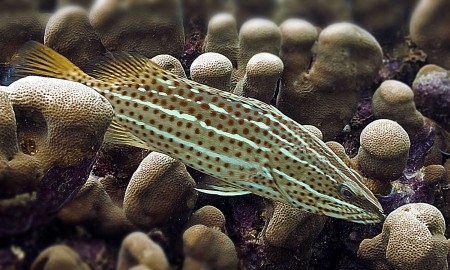 One trick that I've learned is that fish will almost always flee to deeper water. Therefore one needs to have a head's up stance to catch the ones which have spotted you and will soon be trying to take the shortest route to a deeper hiding place. This usually means that when they pass directly to your right or left, they will be a close as they are going to get to your camera.
This is a very young Bubble Coral (Plerogyra sinosa) only about 4cm in diameter. At this stage they look more like a strange, puffy flower: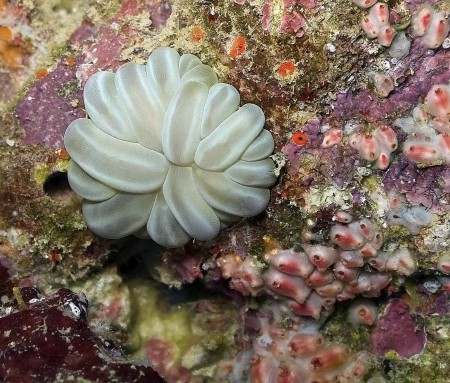 To the right and below is a colony of very small Sea Squirts which look to me to be Eusynstyela latericius.
This sneaky little Blackspotted Puffer (Arothron nigropunctatus) thought that he was hidden behind a bit of coral about a metre away from me. I popped up and caught him with his mouth open: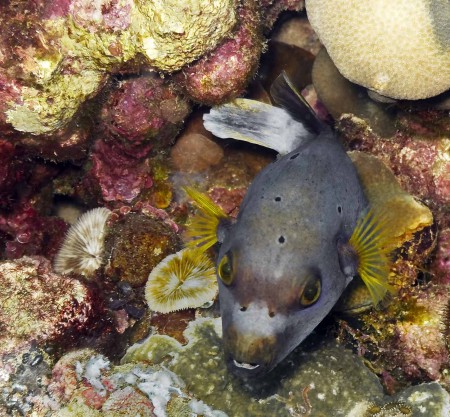 I'm an old stalker. I can usually get a shot if I don't have to give chase. I'm not as fast on the long pursuit as I used to be. Ah, but crafty I am.
How foolish it is to attempt to hide from me. This is a fairly rare orange variation of Clark's Anemonefish (Amphiprion clarkii):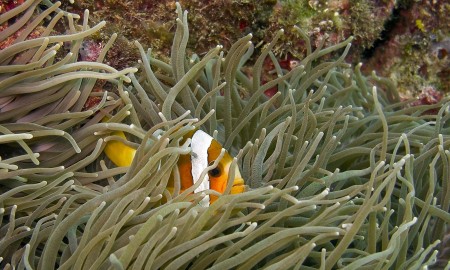 I tried to get a shot in the clear, but finally gave up and accepted this one instead. I can pretend that I intended it that way.
PRESENTER: See how the timid anemonefish attempts to hide behind the tentacles of the anemone? It seldom exposes itself to danger by leaving the poisonous, protective arms of its host. This symbiotic relationship is reinforced by the protection that the anemonefish receives from the anemone. Blah. Blah. Blah.
Works for me.
Nudibranchs are a pushover. This Phyllidia varicosa moves so slowly that the whole idea of evasion is silly: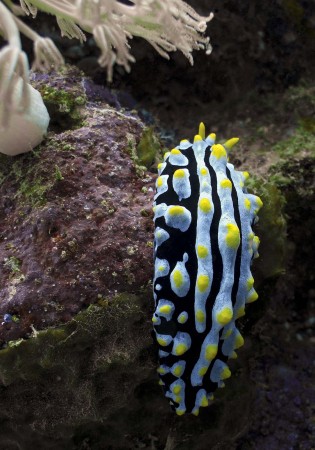 I love to photgraph nudis. I can just float in the water with my camera about 5cm from the little devil and relax while I snap away.
The nidibranch is none the wiser.
Tags:
Amphiprion clarkii
,
anthea
,
anyperodon leucogrammicus
,
arothron nigropunctatus
,
blackspotted puffer
,
brick soldierfish
,
bubble coral
,
clark's anemonefish
,
eel garden
,
fish soup
,
myripistis amaena
,
myripistis pralinia
,
nudibranch
,
phyllidia varicosa
,
pig island
,
plerogyra sinosa
,
scarlet soldierfish
,
slender grouper