Posted in
Mixed Nuts
,
Photography Tricks
,
Under the Sea
on April 7th, 2010 by MadDog
Today is yet another day when there will be no plot to follow. I'm free associating. Come along for the ride. The big Australian Hydrographic Survey Ship HMAS Leeuwin sitting across the harbour from our house inspired me to Zoomify nearly the entire west side of the peninsula.
Here is the view from our front yard in a zoomable image:

On the far left is the main wharf and the warehouse. Moving to the right, you see HMAS Leeuwin. If you zoom in as far as possible, you can read the name of the ship on the side of the bridge. At the far right is a the only three floor house in Madang. It belongs to a big-shot politician about whom I will say nothing else. I'm not a fool. In front of the house is a sunken boat. Again, no comment.
Geeks may be interested to know that the image above is about 20 MB and is comprised of nearly 1,000 files.
Eunie occasionally feeds me tidbits from the newspaper. I read neither The Post Courier nor The National. They're simply too depressing. However this tasty morsel merits a bit of space here:
BLONDE-haired women may be traditionally labeled as fun-loving and less intelligent but a new study reveals they earn seven percent more on average than women with other hair colours. They also marry wealthier men, who earn six percent more than the husbands of other women, the University of Queensland study revealed. The study, which surveyed 13,000 women, found that the difference in pay remained the same even when factors such as height and education were removed. No other hair colour had the same effect. The research, reported in journal Economics Letters, does not explain just why blondes earned more and have wealthier husbands. But Dr David Johnston, who led the study, said: "Blonde women are often depicted as being more attractive than other women, but also less intelligent. But it seems the association between blondes and beauty dominates any perception that they have low intelligence."
You see, this makes perfect sense to me. Having married a fun-loving blonde who is also, I'm quite certain, the Smartest Person On the Planet, none of the positive aspects of blondeness surprise me. My wife missed out on the big money, but that's because she married for love. That she got a looser for her trouble is not her fault. I'll never be a big earner, but I'm ever so sincere and also cute and cuddly – like a 59 kilogram puppy.
Well, I'm not out of space yet. I've done a lot of work this morning and I have a few minutes before my lunch hour. I don't actually take a lunch hour. I just eat while I work. That leaves me more time for a beer when I get home. Then I have to go back to work again in our "other" office. I'm not complaining. It's not like I'm stoking boilers on the Titanic. Most of my work is enjoyable now that I have the network bludgeoned into submission. So, since I've got the time, here's this morning's sunrise which I have titled from the depths of my boundless imagination Sunrise with Canoe: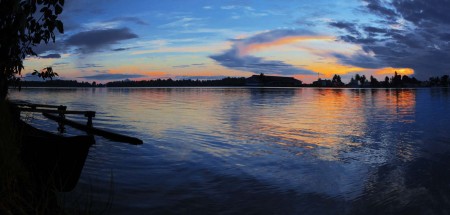 Also, since we can't have a post without a fish smell, I'll show you a Mushroom or Solitary Coral (Fungia fungites):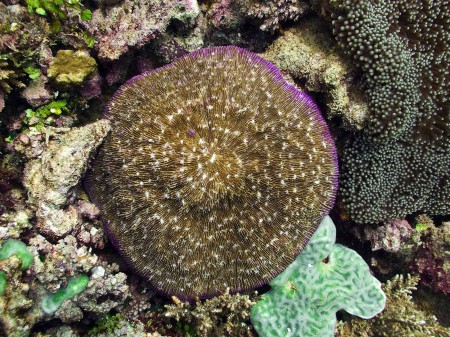 The green stuff is a kind of Sea Squirt. Tomorrow I'm going to show you the biggest blob of those that you are ever likely to see. I bet you an hardly wait. The anemone above and to the right is the fairly rare Merton's Anemone.
Here's a cute little Linckia multifora Starfish: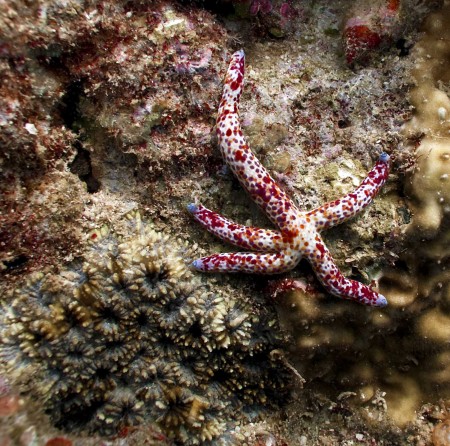 That one's for you Julie. It seems that one of his legs has decided to have its own way. In reality, I suspect very strongly that this starfish regenerated from a single severed leg. That would explain the one huge leg while the others are small. They are only now approaching normal size after having sprouted from the cut end of the severed leg.
Maybe if I ate enough of these I could grow a new face.
Tags:
coral
,
fungia fungites
,
hmas leuwin
,
linckia multifora
,
mushroom coral
,
sea squirt
,
solitary coral
,
starfish
,
sunrise
,
zoomify