Posted in
Mixed Nuts
on April 11th, 2010 by MadDog
I have many amusing images from our two dives on Saturday, but I also have a few shots that I've left in the "unused" folder that are nagging me. So, I'll dish them out today. I worked from 07:00 to 19:00 yesterday, Sunday, and never got a post out – too busy with other stuff. So, today I'm using my time machine to cheat. The post date says it was sent out on Sunday, but it lies, or rather I do. It's now Monday morning here.
Now that that meaningless trivia is disposed of, let's have a look at my next-door neighbor, Sisilia's sweet daughter Esmeralda in her big canoe: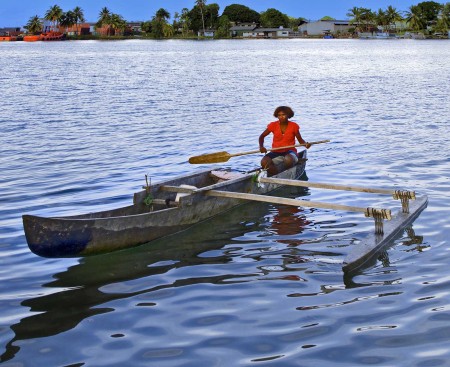 I was out in the garden shooting anything that moved and much that doesn't when Esperalda got into her canoe. I asked if she was going for a ride. She said she was going to visit her uncle. After a minute, she came back, saying that she'd forgotten something. That's when I snapped this shot. She's a lovely young lady. I think that her mom is very proud of her. We are very fortunate to live in a compound that is full of very nice people. We are the only "Europeans" there.
I haven't said much about our Fishtail Palms lately, but they are growing splendidly. They have fruited several times. Here's a shot of a half-mature and a brand-new . . . thinking of the word . . . inflorescence: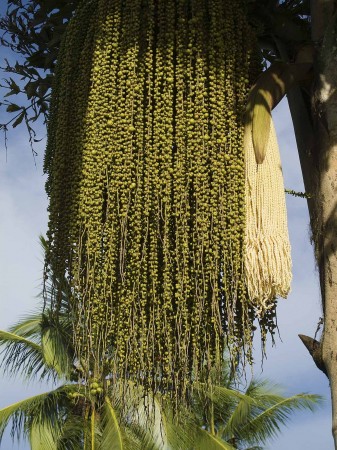 I think that the species is
Caryota gigas,
but I'm not positive. There is another possibility. I've written before about our Fishtail Palms
here
,
here
,
here
, and
here
.
This is the first inflorescence, which I showed as it first came out way back in August of 2008. I'm amazed how long it takes for the fruit to mature: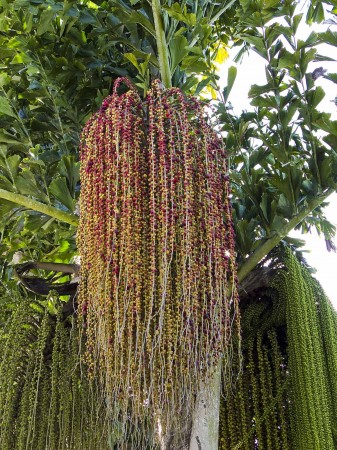 The fruits eventually turns a deep purple, almost black and falls to the ground. They are about the size of a very small apricot. They taste like an extremely sweet hot chili. It is a very strange, but not unpleasant flavour. Local folk say they are "not for people", but I tasted one anyway. I've never seen any birds eating them either, which surprises me.
Since I'm rambling today, I'll show you the new hops for my wireless link to the Internet sattelite dish at our office: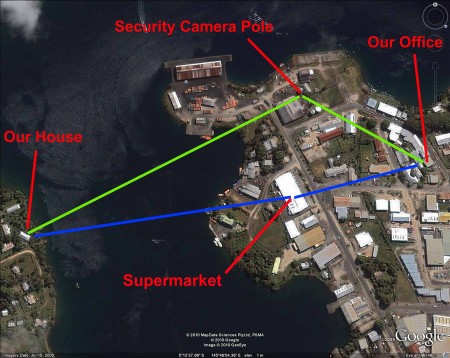 I discovered too late that the power to the security camera pole was not reliable (you'd think it would be – security and all). The power at the supermarket, however, is probably the most reliable source in town, since all that refrigeration equipment must be kept running. I haven't had an interruption since we moved the links.
I'll finish up with a couple of gratuitous flower shots. This one is some kind of Bird of Paradise plant. They are so prolific that we have to chop them back regularly: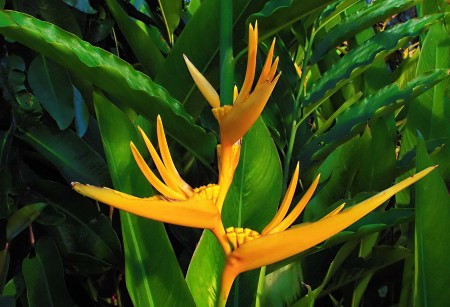 Honestly, they grow like weeds.
This one is here simply because I think it deserves the space: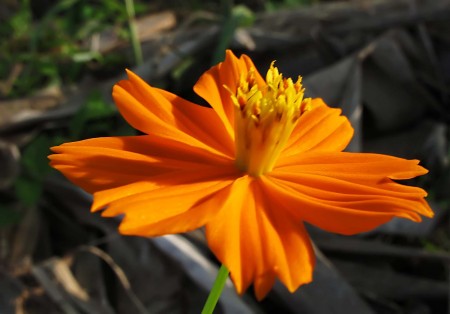 Anything which strives to be that pretty deserves a little attention.
Tags:
bird of paradise flower
,
canoe
,
esmeralda
,
fishtail palm
,
orange flower
,
wireless