Posted in
Under the Sea
on April 13th, 2010 by MadDog
Once again, I find myself in the middle of the evening trying to catch up with the day. How did I hustle so much and accomplish nothing that I can call progress? It seems to be becoming a way of life. How thought provoking. The harder I work the less I accomplish. I spent half the day putting little tags on wires so that I can tell where they go. I'm drowning in wires! Throw me a life-preserver. No, wait. That's a mixed metaphor. I'm strangled by wires! Throw me a hatchet.
This Bannerfish exasperated me from the moment I met it. First, I couldn't get close enough for a shot. I had to chase it, something which I usually avoid, since it usually simply burns up oxygen. Then, when I finally set up a successful ambush, it sped away so fast that all I could manage was a quick panning shot. I'm surprised that it turned out so nice: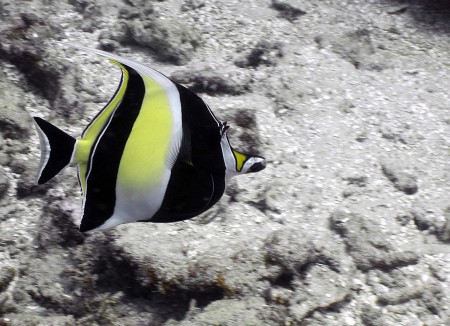 More consternation arose when I tried to identify it. After a search through my pitiful collection of references I spent a few fruitless minutes with Google Images. No luck. Phooey!
UPDATE: Thanks to my old pal Tris for jabbing me in the ribs to point out the the fish is not a Bannerfish at all, but a Moorish Idol (Zanclus cornutus). Thanks for "helping" me, Tris.
The Bigeye Trevally (Carnax sexfasciatus) at Barracuda Point on Saturday were splendid. You don't really have to chase them. You simply swim closer and closer as they whirl around.  This shot was snapped at less than two metres: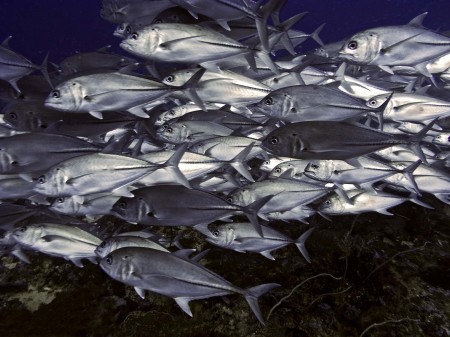 I soon have to back off to slow my breathing. I let them meander around me for a minute or so and then join the procession again.
The problem with Trevally is that they are so blasted shiny! It's very difficult, with a small-sensor camera such as my Camon G11, to get enough dynamic range to capture the dark and mid-range tones without blowing out the whites: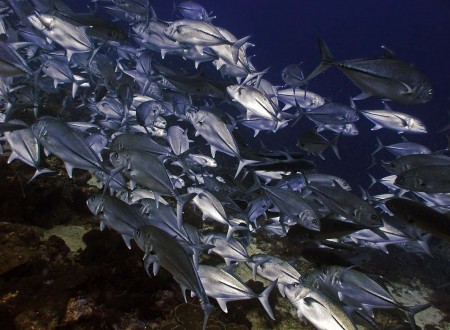 Still, I'm happy with these shots. Even after chasing them, I still got two dives and over 100 minutes off of an 80 cubic foot tank. My gills are working just fine.
Here is a not too wonderful shot of some Midnight Snappers (Macolor macularis):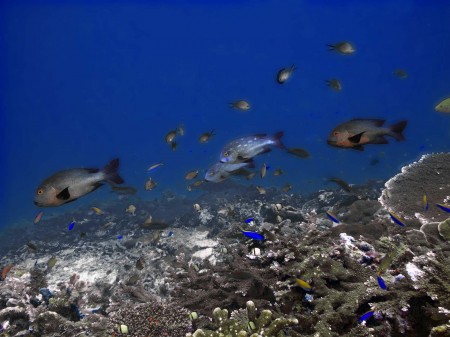 The interesting bit is that we have adults and a couple of teenagers. The juveniles are black and white with spots and bands. You can still see a trace of the juvenile colouration and pattern on the two teens in the middle.
This is a perfectly normal Pyllidia varicosa nudibranch: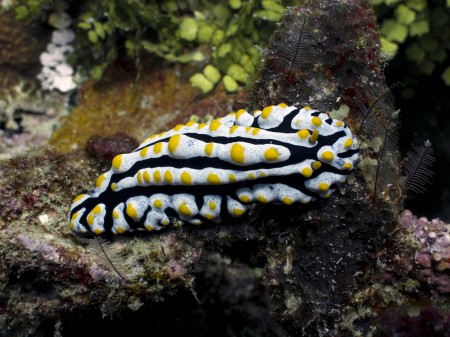 Vaguely amusing, eh? They are easy to photograph, so I tend to show you a lot of them. I wouldn't be surprised if you're getting bored.
Okay, how about this one which has had a chunk bitten out by a predator: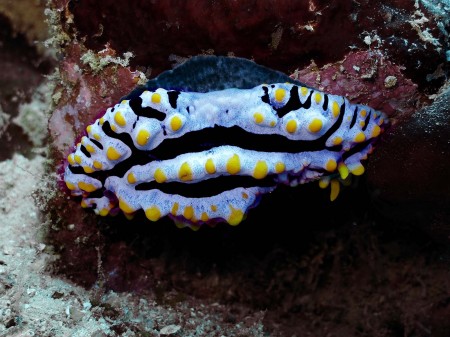 It's the Half-Eaten Gumdrop mentioned in the title.
Many nudis remind me of some kind of fancy candy and, strangely enough, take me back to Vienna. The Austrians go for the fancy candy. There are shops which sell nothing else.
Tags:
Bigeye Trevally
,
carnax sexfasciatus
,
eel garden
,
macolor macularis
,
midnight snapper
,
nudibranch
,
phyllidia varicosa
,
pig island
,
zanclus cornutus