The caption says This Morning's Sunrise, but it's actually yesterday's. That's because it's 04:00 here in Madang and I'm wide awake doing yesterday's post. In the afternoon yesterday our Internet connection crashed. Some pages would load quickly and others not at all. I suspected a DNS problem (sorry for the Geek-speak), but I couldn't find anything wrong with our setup. I made a long-distance call to Hostmonster.com, my server farm in the USA. I couldn't get on to the help desk for the host, because their page was one that wouldn't load – wouldn't you know it! They said that it looked fine from their end. I was still thinking DNS when I called Hitron and talked to a technician named Nali. He did some checking and found that our uplink to the satellite was completely saturated. I unplugged a couple of bandwidth hogs and the problem disappeared.
The funny thing about this, to a Geek anyway, is how focused one can become on an incorrect analysis of a problem. I was frantically pinging all of the DNS IP addresses of the satellite and thinking, okay, there's a problem up there. Actually the problem would probably have been on the ground, but my brain had gone all funny by then, since it was 15:00 and I had not yet gotten around to doing a post. I hate getting two days behind. I need to feed you regularly or you'll die.
Anyway, the problem was sorted out and we've doubled out uplink bandwidth. (HITRON users – If you cancel your old plan and begin a new one, you'll get a much lower rate. We doubled our uplink speed and still our monthly bill is K1,000 less!)
In the future, I'm going to have to remember not to panic and to tick off all of the possible explanations for a problem before I bite onto one like a bulldog and worry it while the real difficulty sits in the corner giving me the finger.
Here's the aforementioned sunrise:

I think the season is changing. I hope to get some more of these soon. It's a peaceful time of the morning.
And, here is one of the big red balls: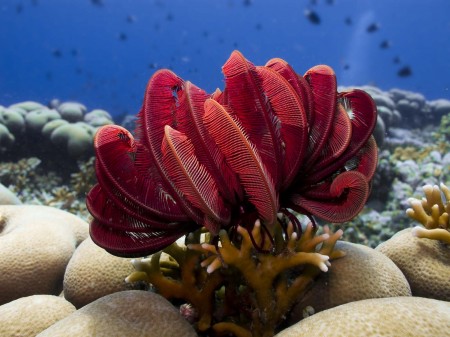 That is some species of Feather Star. This one is particularly red. Using the Mark I eyeball alone, it looks deep, deep red – almost black. When you use the flashy thing, you put some red light which has been lost due to scattering by the sea water back into the spectrum. Therefore, with the flash, it looks bright red. Cool, eh?
Here's the other big red ball. This outrageous cluster of red flowers popped up overnight in our garden. It's a good 20cm in diameter. I'm going to toss this out to my botanist readers, because I don't have time to figure out what it is: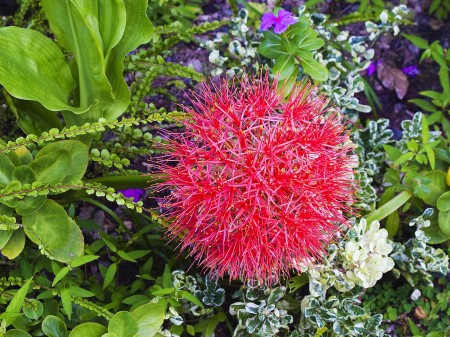 You can see the plant itself on the left. It appears to me to be some kind of a bulb plant, like a lily. Somebody will identify it. Steve, Ali, get to work! I need ID.  UPDATE:  Friend Anne-Marie Gregory in England has informed me that this is a Blood Lily (Haemanthus multiflorus, subsp. katherinae). Thanks, Anne-Marie.
Out at the end of Barracuda Point there are some little canyons in the reef, a whole series of them. They are fun to explore, because they are in the surge zone and you never know what you'll find there. On big sea days it's simply too rough. You get tossed around and bang into the walls. That's not good for the diver or the sea life. On Saturday, the sea was calm, so we could explore with less bruising: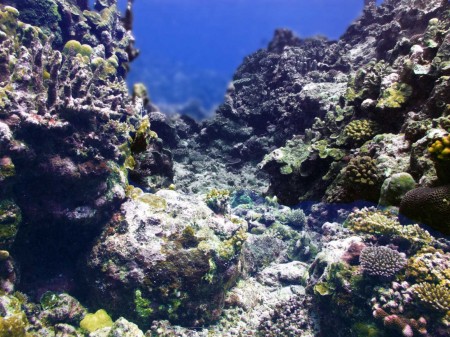 This is a cute little Freckled Hawkfish (Paracirrhites fosteri):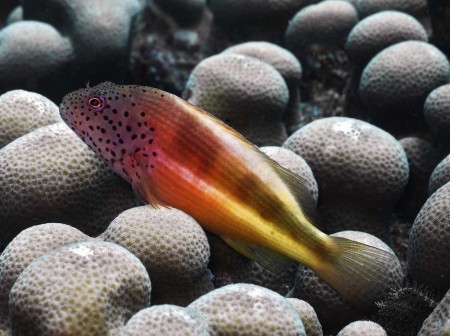 You can put hawkfish in the search box and find many posts featuring them. They are among my favourites, because they are easy to photograph and spectacularly coloured.
Well, it's a few minutes after five in the morning now.
I have to get started on today's post.
Tags:
barracuda point
,
Feather Star
,
freckled hawkfish
,
Paracirrhites fosteri
,
sunrise