Posted in
Mixed Nuts
,
Under the Sea
on April 15th, 2010 by MadDog
In reality, nothing at all funny happened on the way to the market this morning. I was just stuck for a title. In fact, my blood was set on a slow boil. I hate it that there's only one reasonable path by which I can reach the market. I could go out of my way to get there, but I just don't have the time nor am I inclined to do so.
Therefore, every time I go to the market, I have to pass monsters such as this slug who calls himself  a human: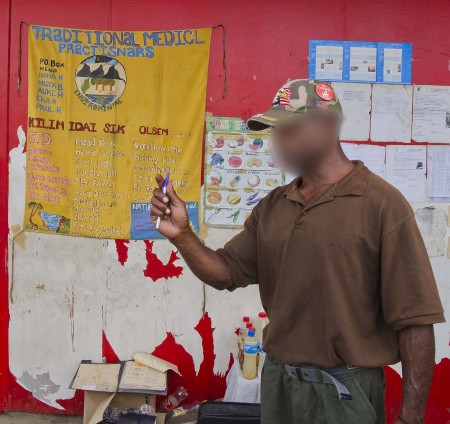 If you click to enlarge and you can read Tok Pisin, you will see that he claims that his "medicine" can cure, among a host of other diseases, HIV/AIDS and TB. He is selling tickets to the graveyard and suckers so uneducated and steeped in the nonsense that if it's "traditional" then it must be good are buying those tickets and climbing aboard the Death PMV.
I'm not even going to bother to go into all the reasons why this is so wrong. You either know it or you don't.
Here's another guy who will kill you for a few bucks: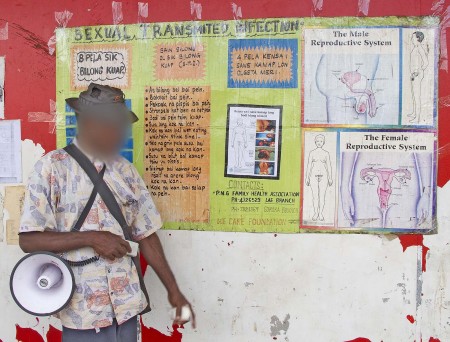 I shouldn't even bother blurring their faces, because they should be publicly shamed. However, a new windscreen for my car is more than I can afford to risk to expose their identities. Anybody can find out easily who they are. Just go to the market.
I know that it's useless for me to nag about this. Nobody but me seems to care. Nobody cares that these people kill more humans in PNG than all of the criminals and silly tribal warfare put together. And, they do it for money.
Okay, that's enough rage for the moment. Let's move on to something happier. I shot this panorama and Zoomified it for you so that you can see the details:As you can see, if you're familiar with the market, there are several new morota roofed buildings to make shady places for the vendors. This is one of the few genuine improvements which I have seen in Madang for some time. Everything else is falling apart. In another decade the whole town will go back to bush if we don't get competent governance.
Before we leave the market I'll show you The Soap Lady: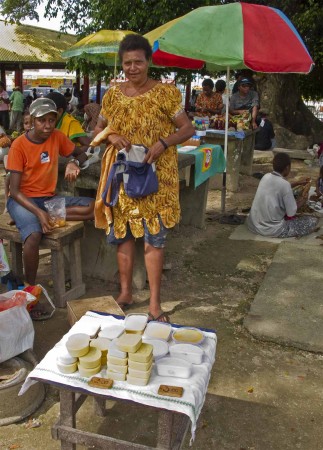 She makes her soap at home. It must be pretty good soap, because she always seems to have a brisk business. I very much admire this kind of spirit. Many people could do much better than they are if they would only search out ideas which can provide a modest, but steady income and forget about the "get rich" schemes that never work. I hope she gets rich selling soap, but I don't think that that is in the cards. If she puts food on the table for her family by the work of her own hands she will be doing better than most.
I can't leave today without showing you The Deadly Wires: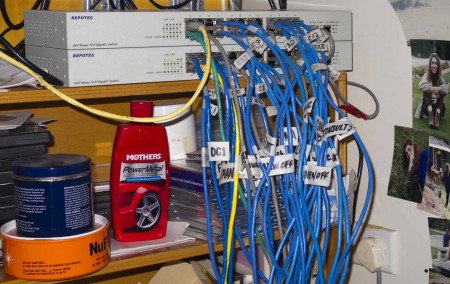 This is about a third of all of them that I had to sort out the other day. The red bottle is metal polish for my Harley, which I never seem to have time to ride. I want to sell it, but Eunie won't let me.
Oh, one more thing. Talking about the market got me hungry. I want to show you what I call The Blue Cheese Sea Squirt (Eudistoma gilboviride):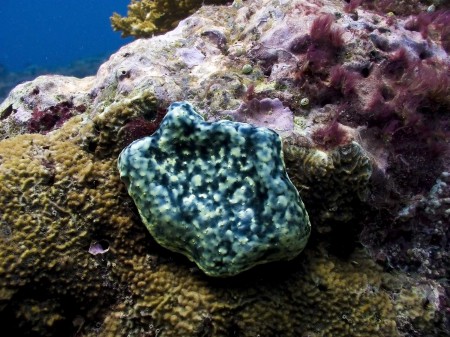 Doesn't that look tasty?
Tags:
eudistoma gilboviride
,
market
,
quack