What a week! It was a long slog through the muddy wasteland of servers oozing error messages and tangles of wires tugging at my feet like "wait a minute" vines. We did, however triumph. I can't think of a single thing in the IT Dungeon that is not humming along in harmony with the organisation and my happy boss. We've even got a new web site up for my employer, Pioneer Bible Translators – Papua New Guinea Branch. I would never have gotten it done if not for the help (okay, he did it – I just made a few adjustments) of our former Director, Kyle Harris. He volunteered to do the job and I owe him big. Thanks, Kyle. It's nowhere near finished, but I'll be adding more content soon and the blog section will be updated at least weekly.
I'll start this off quickly, because it's 08:30 and I have to picky my divers up at 10:00, with this morning's sunrise: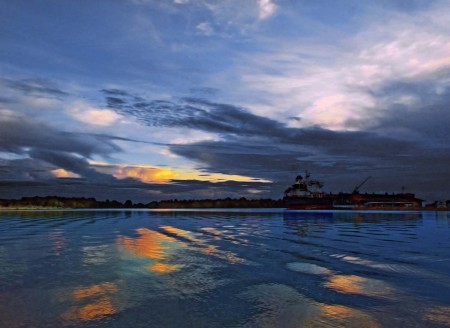 Amusing, but hardly spectacular.
The panoramic view is similarly uninspiring:

Who am I to complain? I'm lucky to still be seeing sunrises here in Paradise. I've been nearly fired so many times that I've lost count, mostly for being a jerk. It's happening less and less these days, so they are either getting used to me or I'm improving. I tend to accept the former explanation.
Might as well throw in yesterday's sunrise: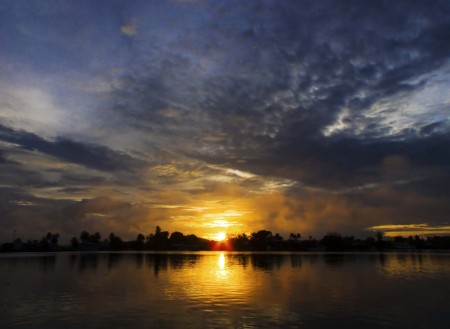 I'm ready for the rainy season to be over. During the dry there's a good sky almost every morning. I can get back to rising at 05:30, grabbing camera and tripod and sitting down for a half hour of introspection while the big dude upstairs puts on a spectacular show just for me. Sometimes I pretend that I'm the only person on earth seeing it. Maybe I'm right . . . sometimes. Anyway, I certainly enjoy sharing them with you.
And, often when I return to the house, this is what I see: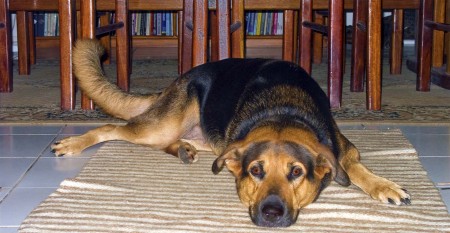 A hungry Sheba, our mutt, with that expression that says, "Okay already. You're going to feed me now. Right?" The tail tattoos on the floor for emphasis.
My goal is to crank out six works of fake art each week to develop my so-called skills. This week I managed only one. It is an outrageously coloured faux watercolour rendition of the Yellowmargin Triggerfish which we teased a few days ago: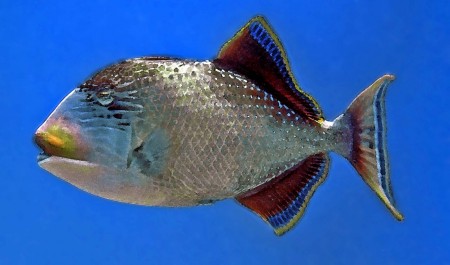 Pseudobalistes flavimarginatus if you care.
Okay, I have to rush now, since there's always the chance that there will be a problem with Faced Glory, since she's probably nearly as old as me . . . in boat years. In an hour and a half I'll be looking at something very similar to this: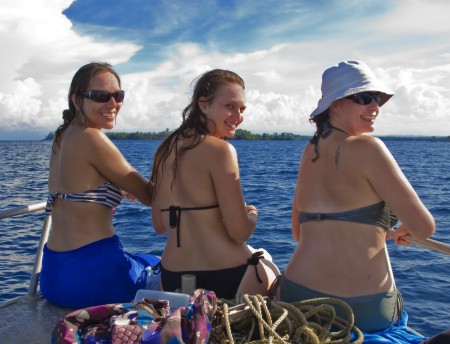 Not a bad life for an old man, eh?
Oh, and there's a big costume party tonight with the theme being the letter "B".
I'm going as a beach bum. I don't even have to dress up.
Tags:
faded glory
,
pseudobalistes flavimarginatus
,
saturday
,
sunrise
,
yellowmargin triggerfish