I'm still not clear about what my Facebook pal Justin Friend's job is on Orion, a luxury cruise ship which usually tip-toes into Madang at dawn and scurries out at dusk. His primary duty seems to be to live up to his surname. It seems that he organises a million things that would never occur to me. Anyway, yesterday he organised a visit aboard Orion for me and my gorgeous wife, Eunie.
The joke aboard Orion is that, when in port anywhere in PNG, it's the best hotel in the country. Well, I've not been to all of the hotels in PNG, but I'm inclined to say that it's no joke. From glitz to service, especially service, I've seen nothing to compare with it since I stayed in the Hanoi Horison Hotel. A place such as that would normally not be on my itinerary, but I booked a room on the Internet for US$80 per night.
Here's a shot that I filched from Google Images of Orion strutting her stuff: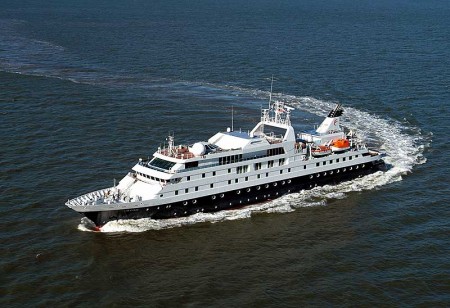 She's a single constant-speed engined ship with a variable pitch propeller, two double-jointed rudders, and bow and stern thrusters. She can turn in her own length. She was purpose built (and, man, is she built! ) for getting into and out of small, interesting ports. She spends much of her time cruising Antarctic waters. I'll give that a pass.
The bridge was like Disneyland to me. They have so many wonderful toys to play with: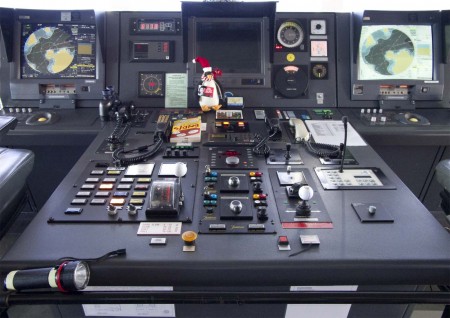 Note the golf ball knobs on the controls.
The crew is primarily Filipino and the engineers are Russian. Orion was built in Germany. She's simply the biggest Mercedes Benz that I've ever seen. This is the deck bar. I can imagine myself schmoozing here with the rich folks. I'd have to go browsing through the used clothing shops here in Madang for a new wardrobe: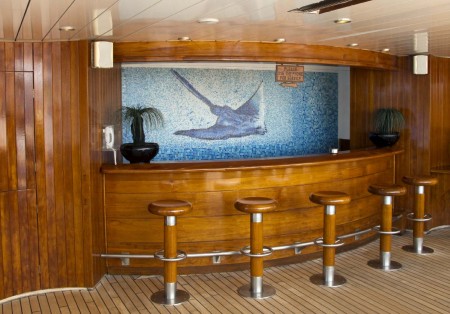 There is also a huge lecture hall. I'm dedicating myself to wangling a cruise on Orion as a guest lecturer. There must be something that I could talk about. I used to do cruise guiding and lecturing on the Melanesian Discoverer until the tourism industry collapsed and the boat was sold.
Here is the dining room. No matter what I was wearing, I'd feel like a bum in here: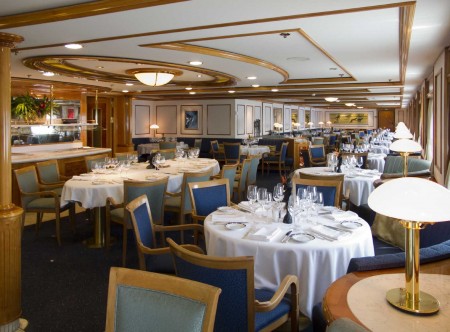 Everything is so perfect, that it seems as if it's not quite real. I kept expecting to hear a director yell, "Cut; that's a wrap." and see a crew of stage hands come in to tear the whole thing apart.
Well, somebody's got to cook all of that delicious food, some of which we consumed at a sumptuous luncheon buffet: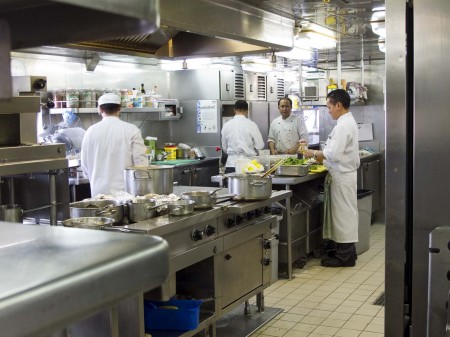 It all happens in the galley, which was very businesslike. There was no screaming chef, at least I didn't hear him scream. He was a very dignified looking fellow, German as I remember. By the way, Orion has two captains who take turns commanding the ship. That seems comforting to me.
It never occurred to me that cruise ships might have elevators, but that just goes to show what a bumpkin I am: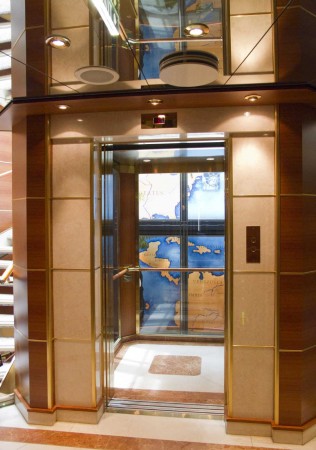 Orion's elevator runs up the middle of a huge circular well in the centre of the ship which also features a stunning spiral staircase. The entire top of the well is glass, so the natural daylight, and moonlight I guess, illuminates the three deck high area. Everything is incredibly shiny and colourful. Yet nothing comes off as gaudy.
This is the kind of atmosphere you can expect everywhere aboard Orion: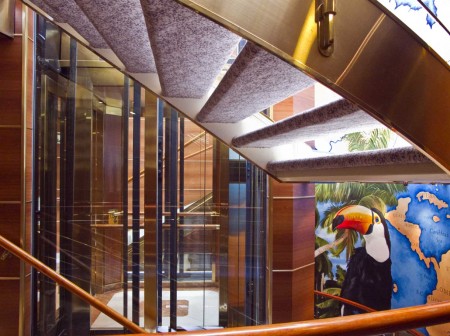 The Walter Mitty in me imagines me in a black tux with a burgundy cummerbund and bow tie to match, a Walther P-38 bulging in my armpit, and a mysterious and beautiful spy whispering secrets in my ear beside this staircase on Orion.
The watchword on Orion is service. The boat usually sails with a passenger to crew ration of about one to one, which seemed incredible to me. Justin was particularly proud of this notice board. Note the grid of little squares: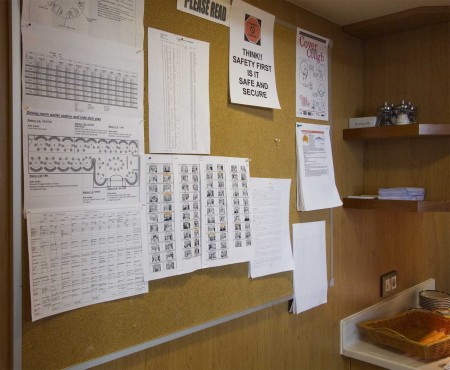 There is a picture of every passenger there. Crew are required to know the names of the passengers at any table which they serve. Justin mentioned that one of the most common questions of the passengers is, "How do they all know my name?"
That's class, baby! If this ship were really a woman I would fall deeply in love with her in an instant.
Tags:
justin friend
,
orion