Posted in
Mixed Nuts
,
Under the Sea
on April 27th, 2010 by MadDog
I am now officially so far behind that I will never catch up. Yesterday had a three hour chunk removed from my plans when I went out on Sir Peter Barter's Robertson R-44 helicopter and spent a literally hair raising period of time hanging out of the door. I've always had a sort of fetish about sitting in the open door of a helicopter with my feet hanging over the side. It's so close to the edge, right where I like to walk. I spent many hours sitting in the open door of a Hotel model Huey when I wasn't piloting.
At one point I let the wind get under my headphones. That was a mistake. In a flash they were clunking against the rear window on the end of the cord. I reeled them in and mumbled, "That's not good." into the microphone. Honestly, I couldn't think of anything else to say. Though the trip put me further behind in my work schedule, I got 480 images for the grist mill of Madang – Ples Bilong Mi.
Those will dribble in as they fit with the plans of my wandering Muse. Today I'll show you this pretty shot of the far north end of Madang with Kranket, Leper, Little Pig and Pig Islands stretching up the coast: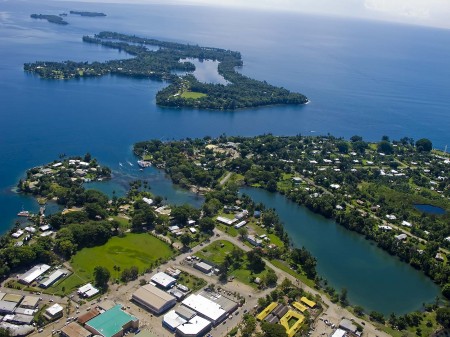 I have a few rather sensitive images also – things that some folks hereabout, I'll let you guess who, might not want you to see. I'll just have to see if my waning testosterone level allows me to display them.
In the meantime, let's go to the fish market: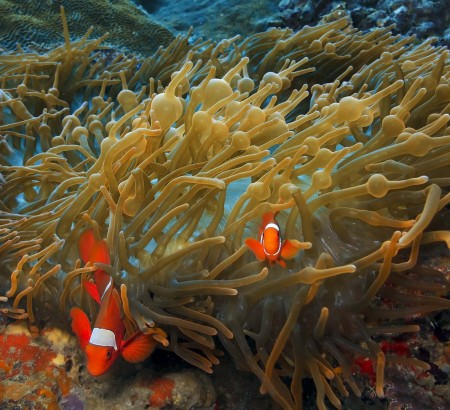 This should be starting to look familiar by now, since I've shown it many times. It's the wonderful fluorescent Magnificent Anemone (Entacmaea quadricolor) hosting Spinecheek Anemonefish (Amphiprion biaculatus) at Planet Rock. Put "spinecheek" in the search box to see plenty of these wonderful fish.
Since I'm feeling a little frayed around the edges – up until 01:30 last night and had just one too many glasses of red, I'll tickle myself back out of my temporary coma with some brightly coloured feathers: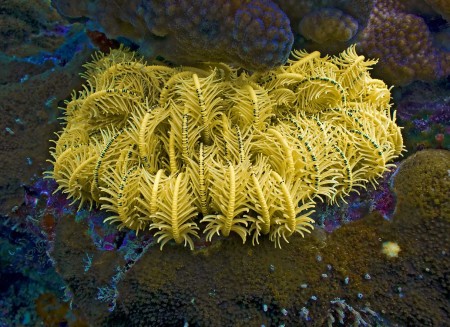 That one was a Comanthina schlegeli. I can't find species names for most of them. It has a lot to do with counting legs and arms. Since the creatures are so incredibly delicate and stick to you like super glue, I don't care to destroy them just to figure out what the Latin name is. Let the guys in the white lab coats take care of that.
Here's a very pretty one which I can't identify: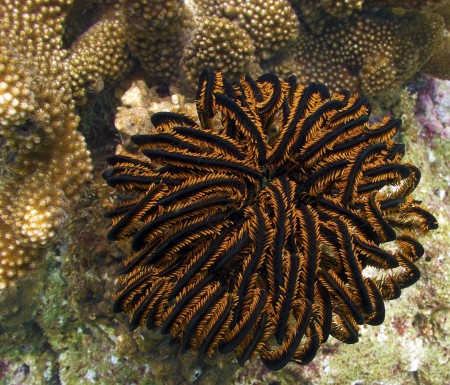 It's curled up very neatly.
This is the feather star equivalent of The Mall: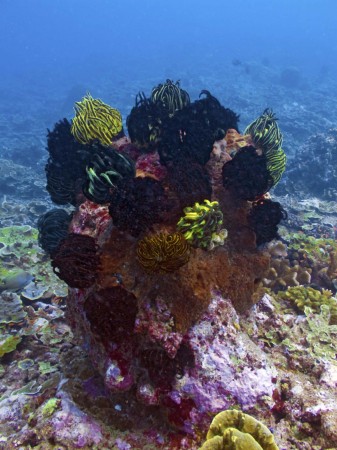 Everybody wants to go to "The Mall", especially in small towns. "Oh, let's go to the city to The Mall!" The kiddies shriek, "The Mall, The Mall. Oh, yes! Take us to The Mall!" Personally, I don't get it. I avoid the places like the plague unless I need something which I can't purhase somewhere else. The main problem is that I nearly always get lost and end up wandering from door to door looking out into the parking lot to see if I can remember if it's the one where I left my car. I once took a cab to a mall, just to avoid that trauma. I experience a mild form of panic when this happens. I worry that I may have had a mini-stroke. It's hard to know what to do. Go to the security goofs and admit that I can't find my car? I'd nearly rather slit my wrists in the central fountain and go out with a bang. They
could
decide that I might be a danger to myself or some unspecified "others" and bang me up in the slammer while The Suits figure out what to do with me.
Oh, sorry, I'm running on again. The brakes went completely out on our truck today. The timing was unfortunate, as I was blasting up Modilon Road at about 80 kliks per with my hair on fire. It's such a weird feeling when you shove that pedal and it just glides all the way to the floor with as much resistance as I could offer to Raquel Welch. With some fancy clutching and shifting I managed to get it creeping back to the office. They towed it away an hour ago. I had just put the "For Sale" signs out yesterday. If figures.
Alright, enough! Have a look at this: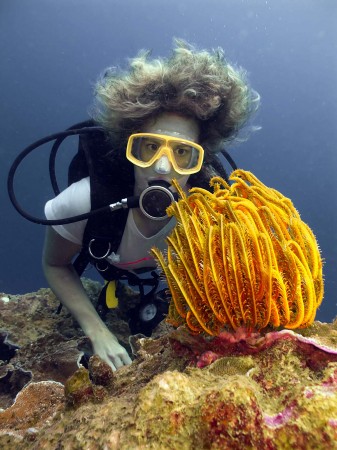 Dig that hair, man. It looks as if Kate and the Feather Star are in a fierce competition. "Hah! My hair's bigger than yours!"
Okay, I'm finished now. You can go back to work.
Tags:
amphiprion biaculatus
,
Entacmaea quadricolor
,
Feather Star
,
kate
,
magnificent anemone
,
planet rock
,
r-44
,
robertson r-44
,
spinecheek anemonefish