Posted in
Mixed Nuts
on May 2nd, 2010 by MadDog
You'll be spared my usual chatter today, because I'm running up against some serious deadlines. I have a few more aerial shots from my Helicopter ride a few days ago. I also have some mystery images for you. If you're not a PNG resident they will probably mean nothing to you. However, the closer you live to Madang, the more likely you will know what they are.
Here's a shot of Madang Airport. If you're landing in the Heart of Paradise, this is what it looks like: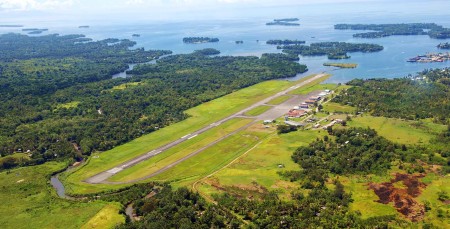 I have heard about the opening of the airport to international traffic since I arrived here in 1981. I'm still hearing about it. The tragicomic series of events which have thwarted it are simply to bizarre to dump on you. When I asked Sir Peter if he thought that I'd live long enough to see it, his answer was "Not likely." I don't know what to make of that. Does he know something that I don't? Well, of course, he knows a plethora of things that I don't. But it's still a puzzling answer. It raises the hair on my arms a little.
Not far from the airport runway is Siar Island: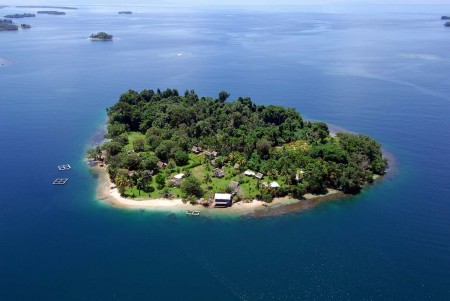 This is about as close to a tropical island paradise as you can get. It's lush, peaceful, absolutely gorgeous and close to town.
This is the wharf at the Madang Resort Hotel which graciously supplies our little gang of divers with rental tanks and equipment when needed. Without the support of the hotel, there would be no recreational diving by us locals. We're very grateful for their support: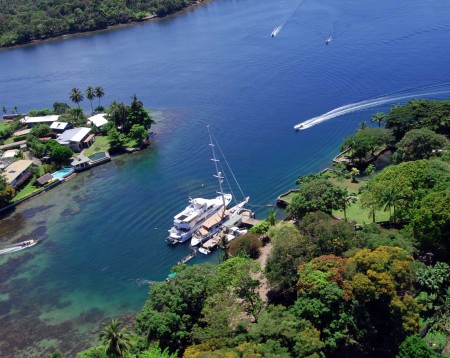 Every Saturday morning we gather here to gear up and depart for our underwater adventures.
This is one of the images of which I spoke at the beginning: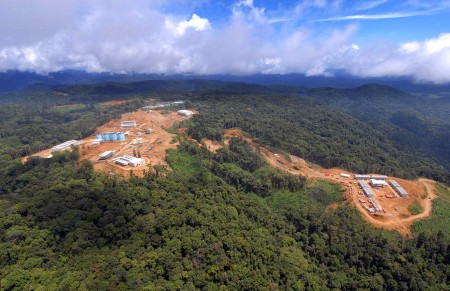 I have nothing to say about it. I'm not a citizen of PNG, so I must be circumspect in my comments. I have opinions, but I'm not going to state them here. It's enough to state factually that the circumstances surrounding this are more and more controversial as the days pass. Personally, I'm praying for peace. We've been through this before and it was very ugly.
This is another landmark about which I'll keep quiet.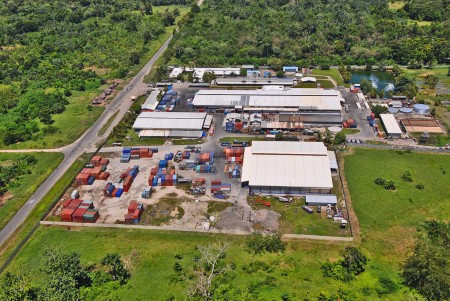 I am just thinking that, for those who are interested in its existence, it might be amusing to see it from the God's Eye View. Man, could I tell you some stories about how this one got in! But I won't.
Finally, this is the reason why everything is running out in Madang. I don't know if they have it open yet, but from the looks of it a few days ago, I doubt it: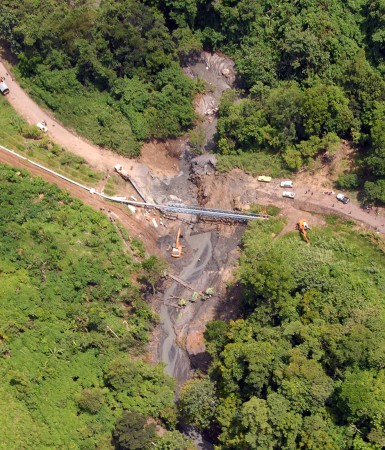 You're looking at a complete blockage of the only road connecting Madang to Lae, from which all cargo flows, well, nearly all cargo. This is why hotel owners are fretting seriously over their supply of eggs. Madang is pathetically helpless without this road.
I don't know if the pipeline of a certain company was damaged in the landslide. If it was, it was certainly quickly repaired. If it were my guess, I'd say that that is because they have all the money. They certainly had money enough to get into PNG.
Tags:
madang airport
,
madang resort hotel
,
siar island