Posted in
Mixed Nuts
on May 7th, 2010 by MadDog
Well, all that I can say is TGIF! It has been a vicious week, but I'm stayin' alive, stayin' alive. The new job blues will undoubtedly revisit me anon, but for now I've pounded away at it hard enough so that I can honestly say that I couldn't have done more if I'd had 36 hour days. At some point, what you can accomplish is left in the hands of others. What I need most is writers. I'm going to be putting our a general call to authors next week for Our Way and Nuigini Blue magazines. If you are a writer or a wannabe writer and you don't get my email, then consider this post an invitation to email me at editorial@moore.com.pg with your ideas. Both of these magazines are top drawer. I want to contribute to making them the finest publications in the South Pacific Islands. I'm convinced that we can do this, but it's going to take the talents of many.
Which leads me, of course, right to a stormy morning at Coconut Point: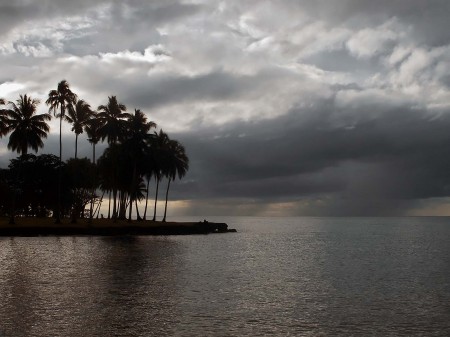 I just want to get the water theme going.
But first, I want to show you our sad little Pet Cemetery: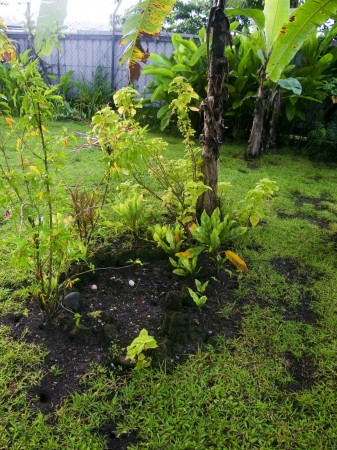 There are a couple of very fine dogs and a few cats resting peacefully here. I like to think that they are playing together. Sweet memories and sadness mix as I view this little plot where much beloved companions now lie. I like keeping them close.
A turn to the right and I can see a spray of orchids growing on the trunk of our Flame Tree among a small jungle of Bird of Paradise plants: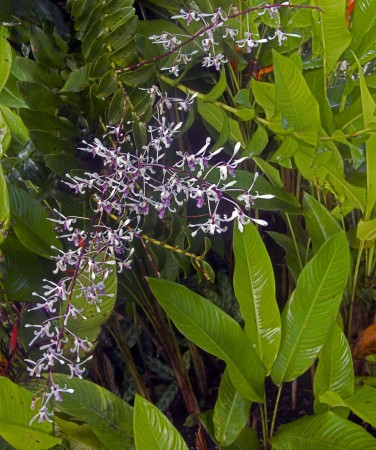 I lived nearly half of my life never dreaming that I might have orchids growing in my front yard.
This spider got an overnight drenching. He was frantically rebuilding his web when I snapped this shot: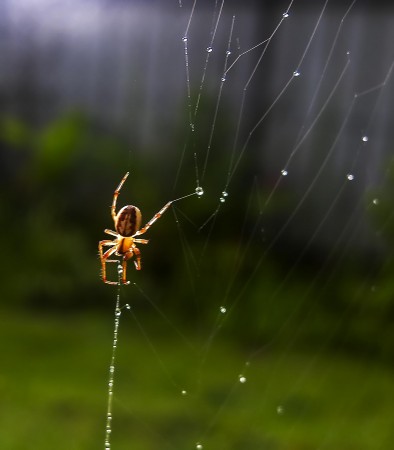 Busy, busy, busy . . .
When I turned around and looked at Madang across the harbour I saw nothing of interest at first. Then I spied this wilting banana leaf with two drops of water showing me distorted miniatures of the scene: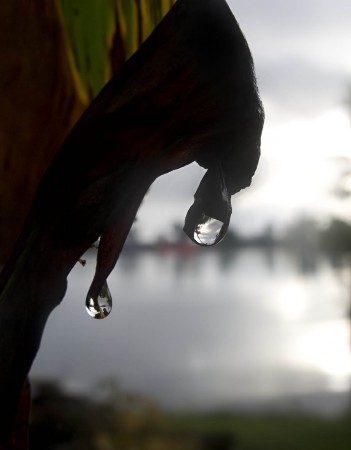 Encouraged, I kept walking.
It's fortunate that I did or I would have missed this very lucky shot: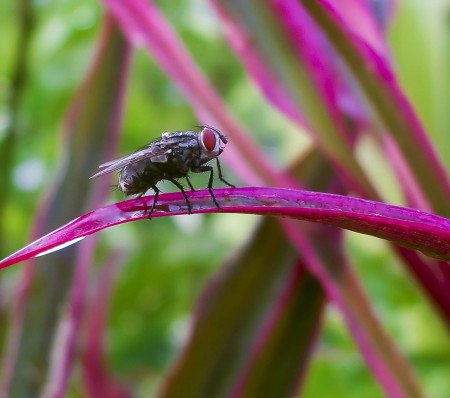 If you click to enlarge you will see a drop of water on the fly's back.
Here's my contribution to beauty for today. I didn't make it. I just took its picture: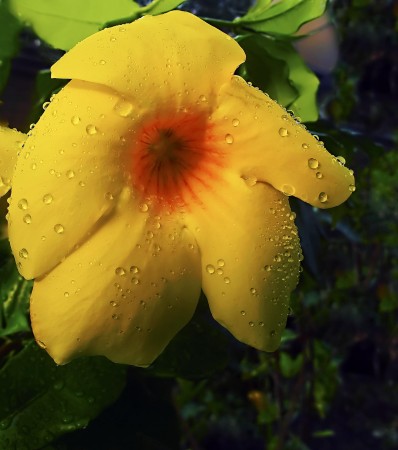 So, since I got a SmoothWall Router and Proxy Cache set up today at the office so I can see where all of our bandwidth is going and I captured something beautiful that I can look at whenever I like, I'm calling it a week.
I'm off to home for a beer and a cigar and a read. I'll give Sheba her afternoon cow bone and scratch her behind her ears. Tomorrow is Dive Day. Whoopee!