Posted in
Under the Sea
on May 9th, 2010 by MadDog
Wehn we arrived near Wongat Island on Saturday morning to dive The Green Dragon, an American B-25 Mitchell bomber which was shot down by Japanese gunners during WWII the sun was bright and the sea was pancake flat. It looked as if we were going to get one of those "Paradise Days". We weren't wrong.
After a string of rainy Saturdays, It was quite pleasant to have an entire day of sunshine. When we arrived at The Green Dragon, lying on the reef at about twenty metres, I immediately began photographing the beautiful scenery, including Genevieve, who peered inside the fuselage through one of the waist gun ports as I photographed her from the opposite side: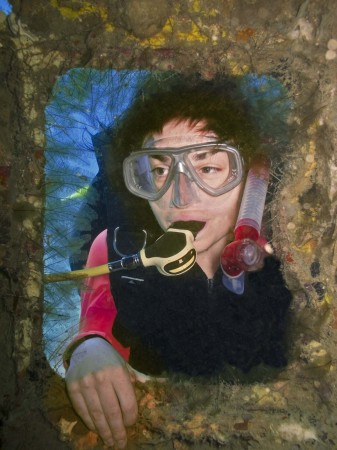 This is a favourite gimmick at the bomber. It offers the opportunity to frame a model in an interesting and easy to compose setting. Another favourite is "sitting in the cockpit" which you will see tomorrow.
Here is one of the best shots that I've gotten of the dorsal twin 50 calibre machine guns of the B-25. Japanese gunners had to brave these two death-dealers when attacking from above. The one thing which was certain is that the warrior inside this turret was just as determined to live through the experience as the attacker. You can clearly see the devastation to the turret caused by the anti-aircraft fire which downed the war bird. It's a sombre experience to view this: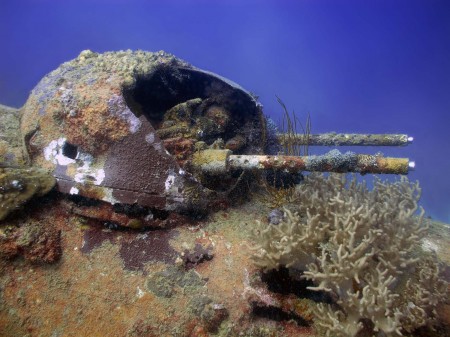 The whole experience of diving The Green Dragon is simultaneously beautiful and disturbing. The most common remarks which I hear from first-time divers are those of reflection. One can't take in the scene without thinking of the circumstances which created this amazing dive site. It is one of the best preserved WWII aircraft left in Papua New Guinean waters.
Inside the fuselage, under an ammunition box, I found these beautiful tubeworms: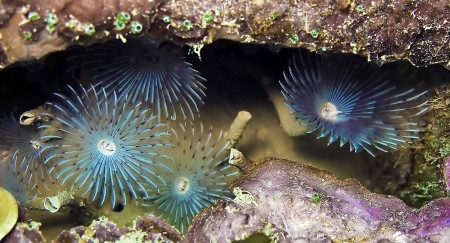 I can't identify the species, but no matter, the are lovely just the same.
Another familiar creature, a Pipefish, similarly escapes by ability to identy the species. It is one which I have not seen before: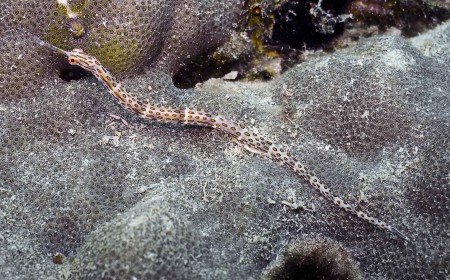 The spots on this one are very nice and worth clicking to see the detail.
The resident Ribbon Eel (Rhinomuraena quaesita) was in its burrow under starboard wing of The Green Dragon: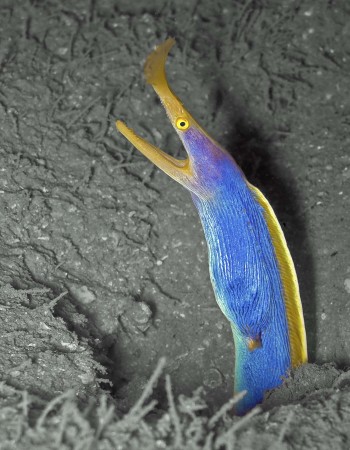 I think that this might be the best shot of a Ribbon Eel which I've ever snapped. You can see the juvenile colouration
here
and a couple of more adults
here
and
here
.
Stay tuned for more irrelevant nonsense tomorrow. I'm a wellspring of idle amusement.
Tags:
b-25
,
b-25 bomber
,
genevieve
,
green dragon
,
mitchell
,
pipefish
,
rhinomuraena quaesita
,
ribbon eel
,
the green dragon
,
tubeworm
,
tubeworms
,
wongat island