Posted in
Mixed Nuts
,
Under the Sea
on May 15th, 2010 by MadDog
Yes, it's Saturday again and I'll soon be loading up Faded Glory to go out for a dive. But first, I have a few odds and ends from the last week to show to you. Morning time is about the only really peaceful respite which I have. I like to get out in the yard with my Canon G-11 for a while to see what photographic opportunities may present themselves.
A magenta sunrise with a passing canoe: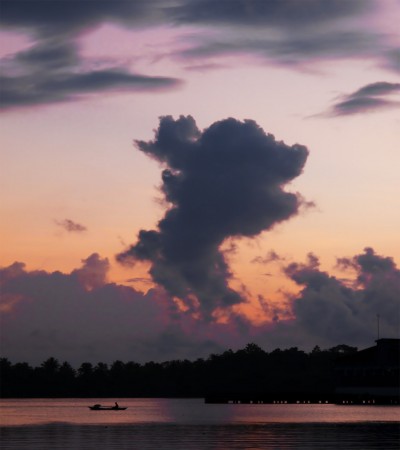 An Air Niugini jet coming in for landing at Madang airport: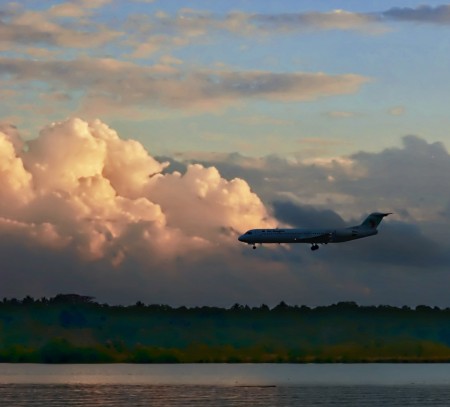 I'm still too sleepy to come up with any witty comments about that. I hope that someday we have a decent airline to serve the needs of the people of Papua New Guinea. Air Niugini is just about the worst example of small country government-owned airlines. It's inefficient, packed with dead wood, far, far too expensive and its routings are disasterous. Current politics won't allow the proper solution – sell it off and allow some real competition. Of course, the Grand Chief doesn't need to worry about all this. He has his own jet. So, when you go the the hospital and they tell you that they have no medicine, you can at least be happy that the big man is riding in comfort.
This is a moderately cool shot of the twin Browning M2 50 calibre machine guns on the dorsal turret of The Green Dragon B-25 Bomber at Wongat Island: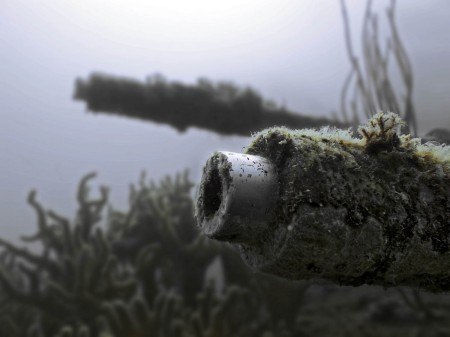 Note metal that is still shiny after being submerged for nearly seventy years.
This is the biggest Sailors Eyeball (Valonia ventricosa) that I have ever seen. It is the size of my fist: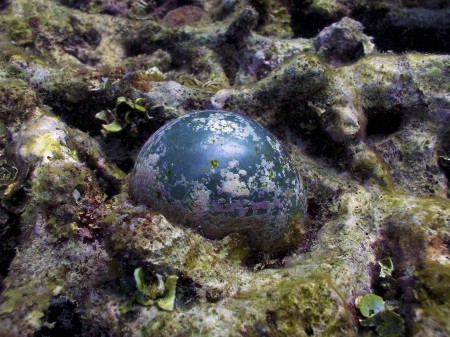 As I've mentioned before, it is the largest single-celled organism on the planet. It is a kind of blue-green algae.
As time is growing short, I'll leave you with this image of a ship which we saw on the way through the anchorage: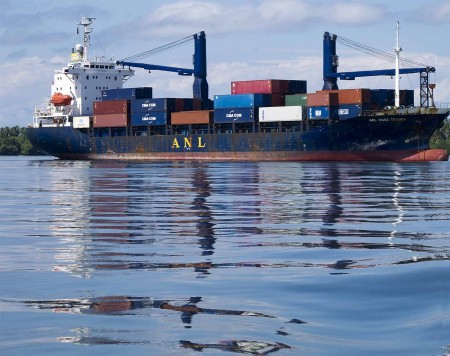 My only comment about this ship is that when we saw it, we all started laughing at once. I'll leave it to you as a little puzzle. (Hint: try adding a vowel.)
See you tomorrow.
Tags:
air niugini
,
b-25
,
b-25 bomber
,
canoe
,
mitchell bomber
,
sailors eysball
,
sunrise
,
the green dragon
,
valonia ventricosa