Posted in
Humor
,
Mixed Nuts
on May 19th, 2010 by MadDog
Life is so laughably strange. Three years ago I was going nuts trying to figure out why my life seemed to be going down the toilet. I pretty much hated my job, because everything was just a mess and nothing worked the way that I wanted it to. Our finances were sliding into the abyss with no real hope of reversing the trend. I felt useless, incompetent and emasculated. What to do? I hadn't a clue.
My wife, Eunie, was a constant, faithful encourager. She encouraged me to get my lazy butt moving and do something instead of simply whining. Do something – anything! I had plenty of wild notions which quickly took wing to the wild blue yonder. However, getting my work under control and facing the fact that it was going to take me a couple of years to do that was something that did help. Taking baby steps toward the goal of reclaiming my dominance in the IT Dungeon gave me confidence to try other things.
I had always wanted to write. I have written tens of thousands of words none of which anyone has ever read. I was still editing short stories which I wrote thirty-five years ago. It's a strange hobby. Nothing is ever finished. The process becomes the product. What a waste! I laughed at my funny stories and cried over the pathos. It was a narcissistic amusement, nothing more.
When a new magazine came out which matched my interests, Niugini Blue, a water sports magazine, Eunie strongly encouraged me to submit an article. It was promptly accepted. I wrote several more which were likewise accepted as written. When the same publisher, Pacific Islands Publishing, started an new magazine titled Our Way, I began submitting articles for it. All were accepted. Having written many articles now, I must be among the few free-lance writers with no rejection slips. Do I have any real talent? I simply don't think much about that. All that I know is that I now have an audience. That's enough for me. The size of the audience seldom had much to do with talent. Need I name names?
So, why am I pouring out all of this self-congratulatory clap-trap to you, gentle reader? I've been asking myself that question since I started tapping this out twenty minutes ago. I think that it's my way of passing the torch, so to speak. I know that many suffer from identity issues, self doubt, loss of confidence and the emptiness that accompanies evaporated dreams. My life is nowhere near in order yet, but the encouragement of my wife and friends to take action, any action, saved me from the miasma of inaction.
There's nothing here in the way of advice. It's only an anecdote.
However, I'm going ot prove my mettle by daring to write a post about nothing by our dog, Sheba. She has appeared here in Madang – Ples bilong Mi many times before. This morning I took a couple of shots of her on the veranda. Here she is not so patiently waiting for her breakfast: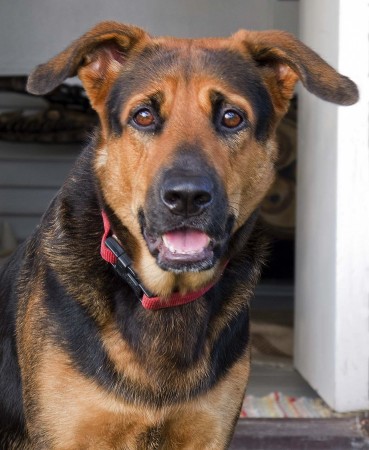 The anticipation is evident in her expression.
If I fail to respond with the expected food, she feigns indifference: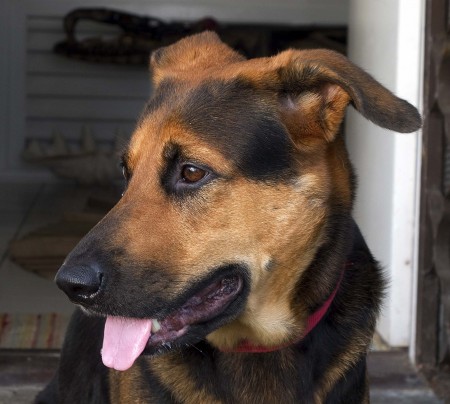 But not for long.
This evening, after devouring her afternoon bone and going outside for a swim, she lay on the sofa and whined for attention. She knows that I will not pet her until I finish my beer and cigar, but she whines anyway: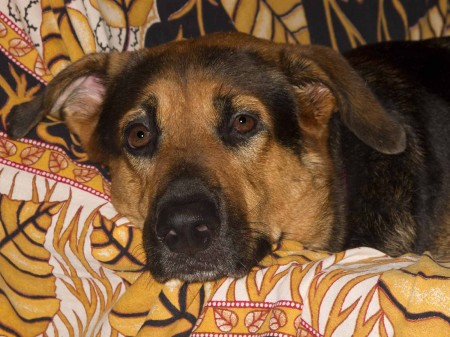 It doesn't take much energy to whine and it just might get me to cave in and let her sit with her head on my knee while I try to juggle a beer, a cigar and a book while I scratch behind her ears.
She will sometimes pretend that she doesn't care. She puts on her happy face and seems to say, "Who needs you, anyway."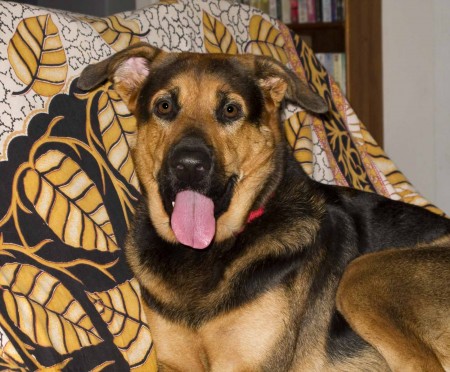 I know, however, that this is a ruse. She knows who takes care of her.
I'm getting sleepy now, so I have to wrap this up. I can't leave, however without showing, once again, Sheba's incredible tongue. If you could lick your nose like this you could have a successful career in the circus: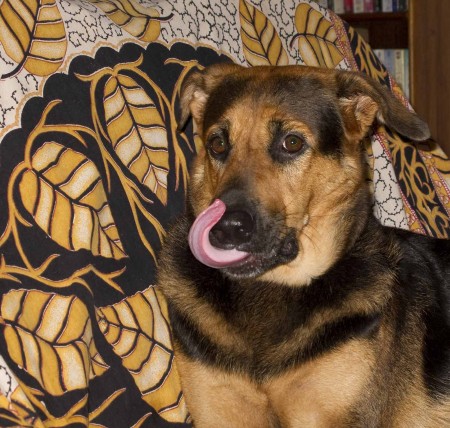 Sheba's magnificent tongue has featured here before, attached to some famous faces.
There. I did it. I wrote a post about my dog. I've sunk to the bottom of the blogging barrel.
Tags:
sheba