Posted in
Under the Sea
on June 5th, 2010 by MadDog
Saturday morning weather looked promising. It appears as if the dry season is arriving on time this year. This will be a great relief to the many people who depend on their gardens for their main food supply. I was feeling quite happy as I prepared Faded Glory for departure.
I arrived at the Madang Resort Hotel wharf where we meet and rent air tanks for our little dive club from Sir Peter Barter's dive shop, a generosity which allows us to go diving every week. Most of us could not afford to do that otherwise. As friends appeared, I noticed a strange look on some of the faces. They seemed to be looking over my shoulder as I was leaning over tending to some gear. When I turned around I did a double-take of movie quality. Grinning down at me was Roz Savage, who seemingly had not had enough of Mother Ocean. It was very pleasant to have her along and allow her to be simply "one of the mob".
The lighting was all wrong for this cute shot of Geneviève Tremblay: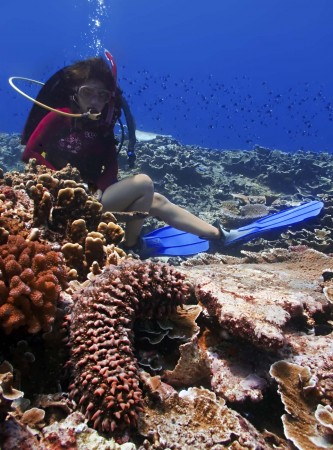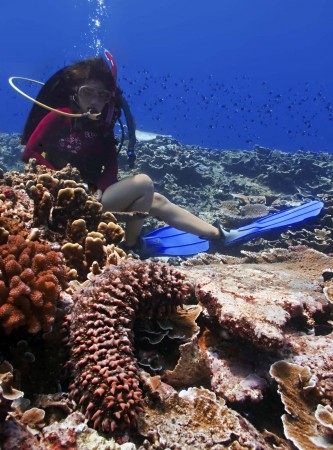 It looks as if she is about to be eaten by the big sea slug in the foreground. It was only about a half-metre long.
A week or so ago, Geneviève took this shot of me checking our anchor line. I don't often get any decent pictures of myself. This miffs me a bit, because I never tire of looking at myself: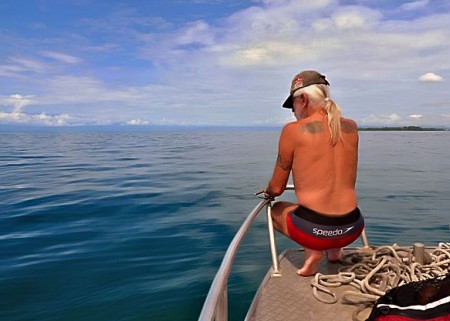 Geneviève did a nice job of composing the shot, so all I had to do was Photoshop my love handles down to  less grotesque dimensions. One wants to look as good an one might. The emphasis is on might. The amusement of exercise escapes me. I simply try to eat as little as possible.
I used up a fair bit of air chasing these Bigeye Trevally (Carnax sexfasciatus) up and down over Planet Rock: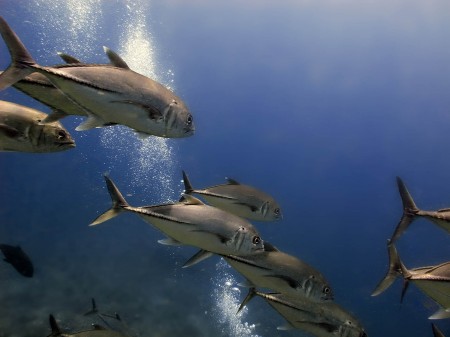 I was very lucky to catch the bubbles of a diver in the background.
Another treat was this Broadclub Cuttlefish (Sepia latimanus) which allowed me to snap several shots before it tired of the game and rocketed off with a puff of ink: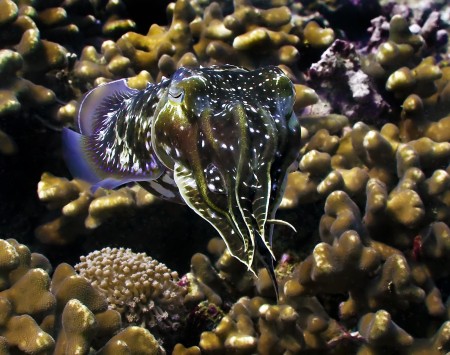 Any day when you get a cuttlefish shot is a good day.
I like this one of the little fish hiding right next to the gaping jaws of a Moray Eel (Gymnothorax javanicus):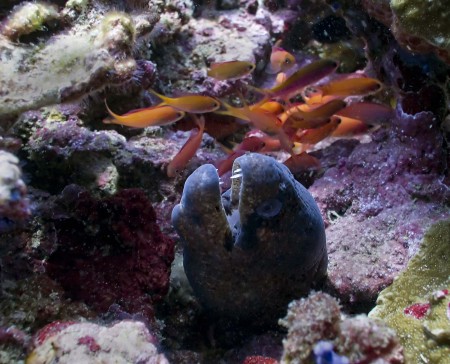 Possibly they know that this is probably the safest place for them. If you stand behind a bully who ignores you, you are unlikely to be bothered by anybody else.
Though we were trying to allow Roz to enjoy not being the centre of attention for a few hours, I could not resist this shot as were were coming up the anchor line to Faded Glory after our dive: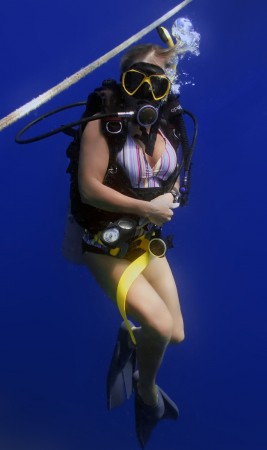 I can't imagine a more perfect day.
Tags:
Bigeye Trevally
,
Broadclub Cuttlefish
,
carnax sexfasciatus
,
geneviève tremblay
,
gymnothorax javanicus
,
moray eel
,
planet rock
,
roz savage
,
sepia latimanus