Posted in
At Sea
,
Mixed Nuts
on June 7th, 2010 by MadDog
I'm glad you asked. I'll tell you when I love life the most. It's actually two times. I'll let you guess when it's not. No, I'll tell you. It's not when I'm making money or doing something "important" or "supporting a cause" or "being responsible". All those things are good to some extent or another.
One of the times during which life settles over me as a fine, cool mist of euphoria is when I'm sitting quietly with my woman, enjoying the sweetness of nearly a half-century of friendship, affection. and passion. The other time when I feel very close to heaven is when I am with beloved mates who share my lust for life and welcome both the benefits and burdens of true friendship. I am blessed beyond comprehension with an abundance these moments.
My supply of words is running short today. I planned to make this my "Sunday" post so that I would not have a hole in my calendar. So much for dedication and self-discipline. So there's a hole. I'll flagellate myself later.
Right now I want to show you lovely Marleen and her dolphins: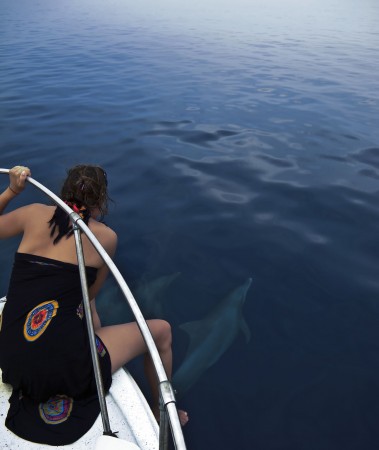 Of course, they are not really Marleen's dolphins. Nobody should own dolphins. However, Marleen had the best seat in the house as we travelled up to Blueblood on Mike and Di Cassell's Felmara on Sunday.
Now for a simple question:  What do you get when you take a bunch of clowns out to a floatie thing and give them a tennis ball? Well, you get Leapin' Lizards: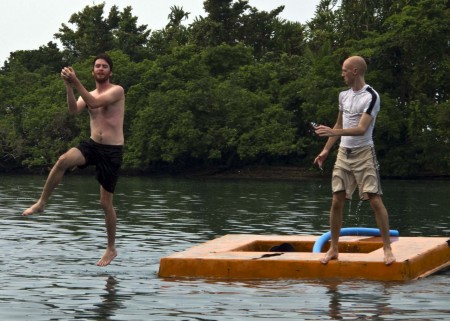 Here is Eddie "The Dancin' Fool" with a picture-perfect catch. Richard Jones seems to be saying "What the . . .  How dare you!"
Did you realise that if you Google "Leapin' Lizards" (with the quotes) you will be about 368,000 hits. There's a message in that somewhere.
Not to be outdone, Rich came on with a beautiful grab which ended in a spectacular splash: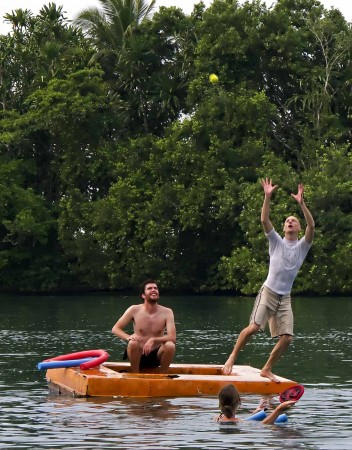 Rich is one of the most physically competitive friends I have ever known. He has bicycled insanely, triathloned, climbed
Mt. Wilhelm
and dived every chance he gets all despite having a great leaky hole in his heart. No, I mean his actual heart. No wonder he is so skinny. You do not want to get into a game of Twister with him. He will beat your socks off.
And, if you need incontrovertible evidence that man descended from the apes, you need look no further: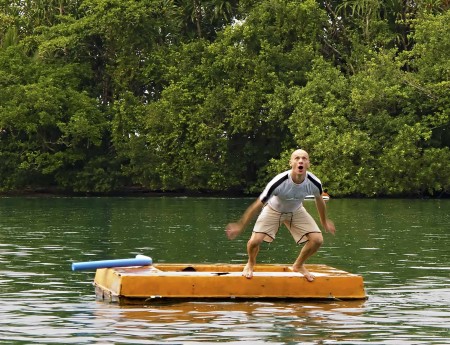 I rest my case:
The next act was our scary local Frenchman, Pascal Michon, A.K.A. "The Prince of Pursuit":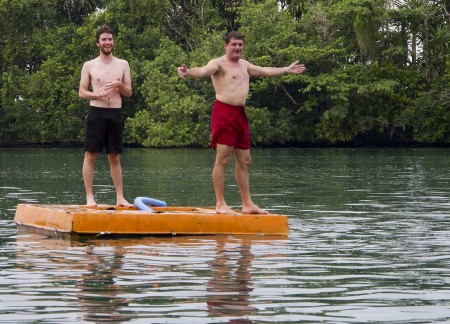 Here Pascal is throwing down the gauntlet. "Bring it on!", he challenges.
There followed what I think was a near miss, but there was so much water being displaced that I couldn't see whether he actually caught it or not: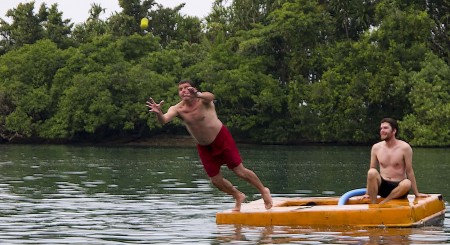 At least it was a valiant effort, worthy of the flag.
The next attempt was evidently successful. Please note that the ball was firmly in his hands before his toes left the platform. The only way he could have surpassed this accomplishment would have been if he had managed to get back on the platform before ditching in the drink. Now that would have been something: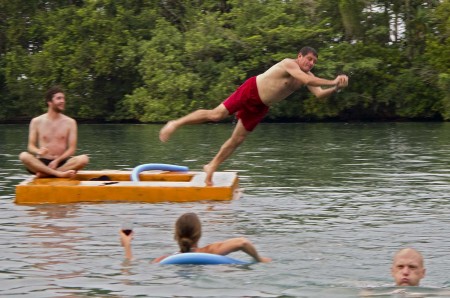 Rich is making his way back to the beach after exhausting his supply of red wine.
We have taken to calling Pascal "The Flying Frenchman" in honour of Clément Ader, Pascal's countryman who was the first man to construct and pilot a powered aircraft in 1890. It reached a height of 20cm, and flew uncontrolled approximately 50m. Here is a picture of Clément Ader: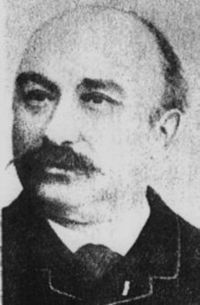 Don't you see the resemblance?
After a flaming postprandial of Black Sambuca, we made our way back to town. I like this nice pensive shot of Brioni sitting on the stern of Felmara: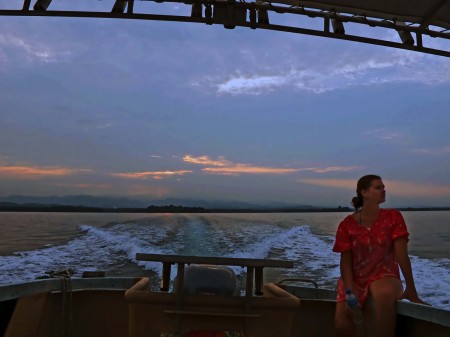 Never a cross word was spoken. What a day!
Tags:
blueblood
,
brioni
,
di cassell
,
eddie
,
felmara
,
marleen
,
mike cassell
,
Pascal Michon
,
richard jones