Okay, today I'm just winging it. I have no coherent plan, no petty rage to vent, no earth-shattering news, no malicious gossip (no, wait . . . I hate that stuff), and no gonzo wisdom to dispense. I'm reasonably calm, considering the mountainous pile of work which I fear will soon avalanche down upon me and out of which no St. Bernard will come bearing a little keg of Monk-crafted brandy will come to dig me.* I partook of my placebo this morning, consisting of a tiny nibble off of the edge of a 5mg Valium tablet. I know that it's not enough to affect my body chemistry, it simply lets me feel as if I have some control. I feel like a mouse nibbling on a teeny-weeny chunk of cheese which must last him for a month. The things you do when the mind starts to go . . .
So, I'll spare you the chatter and show you some images which have lifted me out of the muck a couple of times already this week. We'll start with a sunrise for which I can credit only God. Sorry folks. Simple physical processes are not up to the task:

Thanks, God. I needed that one.
This is a picture I got a few weeks ago up at Guntabag with my old buddy Tag Tap. He took me to a tiny little house to see this wonderful old man who they say is eighty-three years old: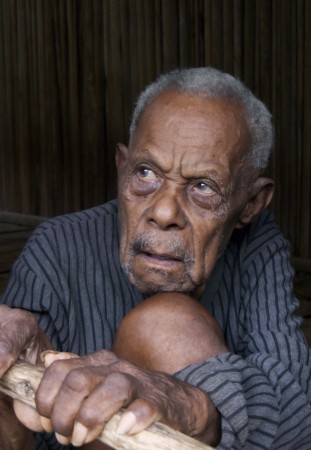 It is hard for me to keep tears from my eyes when I look at this image of a man who has lived almost literally from the stone age to the space age. How much the world has changed during his lifetime. He would have been born at a time when nearly the entire population of Papua New Guinea lived in areas which had never been mapped and were presumed to be uninhabited. I do not know his name, and If I did, I would not tell you. Names of venerated persons, especially those who are in the twilight zone are often not spoken aloud. A glance or pointing of the chin in his direction is sufficient to indicate the subject of the conversation. He was alert and could speak, offering to shake my hand. However, he was clearly confused concerning why a foriegner would want to come to meet him and take his photograph. I'm going to get a good framed print made of this one and send it up to him.
I can't get enough of the Finisterre Mountains. Despite being surrounded by mountains to the west, the Finisterres, across Astrolabe Bay, are the only ones which we can see clearly: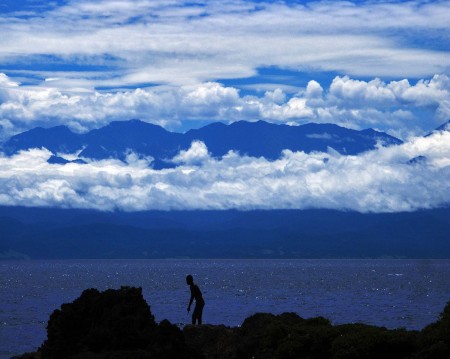 I'll call that one Too Blue.
I'm calling this one Boards Over Water at Blueblood: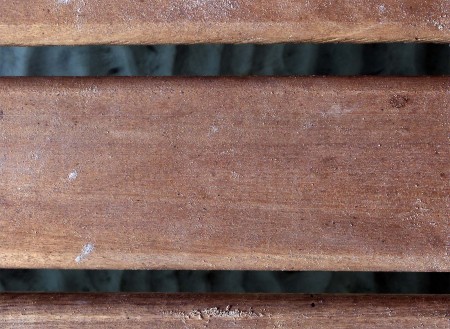 The sand from out feet on the deck and the ripples of sand under the water below the deck connected furiously in my medula oblongata. I stared curiously at my hands as they, of their own accord, set the controls on my trusty Canon G11 and framed the shot. I heard a subtle "click" inside my head when the shutter released. It was surreal.
Here is a happy, happy picture: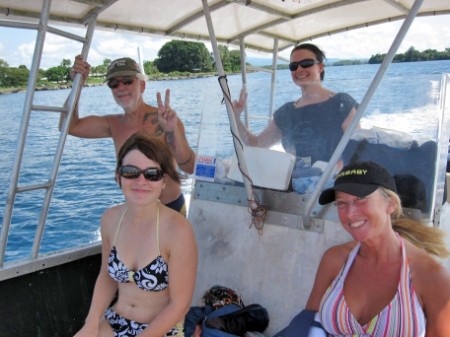 It is (Rozlings take note) Roz Savage, Genevieve Tremblay, me and Jo Noble in Faded Glory on our way out to Planet Rock on Saturday. Thanks to pal Meri Armstrong for the snap. Meri was intensely concerned with getting the iconic Madang Coastwatchers Monument in the background. I enlarged my bicep only slightly – honest! And, by the way, I am not "making a donkey" out of Genevieve. I'm giving the Peace Sign.
Which reminds me. I haven't shown the Faded Glory Diving Crew t-shirt logo for a long time: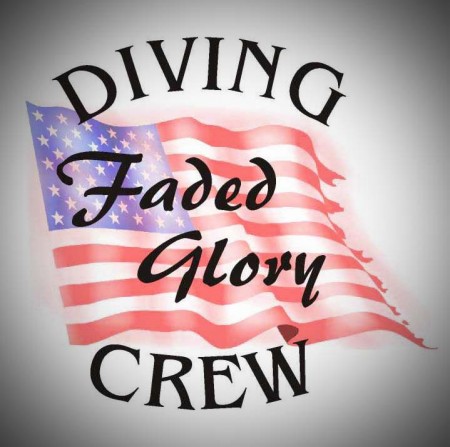 I'm putting it up here because I'm looking for a t-shirt company who can make some up for me. If anybody out there has any ideas, please leave me a comment or send me an email.
Just a couple of more and then you can get back to work before the boss comes around. I love spirals. When you are in the sea you are surrounded by them. Here is one of my favourite spiral shots: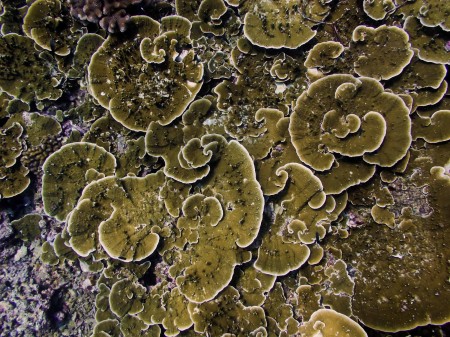 What I like about them is that none of them are perfect. They are only suggestions of what spirals might be if they tried harder, if they cared more about being true to their good nature. They remind me of humans.
So, now that I've gone completely silly, I may as well carry on. I saw this bottle on the otherwise pristine reef at Planet Rock: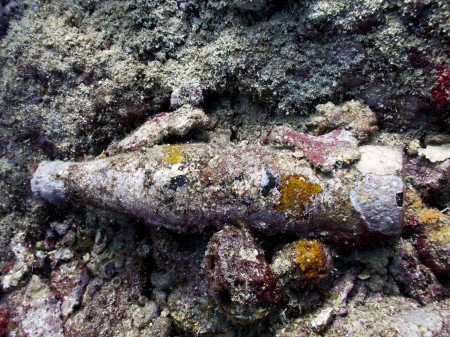 As you can see, the reef is desperately trying to incorporate it into itself. It is a hopeless task, because the bottle is of a different nature from the reef. The reef lives. The bottle is dead and always has been. The bottle does not belong to the reef and the reef does not want it there. So, the reef hides its shame and restores its beauty by absorbing the foreign bottle into itself.
I'm calling it Message in a Bottle.
* Please note the incredibly clumsy sentence which I crafted to avoid ending it with the prepostiion "out".
Tags:
blueblood
,
coastwatcher's monument
,
faded glory
,
geneviève tremblay
,
meri armstrong
,
no noble
,
planet rock
,
roz savage
,
rozlings
,
sunrise