I have a fantastic shot for you today. A couple of days ago I put up a post showing an image of a Cuttlefish. I had looked over the frames which I had taken and chosen the one that I thought was the prettiest. Yesterday, as I was going back over the images from that dive on Planet Rock last Saturday, I discovered something which I had not noticed in my earlier examinations – something which blew my itsy-bitsy mind.
The is the same Broadclub Cuttlefish (Sepia latimanus) which you saw in the post linked to above. Do you notice anything odd about it? Go on, have a good look before I tell you. Click on it to make it larger: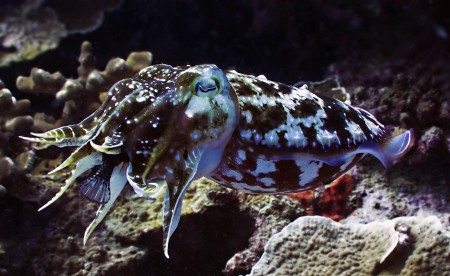 It quite clearly has a fish sticking out of its mouth. Richard Jones told me that he thought that it was actively hunting when we ran across it. I never thought more about it. It must have snatched this fish with its long feeding tentacles only moments before I snapped this shot. I Googled some "cuttlefish feeding" images this morning and found plenty of examples of the act of feeding, but no others showing a fish sticking out a a cuttlefish's mouth. I get lucky so often that it is beginning to frighten me.
Today, we'll alternate back and forth between beauty and weirdness. Some might say that the Cuttlefish is beautiful, but it's also weird.
Here's your beauty. It's lovely Geneviève Tremblay waving "Hello" to you: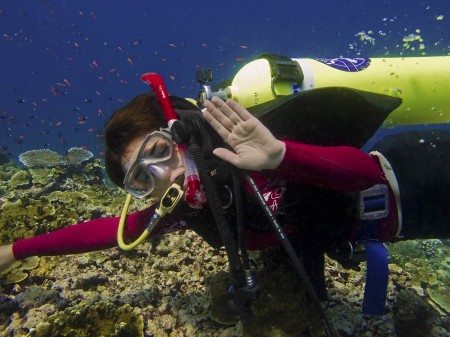 Geneviève is a volunteer worker here in Madang. She is a physiotherapist, a much needed skill here in our hazardous country.
I used the "Hello in All Languages" WordPress plugin for the greeting from Geneviève. If you get something other that your local language equivalent of "Hello" please let me know. I'm still testing it.
Snapping back to weird, here is an elegant Longsnout Flathead (Thysanophrys chiltonae):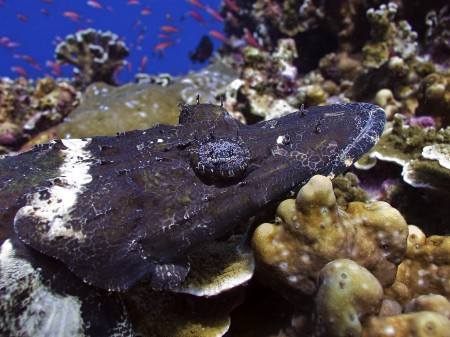 These are very common on our reefs. They are ambush hunters. Their camouflage abilities are amazing as you can see in this post.
Let's flip back to beauty for a moment: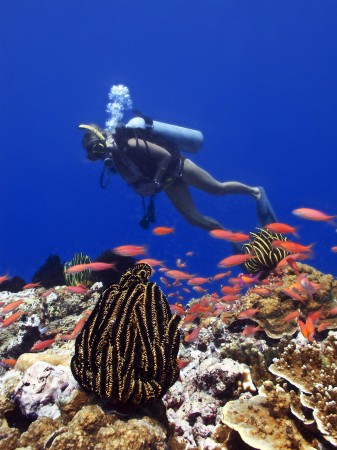 Here is a sweet shot of Roz Savage with some lovely orange Antheas and a Feather Star in the foreground. I was so pleased with this shot. It's definitely going in MadDog's Little Book of Memories.
Now, this one is not ugly, but it is weird looking. It's a common Scorpion Shell (Lambis scorpius):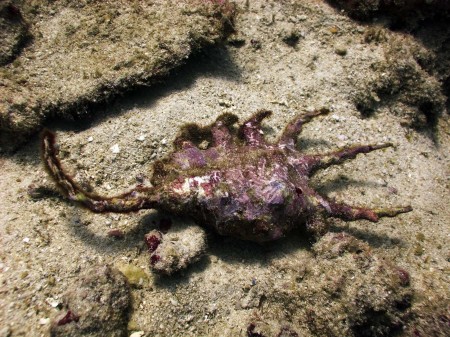 It doesn't look like much when you first see it laying in the sand.
But, gently turn it over and: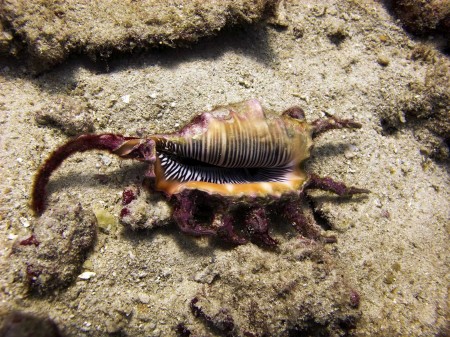 Zowie! That's a whole different thing there.
Mother Ocean is full of surprises.
Tags:
Broadclub Cuttlefish
,
cuttlefish
,
geneviève tremblay
,
lambis scorpius
,
Longsnout Flathead
,
planet rock
,
roz savage
,
scorpion shell
,
sepia latimanus
,
Thysanophrys chiltonae