Posted in
Under the Sea
on June 10th, 2010 by MadDog
We had a lovely dinner at our house last night with thirteen of us there consuming Eunie's delicious Midwestern American farm meal. A special guest was there, but I'm not going to keep blasting her name out over the web, because I think that it's time for her to have a chance to enjoy a bit of privacy. It was a typical Madang dinner party. There was a pile of "happy shoes" at the door, good food, good friends, and good Australian wine. Everybody came to our house by boat, so even the departing was fun. Everybody walks out to the dock, gets into their boats and we all wave bye-bye as if we'll always see each other tomorrow. And, we usually do.
When I saw the sunrise this morning, the word industrial popped into my mind:

It seems that I am a compulsive titler – is that a word, someone who titles things? I don't know. If it isn't, it should be. Every image has to have a title floating around in my head.
Oh, I can see that I'm boring you. Let's get to the miserable failure that is the subject of today's post. This could have been a perfectly good image of a Scorpionfish: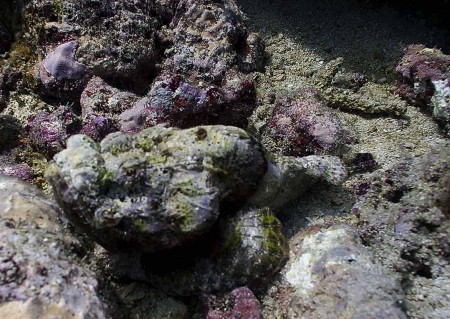 We had just gotten into the water at Planet Rock and I was fussing around making certain that our anchor was not doing any damage and watching divers and counting noses when Richard Jones pointed out this Scorpionfish. It was such a peculiar shape and so well camouflaged that I really wanted to get a good image of it. Sadly, I had time only for a quick snap. Unfortunately,as so often happens, the camera did not focus where I wanted it to. The focus on the rear half of the fish is tolerable, but the head is blurry. Still, it is so odd that it's worth a look.
I have a lot of trouble figuring out what is a sponge and what is a sea squirt. I was all set to identify this as some kind of sea squirt. Fortunately, I sent the image to my Facebook friend Ana Karinna Carbonini of the Laboratorio de Biología Marina at the Universidad Simón Bolívar. She said that she thinks it is a Sponge, possibly a species of Leuconoide or Asconoide: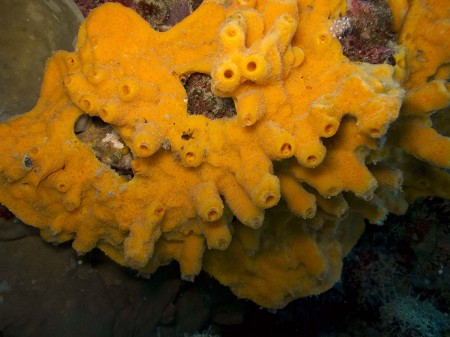 You can take a sip of coffee now while you absorb that. Have a quick glance over your shoulder to see if the boss is lurking about.
At the request of a friend, here are a couple of Anemonefish shots from our dives on Saturday. This is a Red and Black Anemonefish (Amphiprion melanopus) peeking out from the safety of its host anemone: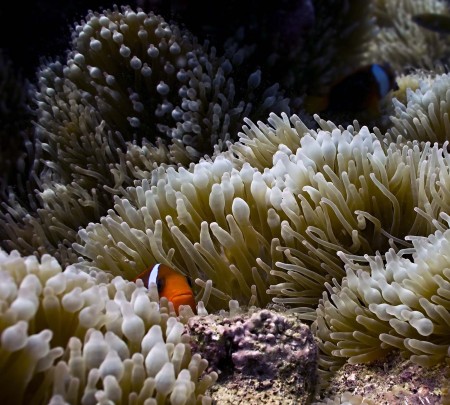 I particularly like this shot, because it shows a very typical behavior. Anemonefish will often alternate between dashing about frantically around the anemone, coming up close to you to investigate or even take a nip of your finger and then plunging down within the tentacles to peer out and observe the result of the attack. I get more fun from watching anemonefish than anything else under the water, with the possible exception of some of my dive buddies.
For the Disney fans, here are some genuine Nemo wannabes. The Clown Anemonefish (Amphiprion percula) never fails to live up to its name: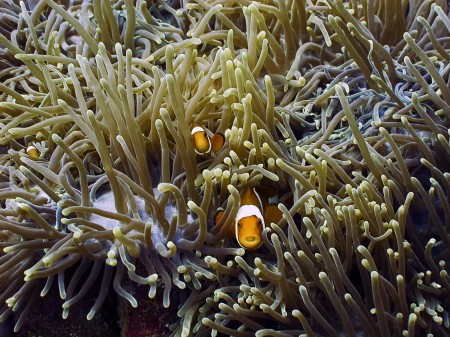 One seems to be shouting at me. By the way, I would call this a failed shot also. Careful examination will reveal that it was a snap shot and I did not take the time to check the focus carefully. Of course, if I had, I would have missed the shout.
Finally, I'll show you this artsy shot of the beautiful clear view of the reef near Alexishafen late on Sunday afternoon: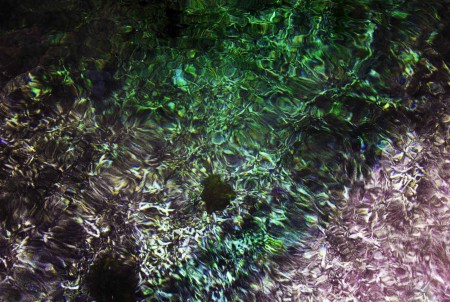 We were all peering over the side of Felmara as we stopped for a swim. The water was crystal clear and the pinkish sunset was alternating with the deep green of the two metres of water under the boat. A little bit of magic.
A little bit of magic is all it takes.
Tags:
Amphiprion melanopus
,
Amphiprion percula
,
ana karinna carbonini
,
asconoide
,
Clown Anemonefish
,
eel garden
,
leuconoide
,
nemo
,
planet rock
,
Red and Black Anemonefish
,
scorpionfish
,
sponge
,
sunrise