Posted in
Mixed Nuts
on June 12th, 2010 by MadDog
Inspiration failed to appear this morning and I was weary of trolling through images for fresh fish. Today is Dive Day, anyway, so I'll have new images with which to play later today. Before I get to my stroll in the garden this morning, I'll show you this bright collection of the iconic bit of Papua New Guinea art known in Tok Pisin as a bilum.
A bilum is simply a string bag. However, it is the Queen of String Bags. There are as many patterns as there are minds to dream them: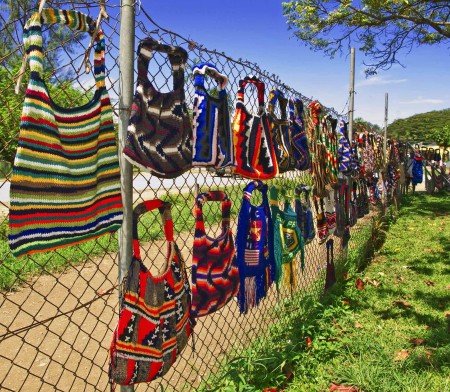 Above is a small section of the display of the hundreds which are available at the main market in Madang Town every day. They used to sell for a pitifully small price. I'm glad that the people who make them and their agents at the marked have demanded higher prices. The amount of skill and labour which goes into the making of them is considerable. It deserves a proper payment.
In the garden this morning were the usual suspects. Here a tiny checker-board winged fly takes a snooze on a yellow flower: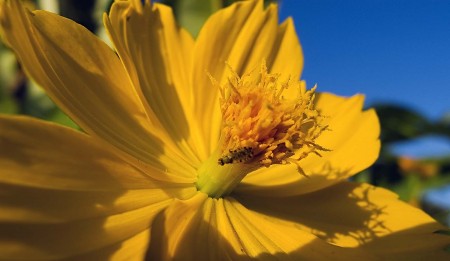 I did not awake until 07:00 this morning, an unusual occasion. By the time I got out to the garden the golden light of the sun was intensifying nicely.
This flower was glowing furiously. The colour is all wrong. It was not red, but more of a violet colour. Some weird combination of factors prevented me from getting the correct colour. I'm going to have to investigate that: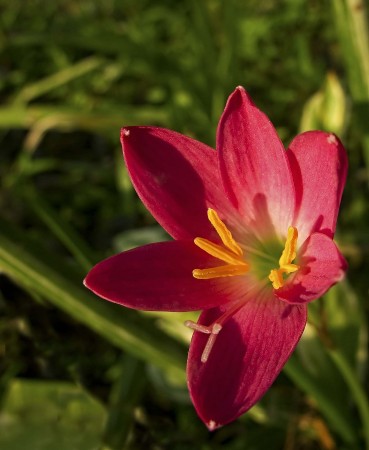 It's pretty enough as it is.
A stroll through the garden would not be satisfactory without a relaxing study of the orange lilies: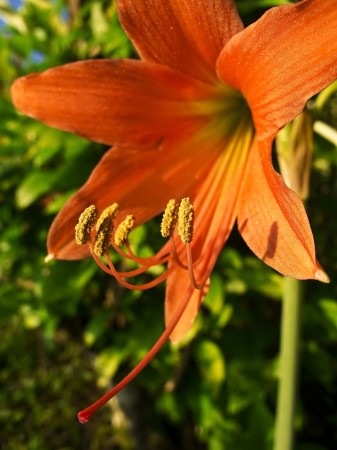 You may as well get used to these, because I am never going to cease finding new ways to display their beauty
I almost missed this small bee resting on a hibiscus leaf: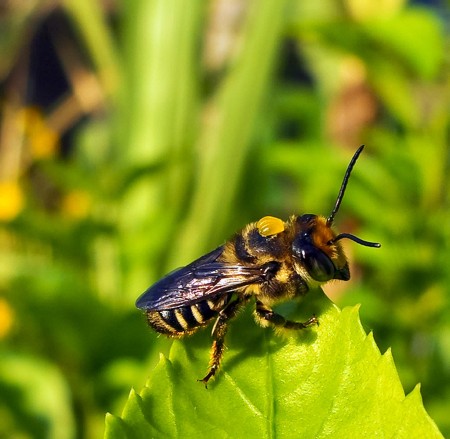 They usually fly away when I try to get my lens close enough for a good macro shot. This one seemed not to care. Possibly it was tired.
This is easily the shot of the day and a great example of photographer's luck. Any fool can take pictures and most fools can do a pretty good job of it. Sometimes the difference is simply patience. I spent a full fifteen minutes squatting on the grass shooting frame after useless frame: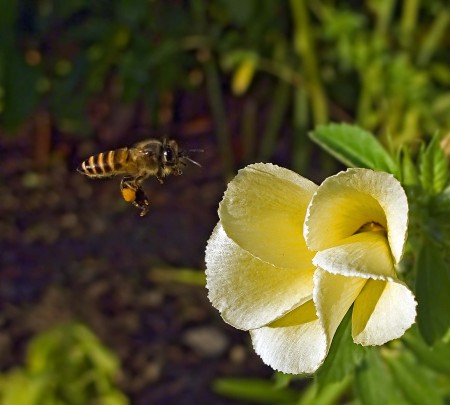 These bees are indeed busy, busy. They stay on each flower for an average of four or five seconds and then fly quickly to another. I feel like a big mackerel attacking a huge school of bait fish. Which one to chase?
Time to load the boat.
Tags:
bee
,
bilum