Posted in
Under the Sea
on June 13th, 2010 by MadDog
Yesterday we went up to Wonagat Island to dive a spot on the barrier reef we call The Chimney. I don't think that we have dived there since I began Madang – Ples Bilong Mi in September 2007. This is a little odd, since it is an interesting site and easy to get to. The conditions there vary wildly. Saturday wasn't great, but I did get some amusing shots. We'll get to that later.
First, have a look at Sunday morning's sunrise. I deliverately made it darker than it really was. I wanted to bring out the very faint crepuscular rays. I could barely make them out visually. Some tender massaging with Photoshop brought them to life:

Trying to lighten up the rest of the image simply makes it look fake, which is not necessarily a bad thing, if you're going for an artistic interpretation. The most interesting bit of this image is the dense black smoke erupting from the stack of the large ship as the left. Click to enlarge, so you can see it.
Here is another shot with a completely different colour interpretation which shows the ship's smoke much more clearly: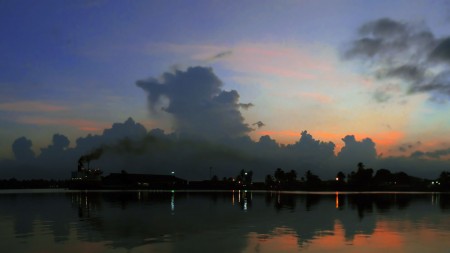 Thank goodness that this amount of smoke is not normal. I only see it when the ships are starting up their main propulsion engines. It usually lasts only a minute or two. I would love to get into the engine room of one of these big ships. Maybe somebody out there will arrange this for me. I'm amazed at the things I ask for here which magically appear. Having a journal with thousands upon thousands of readers can come in very handy. Thank you , gentle readers.
If I project the numbers out to the end of June, it seems that I will have had 275,000 visitors in the first half of 2010. This simply stuns me. I sometimes find it difficult to get my fingers going in the morning, because it is absolutely scary how many people are going to read what I write while still waking up, sitting there in my nightwear (I'll let you guess.) drinking a Fanta Orange soda. Hey, think about it! It's a frightful responsibility. But, it's still very small potatoes.
Well, enough of puffing my head up like a toy balloon, let us have a look at the mysterious dive site which we call The chimney for a very obvious reason. I carefully positioned Faded Glory for the dive, because if you get the anchorage wrong, you will never find the hole. The trick is to anchor in a known position slightly to the North of The Chimney so that you know which way to go when you get down on the reef. Here is what it looks like if you get things right: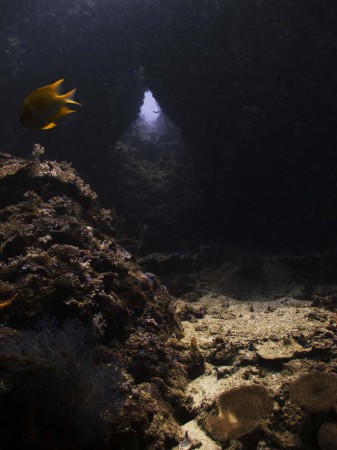 In my dive briefing I said the we would descend, go to the edge of the reef, descend again to 28 metres, turn right and look for the hole. And maybe we might find it. I have miscalculated the anchor point several times and failed to find it. This time, after the dive, I marked in on the GPS.
Here is how it looks from the bottom as you see a diver exiting from the top: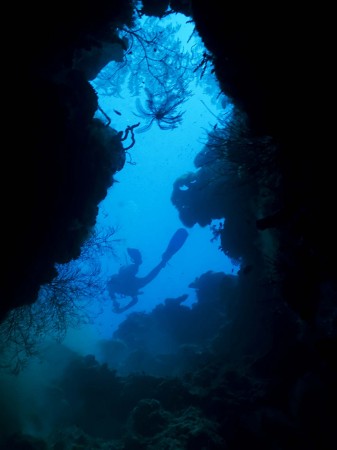 I should have mentioned beforehand that one shouldn't use fins to swim up through it. It's best if you just let a slow ascent take you up through the narrow passage. If you do it right, no sediment is kicked up to spoil the trip for the next diver.
Our resident French clown, Pascal Michon could not resist hanging upside down for a comical shot: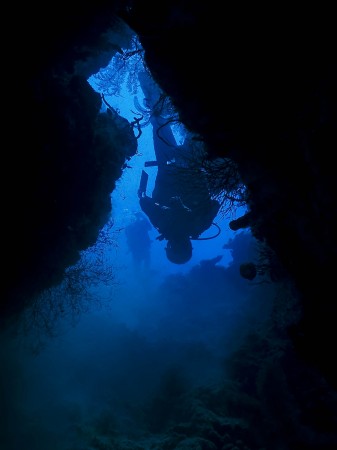 It's nice to know that you have friends you can count on for a laugh.
Back up on top we went hunting. This little Blackspotted Puffer (Arothron nigropunctatus) kept trying to hide from me. I caught him as he was peeking out to see if I was still there: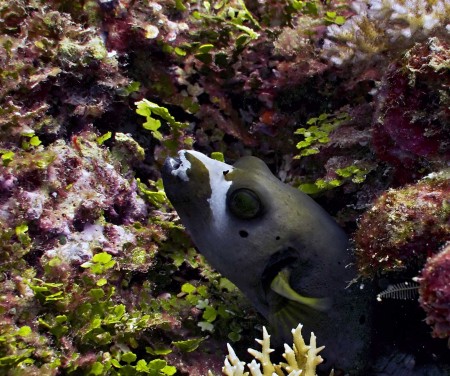 They are cute, but not very bright. They remind me of me, except for the cute part.
I'm still experimenting with the deep focus technique, but it takes a lot of light. this shot of Reticulated Dascyllus (Dascyllusreticulatus) bobbing up and down into their coral hide-out is not yet what I'm looking for: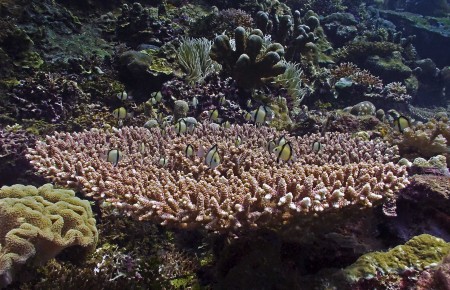 It seems a little flat to me. I'm looking for more depth.
I may have to send you a pair of 3D glasses.
Tags:
arothron nigropunctatus
,
blackspotted puffer
,
chimney
,
Dascyllus reticulatus
,
Reticulated dascyllus
,
ship smoke
,
sunrise
,
the chimney
,
wongat island