Posted in
Under the Sea
on June 14th, 2010 by MadDog
Thanks to the Queen's Birthday, a public holiday here in Papua New Guinea, I did not have to go to work today, a bright and sunny Monday. That gave me a chance to work on one of my other jobs and write an article for Niugini Blue about diving with Roz Savage. Well, it was a productive day, but I'm knackered, so I will spare you my usual nonsensical chatter.
My Facebook friend Kevin Lock sent me a link to a very scary site which allows you to put the footprint of the BP oil spill in the Gulf of Mexico right over the top of your house, if you are so inclined. My sense of geography is askew because of living in the same place for nearly half of my life, so I wanted to get an idea of the scale of the disaster. I put it right over Madang: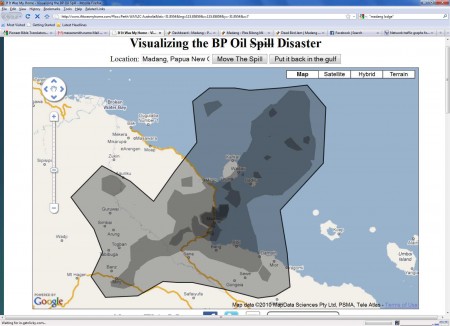 I was dumbfounded. All that I could think of was to be thankful that we have no ecological woes that could, even in the worst possible case, hold a candle to this one. That would be the same as comparing a firecracker to a hydrogen bomb.
I spent years in the U. S. Army National Guard flying helicopters. A large percentage of our missions were in support of disaster relief. I have seen close up and personal the kind of personal tragedy that such disasters cause. This one goes well beyond my imagination.
To get my mind off of those dreadful memories, I'll show you the wing of The Green Dragon B-25 bomber near Wongat Island: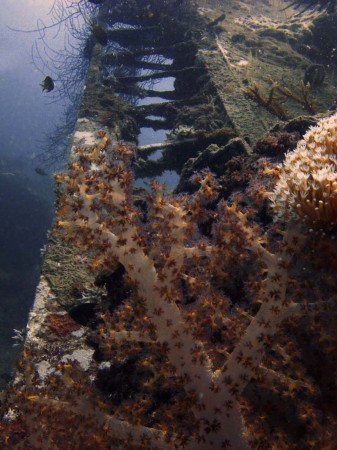 What you see is the remaining metal framework of the control surface at the rear edge of the wing.
Inside the fuselage at the corner of one of the ammunition boxes was a spindly shrimp with an eel poking its head out next to it: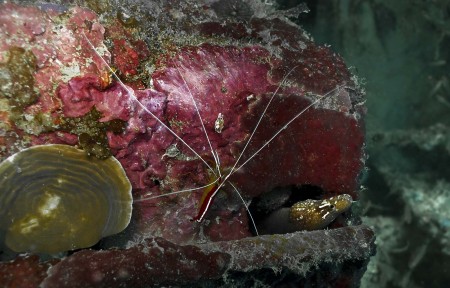 I wonder if they are even aware of each other.
Down on the bottom, behind the wing is a Heliofungia actiniformis coral full of Periclimenes shrimp: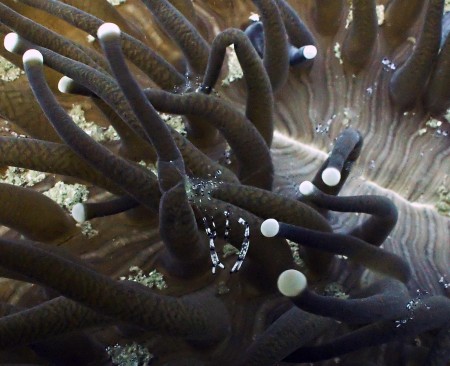 The shot above is about as good as I can get with the Canon G11 in the low light conditions. I had to shoot at ISO 400. If you know what that means, you'll have respect for this little camera a bit bigger than a pack of cigarettes, if anybody remembers what that looks like.
Here is another shot that gives an idea of how many of these little nearly transparent shrimp you might find in one coral: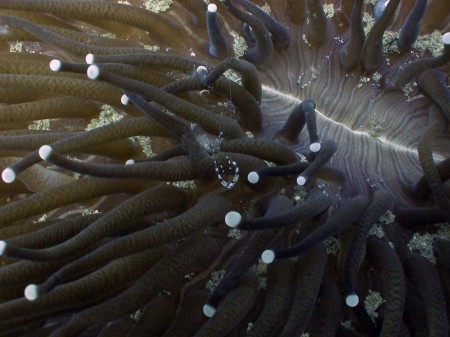 They were hopping around like tiny bunnies.
This is very young coral colony which Monty Armstrong found out near the nose of the bomber. It was as delicate as any flower I've ever seen: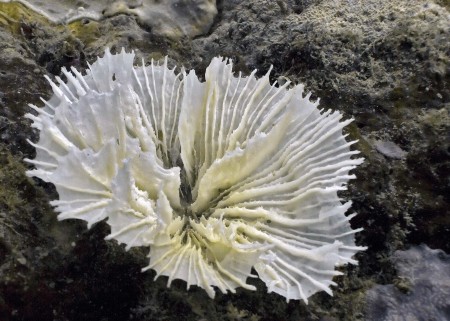 Its current size is about five or six centimetres. It will be interesting to see how fast it grows.
I'm tired and I still have captions to write. There will be more useless mumblings tomorrow.
Tags:
b-25
,
bomber
,
bp oil spill
,
heliofungia actiniformis
,
periclimenes
,
the green dragon
,
wongat island