Posted in
Madang Happenings
on June 17th, 2010 by MadDog
Well, there is no shortage of news from Madang today. Yesterday afternoon at about 18:00 Erastus, our Translation Coordinator, called me from our office where they were having a dinner to greet our new intake of interns. He said that there was a big fire in town. He told me that he thought that Papindo's was burning down. I ran to grab my camera and rushed out into the front yard to be greeted by this:

It certainly looked like a big fire to me. I haven't seen anything like that since the Lutheran Shipping Fibreglass Shop burned. I could hear pops like guns going off clear across the harbour.
Here is a telephoto shot taken only a few minutes later when the fire appeared to be at its peak: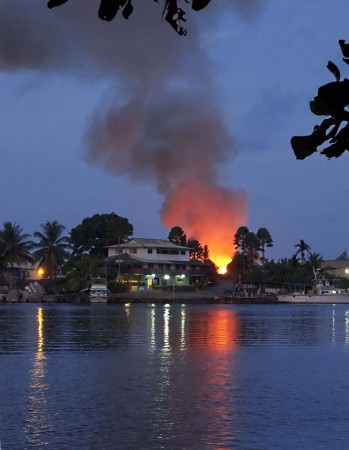 Within a short while it died down significantly.
As it turns out, it was not Papindo's which was smoked. It was the building across from the Development Bank (the building you can see on the left in the light of the fire). We called this building "The Arcade". Don't ask me why. That's just always what we've called it. It's pretty much gone now.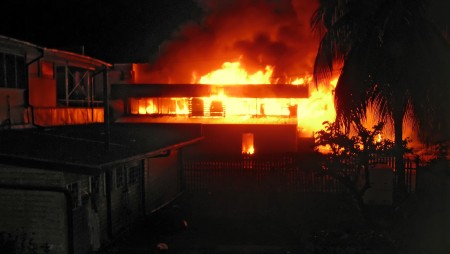 Eunie called me from the office to tell me that she was worried that the fire would jump the street and get the bank and then us. I couldn't get into town. because she had our car. I told her that all that they could do was wait until it was pretty certain that our building was in danger and then yank the wires out of every computer in the building and carry them someplace safe where the inevitable looters could not grab them. I remember when a hotel in Goroka burned and people were throwing television sets over the fence to be carried off by wantoks.
Here is the heart of the beast. This shot and the one before were taken by Eunie. I think that she was a very brave little photojournalist. Click on this one for some interesting detail: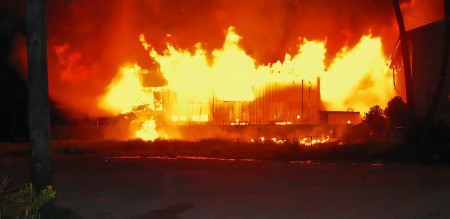 She said that she couldn't get any closer because of the heat. I told her that she got quite close enough, thank you.
Here is a shot in the morning from the same angle as the first fiery shot: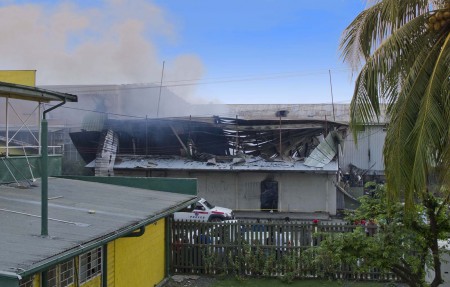 As you can see, the place is pretty well trashed.
This morning there was still a fire burning inside. The fire department did not seem to be around. I was told that the cops bashed a looter earlier in the morning. I'm just as happy that I wasn't around to snap that: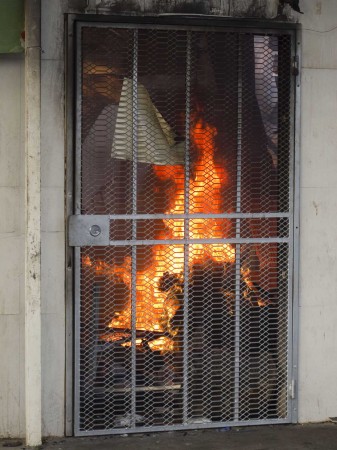 People were standing right up in front of this door when I came across the street. Things were still popping inside. I wanted to say something about safety, but then decided to save my breath.
Even the darkest clouds bring refreshing rain to someone. So, I did get to take away a bit of grim comedy. This guy was astonishingly angry at the door: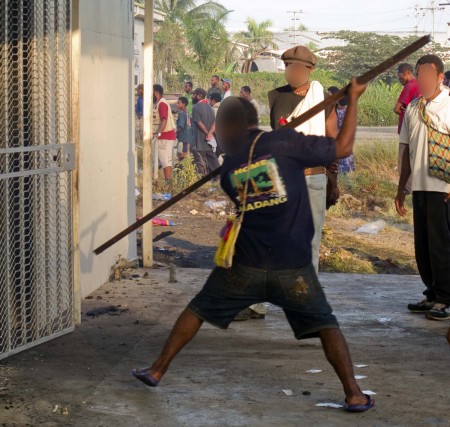 He was bashing away at it and cursing it to hell. He had a big iron bar in his hands and kept dropping it on his feet which only fueled his fury to the next level when he got his arm caught between the door and the bar and nearly broke it – the arm, not the bar. I never did get what his problem was. The door was not locked. It was swinging wildly on its hinges as he pounded away at it. Why he should have been so enraged at a defenseless door is beyond me.
Well, nothing new there. There is a lot in PNG which is still well beyond me. I have the rest of my life to try to figure it out.
By the way, I'm goign to Fiji next week. SURPRISE!
Tags:
fire