I've barely had time for a night's sleep here in Nandi, Fiji since I arrived. So, I'm going to give my crazy friend Ali Raynor a guest shoot today. It would not be possible for me to think of anything funnier than this, let alone write it, so I'm going to give you Ali's email to me along with some images which will either look very familiar to you or will blow you mind, according to where you live. – Enjoy!
————————-
Hey Jan,
Look out . . . I'm back!
I am slowly sifting through the thousands of pictures I took in PNG. (No G11 quality here, but I like to imagine that I have some interesting mementos.) I thought you would probably be one of the few people who might appreciate the attached. They are something you no doubt see on a daily basis, but not something you are not likely to see on a PNG postcard.
These guys came up to me at a POM 2nd hand clothes market and asked very politely if I would take their photo, which of course I agreed to do. I got them together and told them that I would "snap" on the count of three. They nodded and posed normally, but on three, the following is what happened!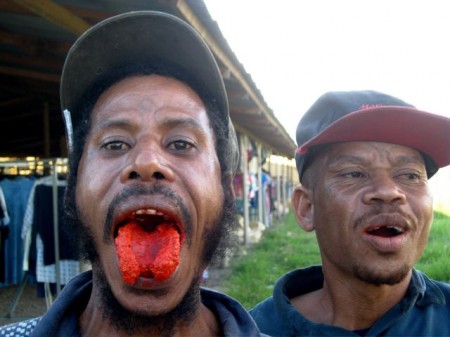 You can imagine my surprise followed by my gales of laughter, when the guy on the left gave me this "right royal red gob full" and followed up with "Welcome to PNG"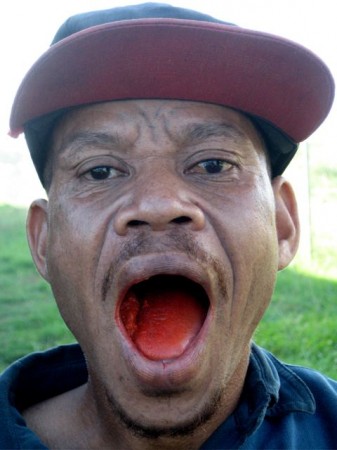 His mate was pretty taken back at first, (as you can see in the picture) but when he saw my laughter and reaction, he got over his embarrassment and decided to get in on the act "Numba 1 Buai Man" was really amazed by my complete amusement and he started to laugh hysterically as well. He was so happy that I thought he was "COOL" rather than rude (as he may or may not have initially intended to be????) He was also happy that I asked for another picture. We parted laughing and pointing (at each other) and it was quite a lovely moment. Laughter is such a leveler.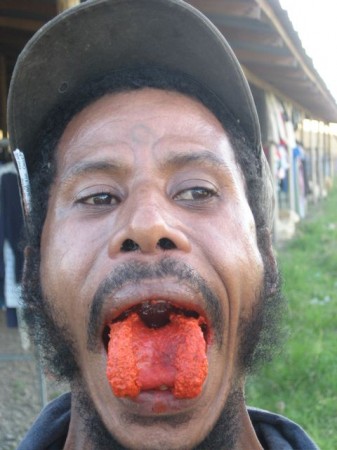 In all my travels through PNG , I have tried in vain to capture a good shot of someone with a really fantastic (bad) "buai mouth" and even tho my chosen subjects have had no idea that I am secretly interested in their outstanding GOB, rather than their "beautiful face" (ha ha ), I have always found them to be totally self-conscious of the way their mouth looks, and will always shut their traps tight as soon as they agree to have a picture. Very frustrating indeed! So this little episode was a real blast for me!
How's their shock value? How's the humour? How's the reality? I loved these guys!
Am I boring you yet? Tell me to stop!
PS  – Bad news about the fire, but well done with photos by your Lois Lane . . . they are quite spectacular!
Laters…
Love Ali
————————-
Well, I can't compete with that. However, I can show you what Eunie is up to: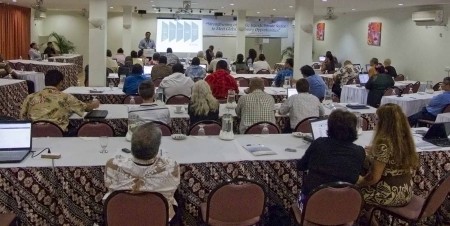 Eunie is in the middle – look for the platinum blonde hair. One thing which encouraged me was that women made up a very significant proportion of the attendees.
Sounds boring, but it's not. I've been sitting here all morning listening in. These folks are discussing some amazingly complex and interesting issues.
There have also been a few good laughs.
I'll have more about it later.
Tags:
alison raynor
,
betelnut
,
buai