I have little text today, because I have a tonne of images to show to you. This morning I took a short bus ride to the Nadi Temple, as it is commonly called. My friend, Heather, suggested it to me, though her directions left something to be desired. Jump on a bus and you will probably be there in ten minutes: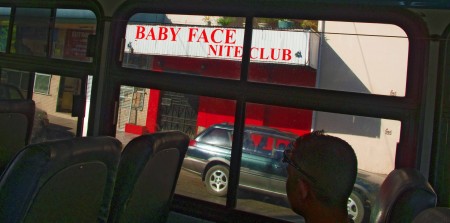 Don't dally at the Baby Face Nite Club, or they won't let you in at the temple.
In fact, there are some things you should know before visiting. Prepare to leave your shoes at the gate. Do not eat any meat for breakfast. The man at the gate will ask you. Wear modest clothing, long trousers for men and a shirt that has at least short sleeves. I was dressed in my usual short-shorts and a tank top. This evoked a frown and a warning not to enter the temple itself, but, having paid the F$3.50 to enter the grounds and take pictures, I was otherwise treated politely. I'll save my breath by showing you a little summary casually ripped from a travel web site:
In 1994 this Hindu temple moved from beside the flood-prone Nadi River to the southern end of town where an evocative three-tower complex was finely created over a ten-year period by eight specialist craftsmen brought from India.

The Dravidian temple is dedicated to the deity Murugan whose statue, specially carved in India, is housed within the twelve-metre-high main pyramidal vimanam with a rectangular roof. The two towers at the rear of the temple with colourful domed shaped roofs are dedicated to Ganesh and Shiva.
Since I was not allowed to enter the temple, I decided to do my best from outside. Fortunately, the opportunities are superb: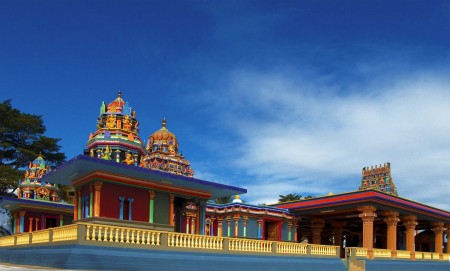 My goal, from the first moment, was to try to grab shots that others might miss.  If I have a "secret formula" this is it. These images have all been sent up to my server at 2,000 pixels, so if you click on any of them, you will get some good detail.
As I walk around I am constantly looking for amusing compositions: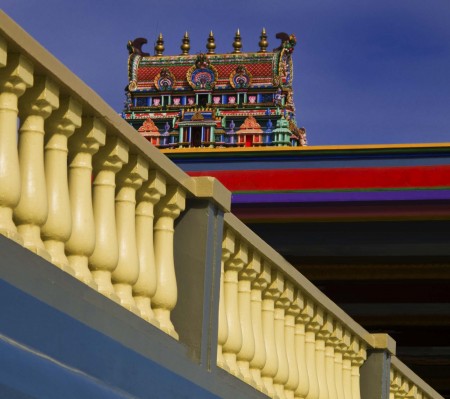 The one above is crazy, but it works for me.
Another thing which I decided to do is to Photoshop without mercy. I wanted to get that "postcard" look which is just short of fake: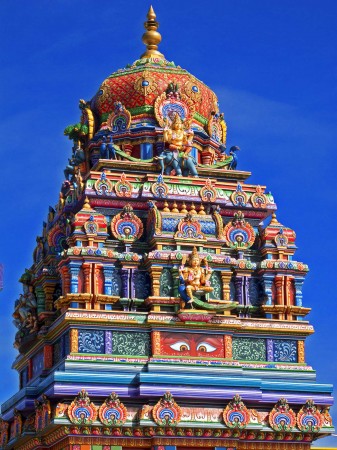 Fortunately, the light and sky were playing my game.
Even shadowed areas came through brilliantly: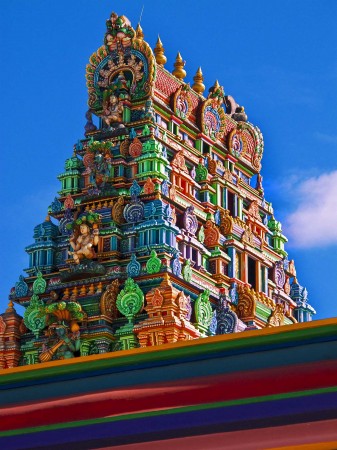 The Canon G11 was strutting its stuff today. I have no complaints about any frame it gave me.
Walking around the temple, you can find plenty of treasure in the odd angles of the structure: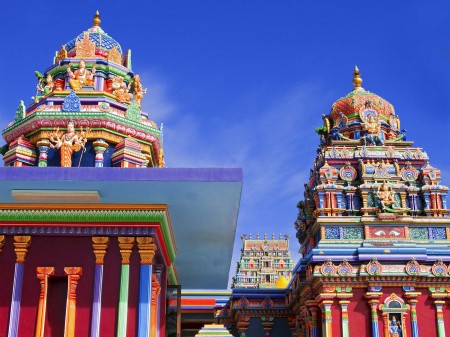 I could have stayed there all morning, but there were worshippers moving about and I was disgustingly under-dressed.
The details of the temple can keep you snapping until your battery runs down. Here's an example: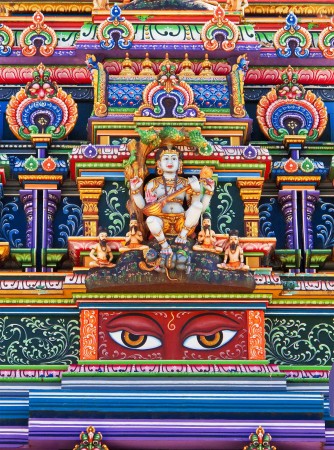 And another: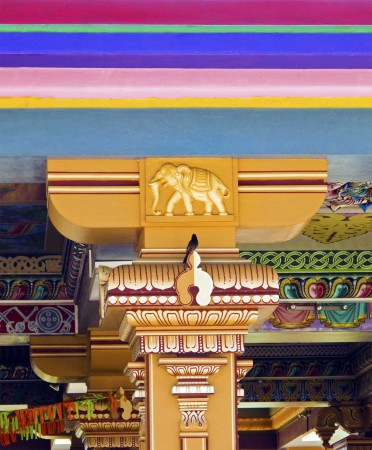 And one more: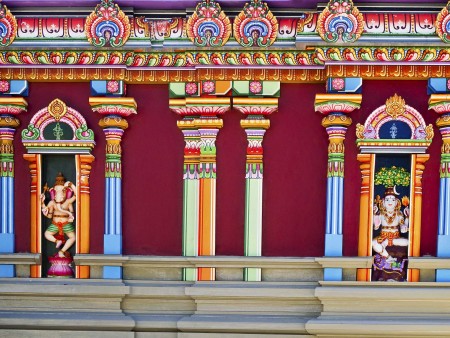 I have a dozen more in the folder, but you get the idea.
What I can't show you properly, since I could not go in, are the astonishing paintings on the ceiling of the entire temple. Here is one that I could, with a little standing yoga, get a shot of: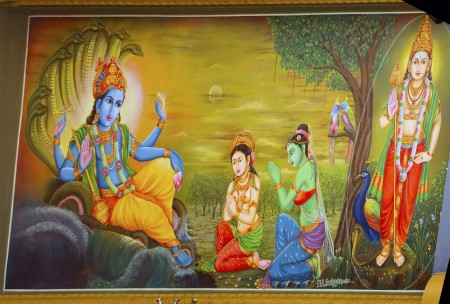 It's a bit distorted, but so was I while I was taking it. It took some fancy Photoshop tweaking to get it reasonably rectangular.
That's about it for me. My shoulders are getting sore from using the laptop on the bar here. It's the only place where I can get both a wireless connection and power. No beer for me until I figure out what's come unwired in my head.
Tags:
bus
,
fiji
,
hindu
,
nadi
,
nadi temple
,
temple