Posted in
Humor
on June 23rd, 2010 by MadDog
The good news is that the plane didn't crash on either of my flights today. I was not detained by any authorities. I did not have my crouch sniffed by a beagle hound when entering Australia and I had a nice chatty cabbie on the way to the Hides Hotel. In short, none of the plethora of potential disasters eventuated.
Two minor glitches prevent me from taking up the normal amount of your valuable time today. One is this: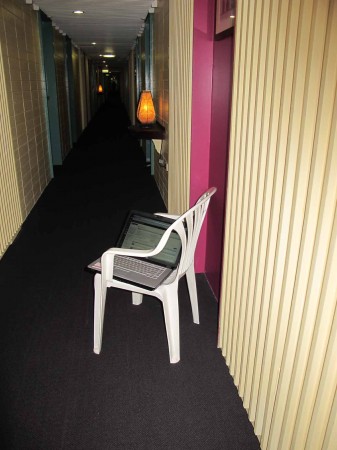 The wireless in my room does not work, despite "rebooting the access point" to encourage it. So, I have to work out in the hall. After paying for a room, I am disinclined to do this for long.
Also, I discovered that I do not have the right software to process all of the wonderful images which I took today and was so eager to show to you. I'm downloading the correct software out in the hall as I write this.
I have to get up at 04:00 in the morning to get a cab to the airport so that I can catch a plane to Brisbane. Then I can cool my heels for a while and wait for my flight to Nandi in Fiji.
So far the highlight of the day was an excellent pizza and two beers at the Gateway Hotel in Port Moresby – highly recommended, but probably not worth a trip to PNG just for that.
Good Lord willing and the creek don't rise, by this time tomorrow I shall once again be in the proximity of my woman.
Very close proximity.
UPDATE – My software came in, so I can show you a couple of more shots which may or may not amuse you.
I am fascinated by the security checking process at the Madang Airport Air Niugini Terminal. It consisted today of the single question, "Are you carying anything dangerous in your bag?" I was tempted to say, "Only a camera." but decided, for once, to keep my mouth shut: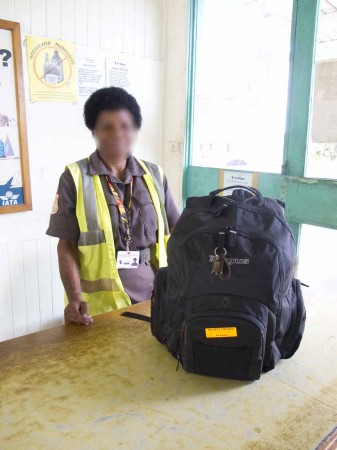 To be fair, I must admit that she did open one zipper and peek in.
However, one may be assured that the floor in the terminal is perfectly safe, as this image clearly proves: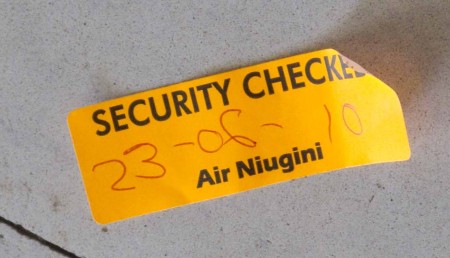 Good night and sweet dreams.
Tags:
cairns
,
hides hotel