Posted in
Mixed Nuts
on July 3rd, 2010 by MadDog
I enjoyed my time with Eunie in Nadi, Fiji, despite the scary, but amusing bout with what now has been provisionally diagnosed as TGA or Transient Global Amnesia. It's a pretty weird medical "incident" which has no explanation and little or no lasting effects. My good friend, Dr. John "Tinpis" Mackerel  (tinpis means "canned fish" in Tok Pisin) said that he had seen one case, in progress, no less, and the symptoms were a perfect match. He mentioned that the symptoms are pretty dramatic, as my terribly frightened wife, Eunie, noticed, but recovery is nearly always without lasting effects. The incidence in the over 50 population in the USA is about 5.2 per 100,000, so it's common enough to be believable. I'll put this diagnosis in the "Good" category. If I have any further problems, I'll get a full neurological exam when I go to Oz in October.
The sunrise this Saturday morning, which is Dive Day for us, goes in the "So-so" category: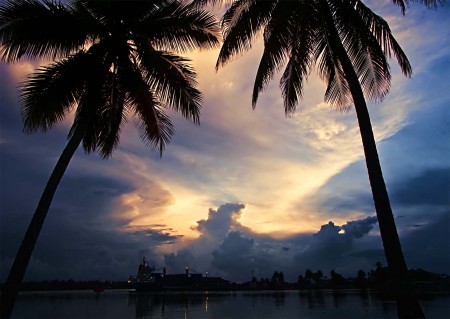 Pretty, but uninspiring.
Here is a "Good" one. I went back through my images of Roz Savage's arrival in Madang and found this very nice shot of Roz looking back over her shoulder with a big smile on her face: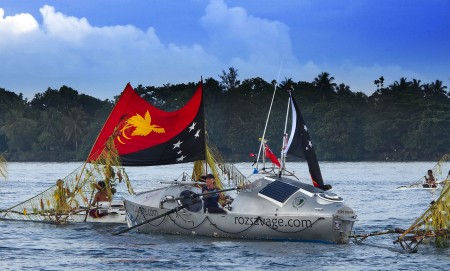 Gave me quite a lift to see this one. Going to Fiji meant that I didn't get to see Roz for the rest of here stay here in Madang, but she plans to return for a couple of days and will, we hope, be staying here at Casa MadDog.
Now for some "Bad" and "Ugly".
This NASA photo of a significant ash plume on 28 June does not bode well for the North Coast of PNG.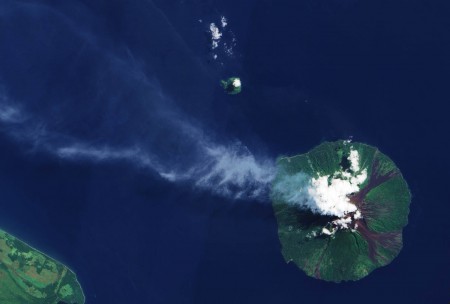 We need to keep an eye on that. Manam Island is a troublemaker.
Here is a shot of Manam which I got a few years ago: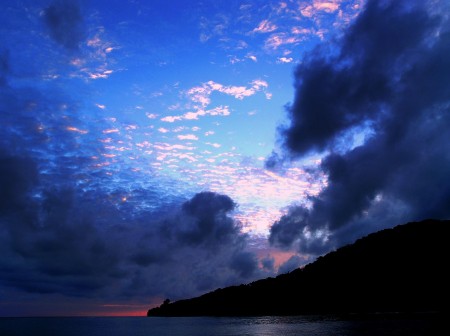 I also have a post on the Manam Island volcano which shows smoke puffing out and three bit of volcanic rock which I retrieved from the ocean bottom near the island.
This shot could go into the "Bad" or "Ugly" category. I don't have a lot to say about it, except I'm glad that I didn't have to go into it: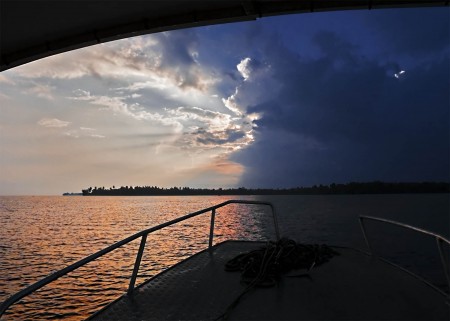 I just think that it's an interesting image.
The "Ugly" and "Bad" overlap in these last two images: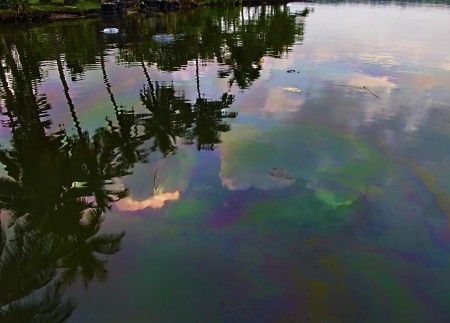 Pretty colours, eh?
What you may not realise is that this is fuel oil from a ship which dumped a huge quantity of it right into Madang Harbour in front of my house: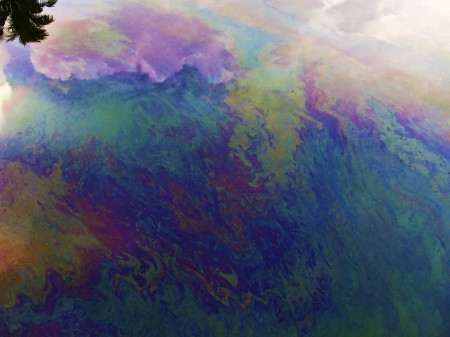 I wish that I could say that this was an isolated incident. However it is all too common.
Nobody has the power to stop it, I guess.
I certainly don't.
Tags:
oil spill
,
roz savage