Posted in
Under the Sea
on July 6th, 2010 by MadDog
This morning I was out stumbling around in my garden looking for something to shoot. I was nearly ready to give up, not having found anything that I haven't already snapped a hundred times, when I came across this small bee wearing a SCUBA diver's mask: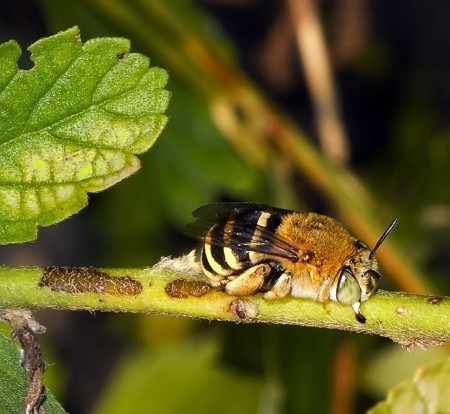 It's only Tuesday and I'm already running out of material. When I start pulling your chain about diving bees, you can tell that I am desperate. Yeah, I know that it's silly, but look at its eyes. I have never seen a bee, or any other insect, with eyes such as this. They are huge. They also have an unusual shape, which I suspect give it an enormous field of vision. This makes me think that it is possibly an insectivorous bee. A bee which hunts on the wing would need exceptional vision. It also does not resemble the standard, flower-visiting bee. I watched it for some time. It was showing no interest in all of the flowers around it. In fact, it gave the distinct impression of a hunter lying in ambush.
UPDATE: Faithful reader and friend Alison Raynor has already nailed down the identification of this bee. It seems that I coulnd't have been more wrong. Oh, wel. It's not the first time:
HI JAN,
COULD THIS BE YOUR CRITTER?
Blue-banded bees (Amegilla cingulata) are native to Australia, but also occur naturally in Papua New Guinea, East Timor, Indonesia and Malaysia. Unlike other bee species, blue-banded bees are solitary insects. They typically build nests in sandstone, mud or the mortar-gaps in the brickwork of houses.

Blue-banded bees specialise in an unusual sort of flower pollination called 'buzz pollination'. Normally flowers release pollen passively, but some species are specially designed to be pollinated by 'buzz pollinators' that grab onto the flowers and vibrate them quickly to release the pollen.
Okay, the bee doesn't dive, but I do. I ran through some more frames from our dive at The Eel Garden last Saturday and found a few which may amuse, if not amaze you.
Though this will probably mean little to you, I can testify that this is an unusual image. This Sea Cucumber (Thelenota anax) does not belong on this bumpy coral. It is a creature which gobbles up sand by the bucket, runs it through its innards, sifting out the digestible bits, and then excretes the sand out of its other end: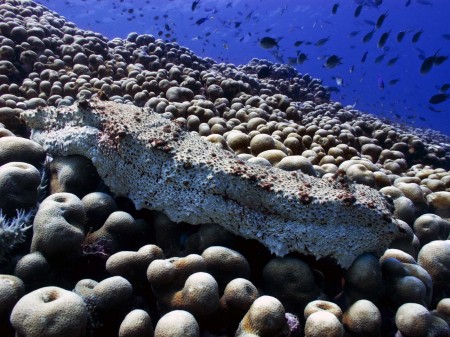 Why it is wandering around up here on this coral shelf, metres away from its feeding ground, I have no idea.
The lower fish, whiskering around in the sand, is a Goatfish, specifically a Parupeneus forsskali: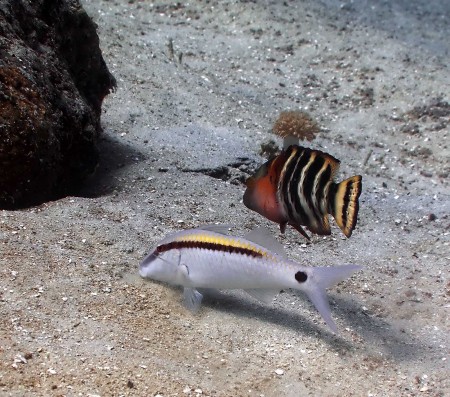 They feed by bulldozing around in the sand, throwing up big clouds of "dust" and using their whiskers to find food. The other fish is a Redbreasted Wrasse (Cheilinus fasciatus), a fish which usually stays far enough away to be difficult to shoot. It is not unusual to find other fish hanging around where a goatfish is feeding. They often stir up items which do not interest them, but other fish find tasty.
This is a Longnose Butterflyfish (Forcipiger flavissimus):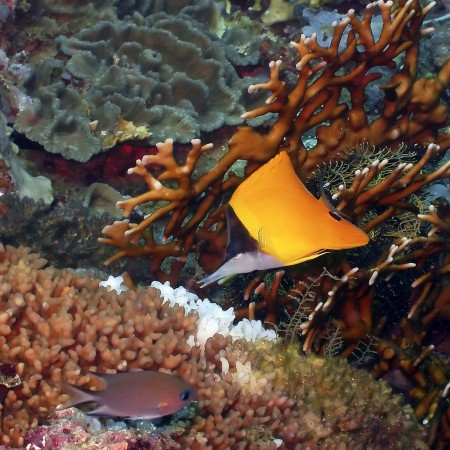 It's not a particularly good shot, but my excuse is, as usual, they try to stay at a distance. How they calculate the distance at which it becomes nearly impossible to shoot them, I don't know. They must know more about cameras than I do.
This is a reather handsome Soldierfish named Myripistis amaena. His friends call him Misty. He has a gender identity problem. That's why he wears the butch outfit: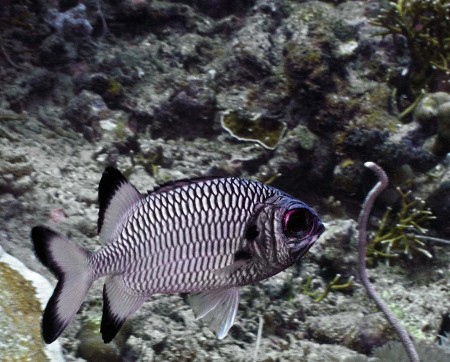 Chain mail is very "in" at the bars where he hangs.
You are undoubtedly tired of the Phyllidia varicosa nudibranch. Well, you may as well get used to it, because it is one of our more common varieties and I haven't got the absolutely perfect image on one yet: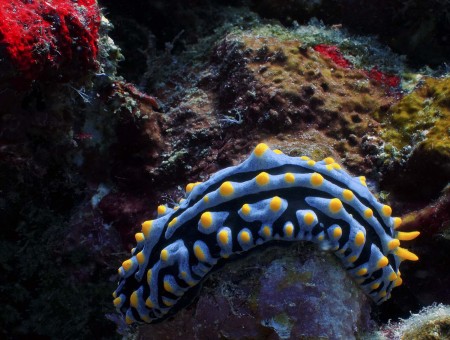 I'll let you know when I do.
Tags:
bee
,
cheilinus fasciatus
,
eel garden
,
forcipiger flavissimus
,
goatfish
,
longnose butterflyfish
,
myripistis amaena
,
nudibranch
,
parupeneus forsskali
,
phyllidia varicosa
,
pig island
,
redbreasted wrasse
,
scuba
,
sea cucumber
,
soldierfish
,
Thelenota anax