Posted in
Under the Sea
on July 10th, 2010 by MadDog
Today being Dive Day, I have the usual display of rather boring underwater creatures. I haven't gotten through all of the shots from today yet. I see some more interesting ones coming up. However, not all of the photographic action was underwater. Ush was back aboard Rich Jones and Pascal Michon's Sanguma. Someone passed her the Captain's Hat and she perched on the stern rail with her now famous shiny red sunglasses. What can one do but take a picture?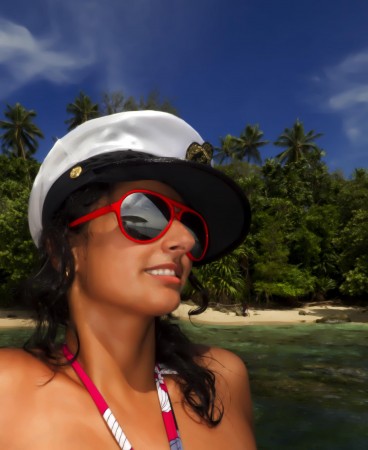 Ush is working through her PADI Open Water Course, which means that she will soon be joining us under the sea as well as on top.
Well, I'm playing catch-up today, so the chatter will be minimal. I don't know what kind of sponge this is, but it is rather pretty, as sponges go: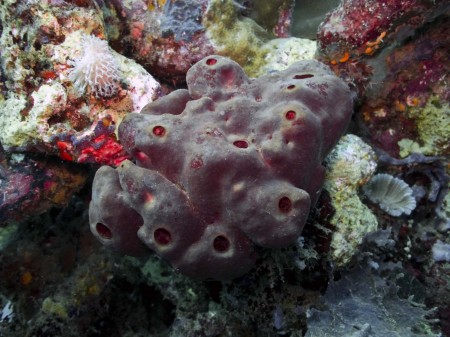 I've been playing with flash intensities for a while. Today I'm showing a few shots where I'm trying to balance flash with natural light. It's not a big problem when you are near the surface. However, the deeper you go the greater the difference becomes between the spectrum of the light at your depth and the spectrum of the flash, which mimics the sun at the surface. This can create some very difficult colour correction problems. The shot above turned out very natural, according to my colour memory.
This shot of a Feather Star (Comanthina schlegeli) in the strong current which we had at The Eel Garden near Pig Island was taken under a ledge, so the flash predominates the lighting causing an unnaturally warm tone which I generally dislike, because it is not the way it appeared to my eyes: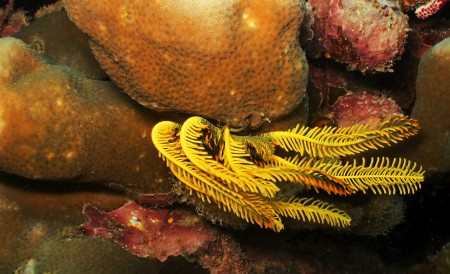 The current does lend a nice sweeping motion to the shot.
Here I caught a Reticulated Dascyllus (Dascyllus reticulatus) with a couple of Hawkfish in a single coral colony. A lucky shot: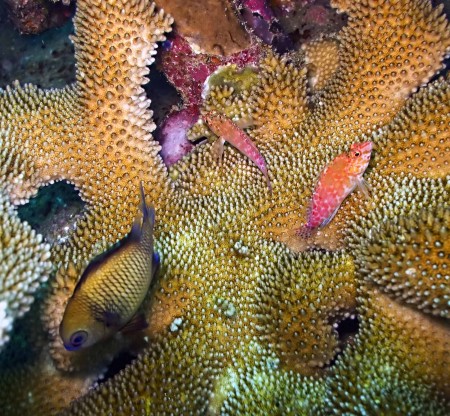 I think that they are Pixy Hawkfish, but I'm too lazy right now to verify that. Who cares anyway? This shot displays a much better balance of flash and natural light.
I'm pretty sure that this is a very young Solitary coral of the species Fungia fungites: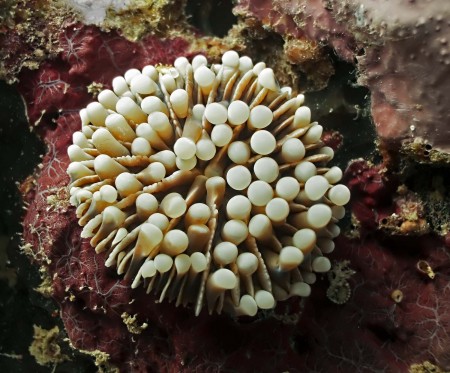 It was only about six or seven centimetres in diameter. The little polyps were vibrating fiercely in the current. I had to take about twenty exposures to get one in which they were not motion blurred. This shot was taken with no flash at all.
This is one of my favourite Sea Squirts (Phallusia julinea):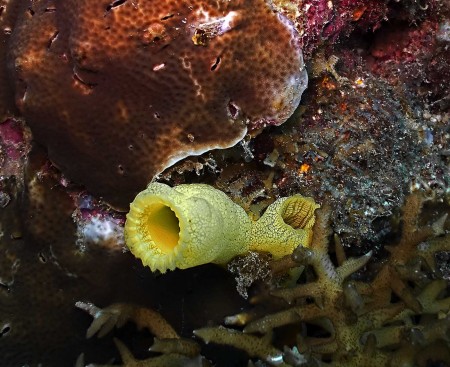 I just thought about how geeky that sounds. It's like hearing a grown man, indeed a mature man, saying "This is my favourite model airplane." or "This is my favourite miniature toy car."
Hey, it's just a hobby.
Tags:
Dascyllus reticulatus
,
eel garden
,
fungia fungites
,
hawkfish
,
Phallusia julinea
,
pig island
,
Reticulated dascyllus
,
sea squirt
,
sponge
,
ush