Posted in
Mixed Nuts
on July 15th, 2010 by MadDog
Sometimes befuddlement settles deep into my cranium and all I can manage is a little walk around the yard and a scrounge through old images to find a scattering of thoughts and images to exercise my chosen writer's discipline and fill some space. Each day I leave something here and take something away. The beauty of it is what I need please only me. The down-side is that if I find my own efforts unpleasing, I have nothing to show for my efforts but dissatisfaction. So, I muddle through.
But first, a sunrise:

My creative writing professor at uni was a hard taskmistress. We had to write 1,000 words every day in a jornal. It didn't matter what it was about and it wasn't graded. However we had to turn it in for checking each week and then we got it back to continue on. Most weeks I would review what I had written and a familiar phrase would pop into my mind, "What a dog's breakfast!"
An unappealing mixture of many things… a hodgepodge… a disorganised mess… but probably still usable (or consumable in the case of food.) From the idea that a dog will eat anything and feeding it a mixture of whatever is on hand. (Unappealing because only the dog finds its breakfast appealing… if you see or smell the dog food in the morning, as you're feeding the dog, it may well turn your stomach.)

"Those contractors didn't do very good work and they made a real dog's breakfast of that job."
Not that I insinuate that my readers are canine. No. I simply mean that there are good days and bad.
So, off we go into visual pandemonium.
Let's add a canoe to the sunrise: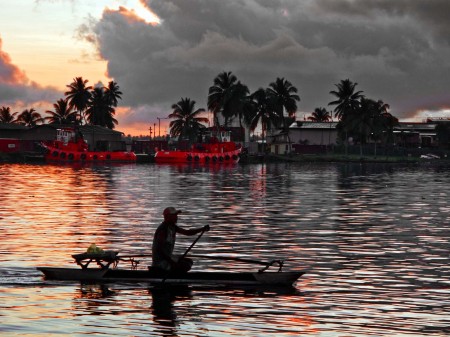 This was a very mediocre shot right out of the camera. I had to jazz it up a bit. I decided to make it nearly monochrome and take advantage of the brilliant red-orange tugboats across the harbour to complement the colours of the sunrise.
It looks as if warm colours are going to be the theme today. Here is a nice red hibiscus right outside our front door: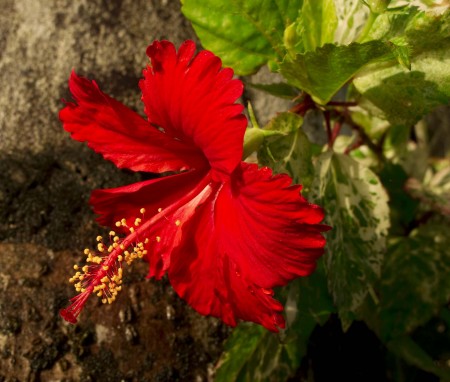 The brown mass to the left is the trunk of one of our Fishtail Palm trees.
Speaking of which, they are fruiting continuously now. In this shot I am standing directly underneath the oldest inflorescence, pointing my G11 straight up. You are looking into the bottom of it from about six metres away: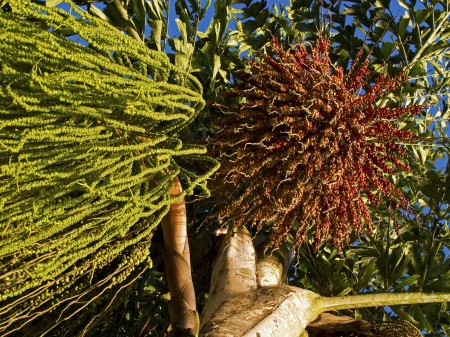 I am amazed how long it takes for the fruit to ripen. This inflorescence developed in October of 2008. You can find an image of it here.
Over the last three months, fruit has been dropping from this inflorescence. They are bright red to maroon in colour and average about five or six centimetres in diameter: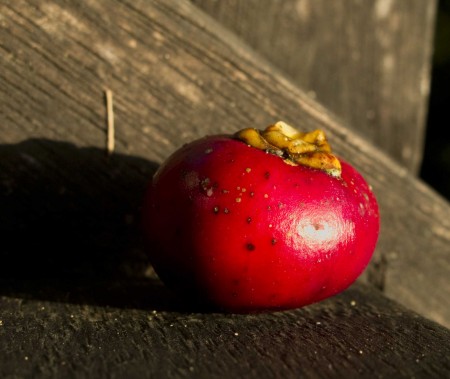 Our haus meri, Juli, tells me that they are "not for humans" but some birds eat them. Of course, I had to try one. They are intensely sweet and fig-like. I tried only a small amount. After a few seconds you get a chili-like burning sensation on the tongue wherever the fruit was in contact. The strong sweetness lingers, but I take the burning as a warning. I decided that I had experimented enough. The seeds are one or two shiny black kernels which are so hard that you have to crack them with a hammer. Inside the thick shell is a nut-like core which is also very sweet.
In the garden this morning I found a spider who was willing to pose for a while. I got one very nice shot of it: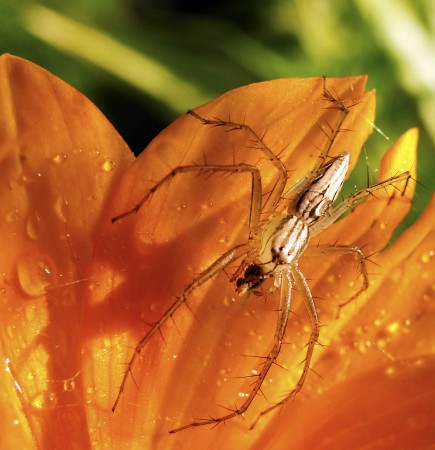 If you click the image to enlarge it you will see a water drop attached to its abdomen.
I felt like saying, "Shake it off, dude."
Tags:
bubbles
,
canoe
,
caryota gigas
,
fishtail palm
,
hibiscus
,
spider
,
sunrise
,
tug boat